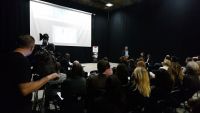 [ad_1]

The National Film Center announces the new 2019 film production competition, publicly supported by 14 projects – four feature films, four animated films and six documentaries.
The film production project competition is the biggest event of the year in funding the Latvian film industry, the main starting point for the start of new films. The competition supports the production or completion of feature films and animations and documentaries of all lengths. A total of 38 projects – 10 feature films, 10 animated films and 18 documentaries – were shown in public performances on April 8 and 9 at the LKA National Film School, reports the National Film Center.
The total funding for the motion picture competition is EUR 1 110 401, of which EUR 582 109 for the production of feature films, EUR 331 335 for documentaries and EUR 196 957 for cartoons..
The competition supports the production of four new full length films, and three of them are comedies (this year the competition was dominated by this genre – eight of the ten featured projects were announced as comedies in one style or another). The director Marta Elina Martinsone (producer Guntis Trekteris, studio "Ego Media") will debut in full-length format with the teenage comedy from the school "Tizlenes"; the director Aigars Grauba (producer Andrejs, is, studio "Platforma") will make the main comedy "Circenitis Christmas" with the actor Vili Sokiņš; Director Aiks Karapetyan will work in the absurd cinematic style, creating a co-production of four countries of Pig & # 39; in Pah (producer Gints Grübe, studio Mistrus Media). The only non-comedy project – the psychological drama "Mule", which will be composed by director Stanislav Tokalov (producers Aija Bērziņa and Alise Ģelze, studio "Tasse Film").
Production of animation of four projects is supported – new films will be created by directors Dace Rīdūze (studio "Animation Brigade"), Nils Skapans (Environmental Film Studio) and Edmunds Jansons ("Atom Art"), who will work in parallel in the reception of new series of dwarves and by themselves. his short film.
The competition also supports the production of six documentaries, and will be directed by directors Ivars Seleckis, Askolds Saulīti, Ivars Zviedris, Vitalis Manskis, Andis Mizišs and Signe Birkova.
[ad_2]

Source link