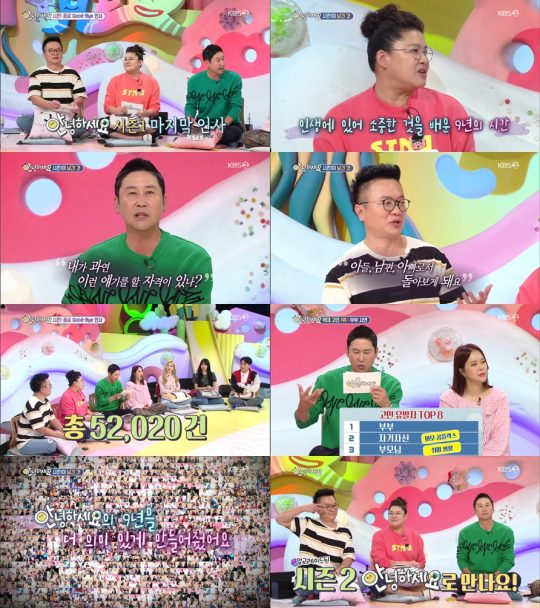 [텐아시아=노규민 기자]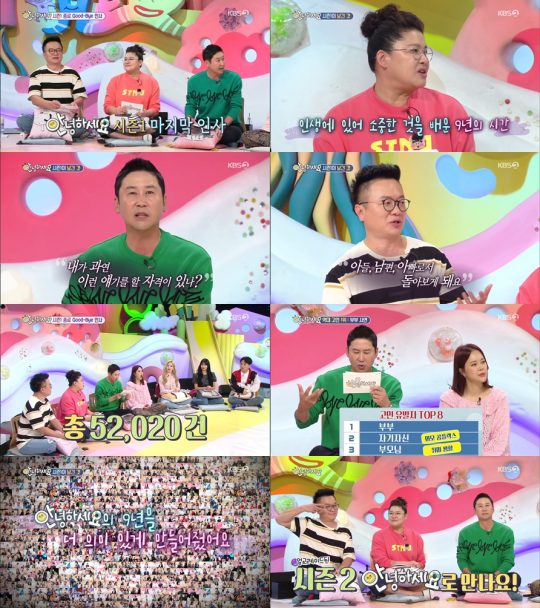 Final broadcast of Season 1 of Hello. / Photo Credit = KBS
The first season of KBS2's "Normal Talk Show Hello" ("hello") ended in nine years.
The last episode of "Hello Hello", aired on the 30th, featured the stories & # 39; is that all right? & # 39;
I'm throwing up my studies and going to a bodybuilding competition with my father, who has a troubled 3-year-old son. I confessed your concerns.
In addition, singers Baek Ji-young, Twice Da-hyun, Momo and Gagman Emperor Sung-yeon, who appeared as guests of Lee Young-ja, Shin Dong-yeop and Kim Tae-kyun 3MC, tried to worry and find a solution.
After presenting all the stories, Shin Dong-yeop said: "At the first broadcast in November 2010, a total of 5,520 cases were received on & # 39; Hello & # 39; for 9 years and 1,550 of them have been introduced. "
Later we had time to sum up the issues of interest and resolve the cause of who it was. The results showed that the couple, themselves and their parents, were in 1st, 2nd and 3rd place, respectively, and the images of representative stories were released once again, concentrating attention.
In addition, grandmother Jung Jin-sim, the oldest artist who showed deep love for her granddaughter, and 4-year-old Suhyun and the youngest artist of the time, appeared in the auditorium.
Shin Dong-yeop, who finished all the stories, said, "I think I should say my last season 1 today."
Kim Tae-gyun said, "I'm doing well every week during the recording and look back on my son, father and husband," he said.
Finally, Lee said, "I'll update and meet season two as soon as possible," along with thanks to all those who kept "Hello" for 9 years.
By Noh Kyu Min, pressgm@tenasia.co.kr
Source link