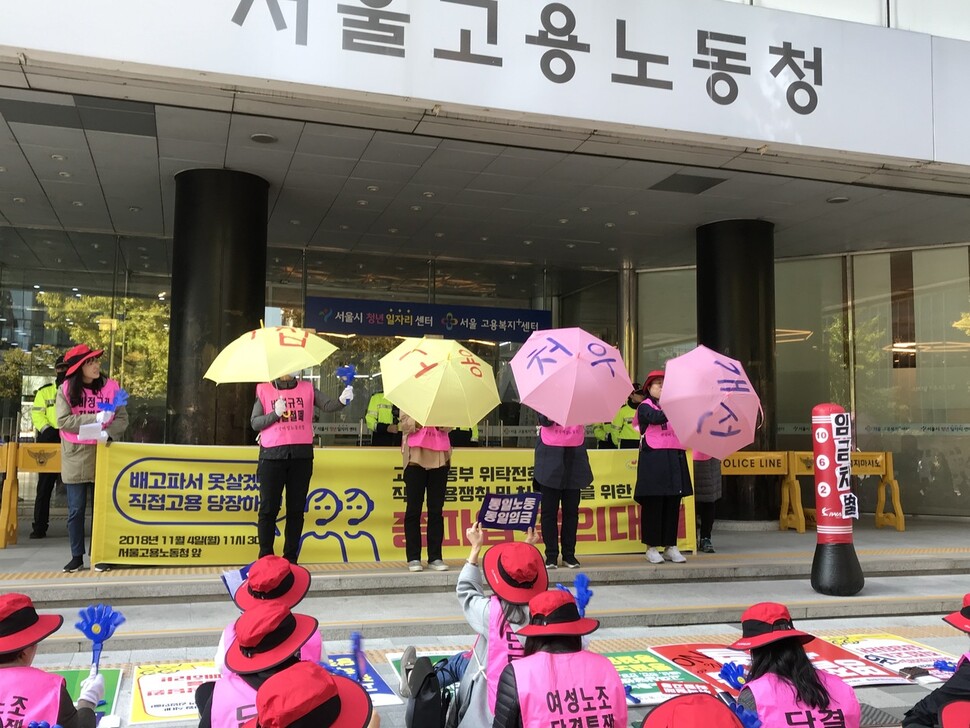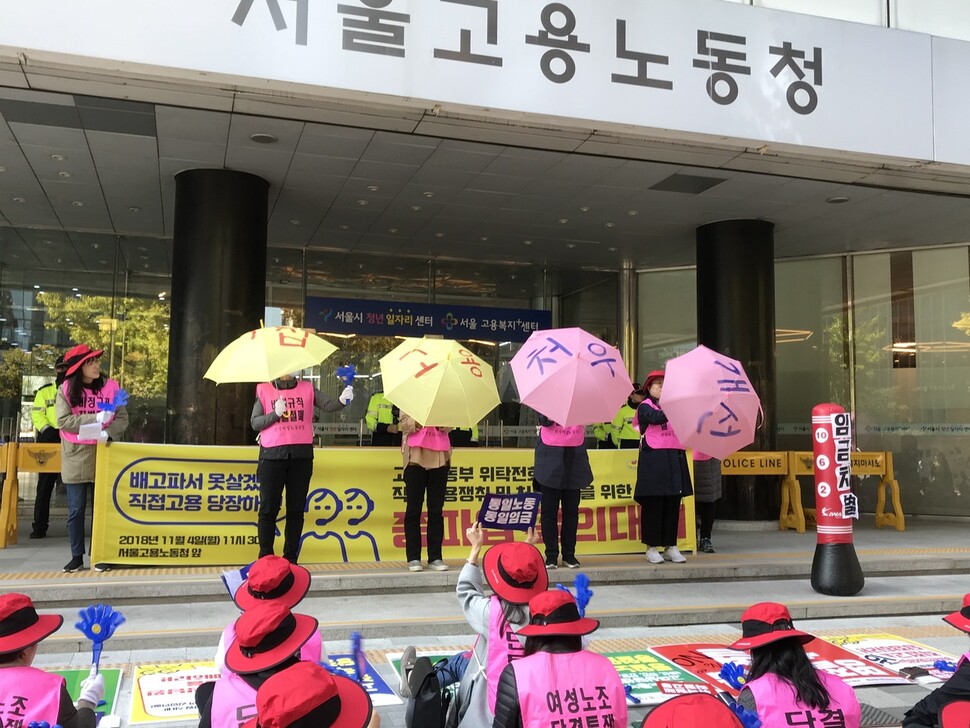 On the 4th, consignment telephone advisers working at the Ministry of Employment and Labor Customer Service Center in front of the Seoul Labor Office in Jung-gu, Seoul are holding a rally demanding direct employment and better treatment. . National Union of Women
If you press 1350 customer service, call the Ministry of Employment and Labor, you will hear an auto-reply voice. & # 39; Information for local authorities, number two in employment and employment, number three for complaint verification, number four for foreign language advice. The counseling call is directed to telephone counselors who work at the Ministry of Employment and Labor Customer Service Center. at four locations across the country: Ulsan, Gwangju, Anyang, Gyeonggi-do and Cheonan, Chungnam. They provide advice on work and work-related policies and systems, including the Labor Standards Act, including arrears, unemployment benefits, employment insurance, maternity leave and daycare leave, youth employment, vocational training and work permits. job. However, those working in the Ministry of Employment and Labor, who advocate the establishment of a "respect for work society", are suffering discrimination in wages and working conditions.
Lee Seoul-gi, 44, is a telephone counselor who works for the Ministry of Employment and Labor, working part-time at Gwangju Customer Service Center from 9:00 to 13:30. He is afraid that January-March, called Ho-Cho, is coming. This is a busy month for helpline calls. If you get 100 to 120 calls in noon, you won't have time to go to the bathroom. The same thing happens every Monday and the day after the holiday.
"The new budget will be launched from January 1st. As unemployment benefit and job support budgets have been depleted since October-November, consultations are held with people who could not apply. There are many new policies that will be implemented or changed from the new year. As call waiting gets longer, complaints are also loudly protested. I live in my mouth saying I'm sorry for the inconvenience. Tinnitus is common, and I have to go to work even if I have a sore throat or throat and can't hear my voice properly. "
The salary is the minimum wage (hourly wage: 8350 won). I work 4 hours every day, holding 800,000 won in my hand. I never received meals or welfare points. It is difficult to ignore the "pay competition" to supplement wages. Each month, the number of calls and talk times are scored and the list is released from first to last, with the highest of the five rankings receiving 118,000 won. The lowest grade earns no penny. "I also have a daily promotion. I chose the one who got the most calls that day, so I had time to leave work 10 minutes earlier, at less busy times. "
Funny story after union formation
Telephone counseling is typical of emotional work, but telephone counselors from the Ministry of Employment and Labor used the term "compressed work." Not only do you need to match the response rate target to your service level (the rate at which you respond within 20 seconds after the signal is heard) during your short work day, but you also need to pay attention to promotions. Since June, phone calls have dropped slightly, leading to more and more sick colleagues. Some telephone consultants operate with vocal cord nodules and vocal cord polyps and await the results of an industrial accident application.
Lee, who suffered from "compressed work," heard "a ridiculous story" after the union was formed early last year. Among the four customer service centers of the Ministry of Labor, the working conditions of the Ulsan Center were different. "Not just salary, but also the difference between food expenses and vacation points. I do the same thing, but I don't understand why. The Ministry of Employment and Labor says nothing.
Unlike the Ulsan Center telephone advisers (120) who are directly employed (public service), the Gwangju, Anyang, and Cheonan (about 500) counselors are privately commissioned workers. Most of the time, they work part time (4 hours). Due to the different types of employment, although all four telephone agents are doing the same work, there are differences in pay and working conditions. In the case of Anyang Center, the basic telephone advisers' salary was frozen for over seven years, and the minimum salary was paid for an hourly wage of 8,350 won. Ulsan Center pays the difference from KRW 8678 to KRW 10981, depending on the experience. Ulsan Center pays 130,000 won per month for meals and 400,000 won per year for welfare points, but no other. Ulsan Center also pays 400,000 won for Lunar New Year's Day and Chuseok, and the other places are 20,000 to 30,000 won. It is not just the difference between direct employment and private consignment. Service licenses at Cheonan Center operated by the same consignment company (Kaceis) do not exist at Gwangju Center.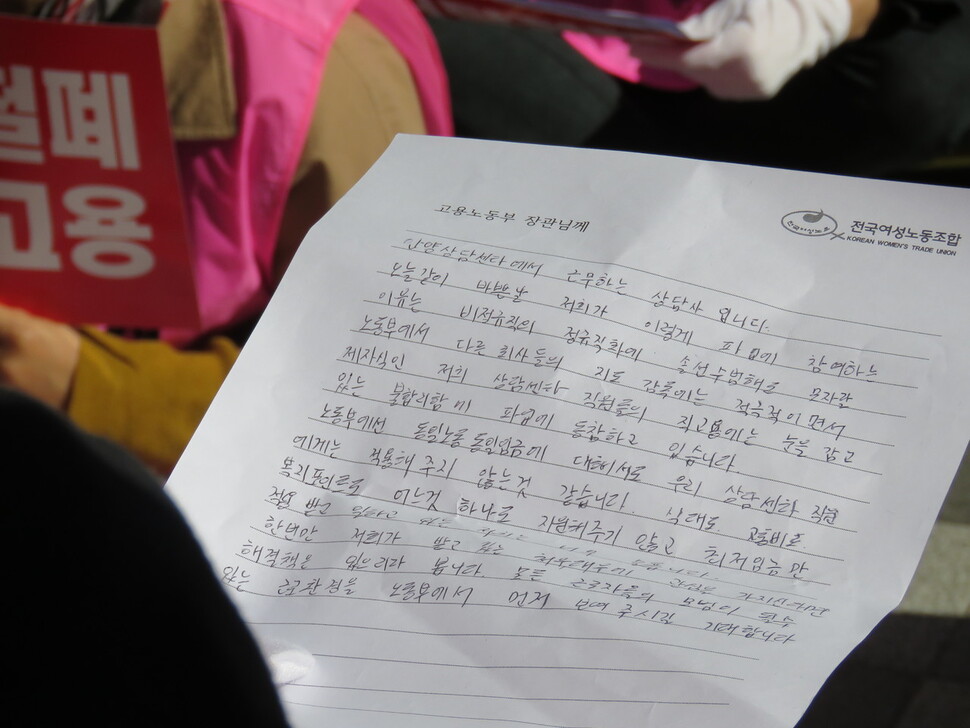 A handwritten letter from the Ministry of Employment and Labor to the Minister of Labor and Labor at a meeting on the 4th. National Women's Union
Woo Ok-ja (53) has been working as a telephone counselor at the Ministry of Employment and Labor since December 2004. In April of that year, the Ministry of Labor General Consultation Center opened in Anyang-si, Gyeonggi-do, and Woo. worked as an employee of the Ministry of Employment and Labor for almost 10 years. In 2013, the consultation center moved to Ulsan in accordance with the government policy of public institution renovation. Of the 50 telephone advisers who worked together, only five or six went to Ulsan, and Anyang Center turned to a private commission. "When the government first opened the counseling center, I hired women directly, part-time, saying they were" compatible with family and work. " Many people could not go to Ulsan. The rest of the people had to choose between leaving work or going to an orphanage. "
The Ministry of Employment and Labor opened the Cheonan Center in 2009 and the Gwangju Center in 2014, which were entrusted to private companies from the outset. An official from the Ministry of Employment and Labor said: "The number of complaints inquiries has steadily increased, increasing the need to increase the call center.
Woo changed his public employment status to Ministry of Employment and Labor, but did not change his status. She currently works overtime from 10 am to 5:30 pm to supplement her low wages. He said: "When a consignment company moved in February, the telephone counselor for the seventh year or less lost until the wage time difference (70 won) and the minimum wage was paid. Plus, the promotion of paying a coffee coupon when receiving the food and vacation bonus due to being a remittance phone counselor and ranking call processing results at the same number is all about welfare. It is unfair to be treated. The Ministry of Employment and Labor says it is necessary to eliminate discrimination by workers.
Woo is the branch president of Anyang Customer Counseling Center in the employment and labor sector of the Women's Union of Korea. On day 4, the Anyang Customer Counseling Center branch declared a one-day strike and held a meeting in front of the Seoul Employment and Labor Office in Jung-gu, Seoul to demand more direct employment and treatment. The telephone advisers wrote a letter to the Minister of Employment and Labor. "The Ministry of Employment and Labor does not apply to us for equal work and equal pay."
Do you take care of moving to a full time job?
The demand for better treatment from telephone counselors is closely related to the quality of counseling. The number of counseling calls is increasing each year due to changes in employment labor policy, but they argue that they are providing counseling tightly without recruiting labor. According to the Ministry of Employment and Labor, the number of telephone consultations increased from 6.6 million in 2014 to 9.6 million last year. The response rate dropped from 87.3% in 2014 to 81.4% last year. In the first quarter of this year, the number of telephone consultations (2.76 million) increased by 100,000 compared to the same period last year (2.67 million), while the number of complaints abandoned waiting for agent connections was 860,000 compared to the same period last year (510,000). % Increase. The Ministry of Labor's Customer Advice Center website says: "If there are too many 1350 phone calls, it may be closed without notice." Counselors. The Minister of Employment, Labor and Welfare, head of the National Women's Union, said: "No one walks slowly in the bathroom. Instead of talking, it's time to sit down and deal with pending complaints. "If you take too long for a complaint, you get a quick message, and if an unexpected complaint happens, it's all the agent's fault." The average talk time for a query is two to three minutes. "It takes about a minute to say hello, mandatory announcements and complain. You need enough time to talk long enough, but it is hard to speak long enough to match your response rate and level of service. If the policy changes, you will be polite, but in practice, counselors will have to study alone to answer correctly. When the Ministry of Employment and Labor issues a press release saying it will follow a policy, complaints are reported in the news and asked about the details, and the details are often inconclusive, and I have no choice but to answer them until actually implemented. "
The national women's union calls for direct employment from the Ministry of Employment and Labor. Soon-Cho Choi, vice president of the Korean Women's Union, said: "The telephone counselor for the Ministry of Employment and Labor is an important part of the Ministry of Employment and Labor. I'm doing this. In July 2017, the government classified the counselor's occupations by telephone in three phases (private remittance) when it announced Guidelines for the transition from regular workers to non-regular workers in the public sector. In addition, on February 27, the government decreed the direction of the private consignment policy and requested each institution to review the feasibility of private consignment voluntarily. The reason is that "private remittance has a limitation in establishing uniform standards and binding guidelines on how to directly perform entrusted work (regularization) due to the legislative basis, autonomy and diversity of office work." In response, the KCTU strongly opposed: "The government has practically abandoned the conversion of full-time employees entrusted to private individuals." Since then, however, it is up to each agency to decide whether to directly hire workers trusted by the public. According to a government survey last year, there were a total of 10,000 private consignment cases, 22,273 trust agencies and 19,5736 workers.
The Ministry of Employment and Labor planned to select a telephone counselor as an in-depth consultation in July and decide whether to move to direct employment by the end of October, but has not yet been completed. The Ministry of Employment and Labor said: "We are making continuous efforts asking the Ministry of Strategy and Finance to narrow the gap in working conditions between the management center and the commissioning center. We are currently considering transitioning to direct employment or maintaining consignment management by an expert advisory body. We will report to non-regular employees and make a final decision by the end of the year. Choi, Soon-Im, vice-president of the National Women's Union, said: "The Ministry of Employment and Labor must directly employ the commissioned telephone counselor and apply the same work and equal pay to create working conditions to provide adequate services to women." civil complaints ".
By Lee Ji-eun, Team Reporter jieuny@hani.co.kr