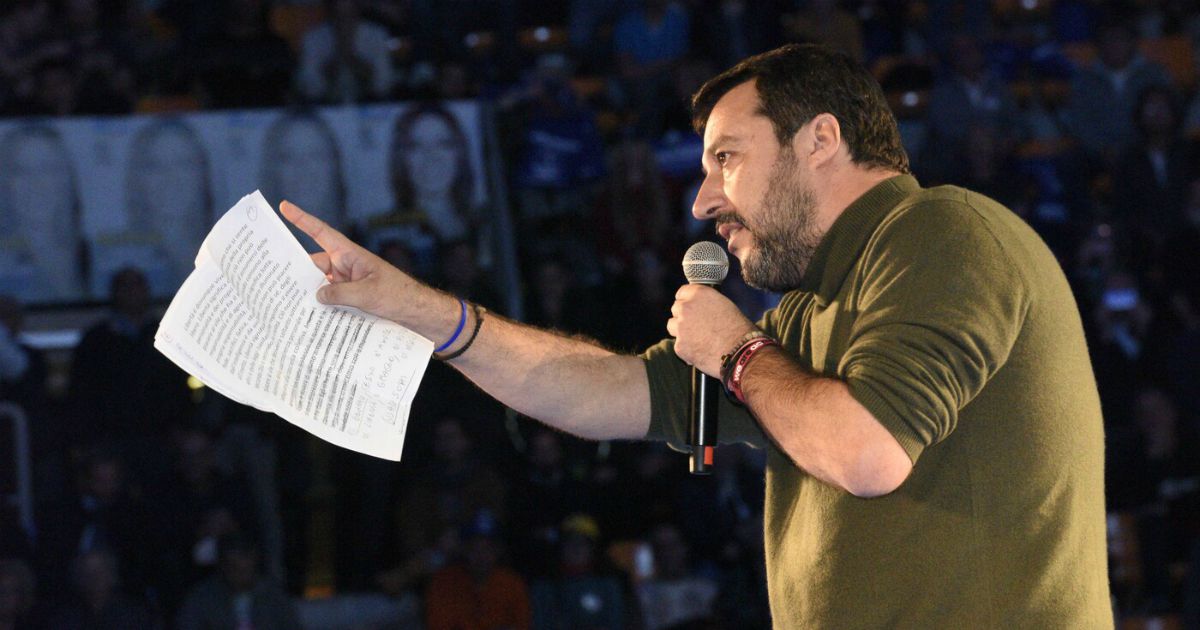 At the entrance of Land rover arena Clara began. 60 years old for twenty Romagna League fans and today she does the honors. "Do you see the flag? I sewed it by hand." Above is Alberto da Giussano and the writing turns on with three thousand swarowsky. So sequins and sequins. "Because today is a party." In front of the door, she stood on purpose, and the militants greeted them one by one: "We're waking up," she cries. "It's hard, but we're finally waking up." The rise of Matteo Salvini in Emilia Romagna begins a red time: within the iron militants from across the region and beyond, to take (for the first time) a space for them all in Bologna, outside the city that surprisingly responds compactly. The first to protest are the social centers: 1500 people arrive in procession to the building to protest and are rejected with fire hydrants. A few meters away, in Crescentone, in Piazza Maggiore, they gather at least 11 thousand between civilians and exponents of Democratic party. These are heavy numbers and maybe so many people haven't seen each other since Beppe grillo In 2013, he rallied his people for the "tsunami" that would bring the M5 to Parliament. But inside the "Palazzo", what the PalaDozza calls these parts, it matters little because for Carroccio to have conquered a symbolic place of Bologna with almost 5,000 people is a historic moment. There are some empty seats, but the news is that the League is here to launch its candidate Lucia Borgonzoni. Because this parquet is not just home to the "lion pit" of the Fortified Basketbut here, just to give you an example, in 1969 PCI crowned Enrico Berlinguer and in 1990 it dissolved after the last congress. Need more? In 1977, those same stands filled the student movement. And in more recent times, in 2010, Michele Santoro brought us "Laugh for one night" with Marco Travaglio and Daniele Luttazzi: A Historical Page of Italian TV Against Censorship. In short, if Matteo Salvini he wanted to show that he is serious, he chose the right place. The one who was thrown out of the squares for years (in 2016 they filled Piazza Verdi with bales of hay and were forced to move the demonstration), today he has taken revenge. "What are they calling you?" Shouts the acclaimed journalist and host of the night, Mario Giordano. "The barbarians," the crowd answers in chorus. "Now it's our turn". This is where the League launches the final attack on the government.
The night has a first flaw for Salvini: it is indoors and between flags and yellow and blue caps It looks like a traditional party convention. Or rather, it looks like an American convention in style. Donald Trump. For him, in Umbria, all squares were locked, while opponents took pictures inside a convent, is already admission to start running. This is also why the Northern League leader is among the first to arrive. Chops all afternoon. At 16, he is already at the door of the building to take selfies and direct Facebook. At 6 pm, you see journalists. At 19 he goes up and down from the stands. At 9 pm, when the timecard is half an hour late, he takes the stage and asks for more patience: "We are waiting for buses from outside blocked by spoiled daughters protesting." He speaks of social centers: "Here is love, out there, hate." And again: "Outside, hooligans attacking the police." Luisa in the front row gets up: "They are killers." It has nothing to do with it, but everyone applauds. From the speakers, "Romagna mia" departs and the crowd begins to sing in chorus: It sounds like a Unity party, even if you can't say it out loud. Many know: those who come here are the early militants who saw it all, even Lega drops to 4% in 2013 policies. "But now the challenge is open," says Antonella, who sits in the front row reserved space . . She comes from Reggio Emilia, accompanied by her husband: "We don't have much to complain about," he admits. "Stefano Bonaccini he did it well, but we're tired of not owning our house anymore. Non-EU citizens who have all the privileges ". The mood is that in every line, from first to last: "Overall, we're fine, but Salvini is Salvini. It's time for a change," says Donatella, who took a permit from work to get here on time. What he does in life, however, doesn't mean, "Better not risk it, so make me stories." "I at Bonaccini do you are from the sgarro"Says Nicolò, 18, immediately betraying the Bolognese strait." But I'm here because the League is patriotic and I want politics to think of my country. " Stefano and Mirella they are two pensioners and until two elections ago they voted for Pd. They admit it in front of the camera and laugh as if they had arranged it dirtier than everyone: "Bonaccini is good, he must become a league like us. But we are here to say enough to Democratic party. This patronage that has always blocked the region. "
Present and absent, the League reveals the parterre of great occasions – What the League takes seriously is seen by the audience. In the parterre of special guests sit all the main representatives of Carroccio who are in the institutions. Former Undersecretary Giancarlo Giorgetti meanwhile, which is considered Salvini's right hand, but also lately one of the most distant. So the former minister Gianmarco Hundred, the leaders of the Romeo and Molinari group, the deputies as Marta Bizzotto and Marco Zanni (who tried to forget it, but made a career in the League from the M5s), and all the governors of the Regions. Of course, there is the mayor who conquered Ferrara Alan Fabbri, the one in which Emilia Romagna's conquest failed in the last round. Just before night begins, they also leave Simone Pillon, Claudio Borghi and Alberto Bagnai. Everyone is there and everyone tries to be seen: they can't miss tonight. Great absent? The other members of the center right, Berlusconi, first. There are no traces. Speakers speaking on stage are carefully chosen to provide a clean image, very right and not too extreme. The first one is Davide Rondoni, a poet known in Bologna, but above all for his proximity to Communion and Liberation. He invokes the freedom of the "artists" and claims to be a "Romagna anarchist." This makes the applause hotter. But it goes on. So it's up to Alessandro Amadori, presented as "the sociologist" who studies the "Pd controlled and dominated" Emilia system. The strong card is the entrepreneur Marco Omboni: he attacks the plastic tax and collects a standing ovation. Then begins the Parade of Presidents of the Region: Donatella Tesei, recently elected in Umbria. So the Sardinian Christian Solinas, Massimiliano Fedriga Friuli, Fontana Lombardia and even Zaia do Veneto, despite the emergence of bad weather in Venice. "May I tell you that I too would have swam just to be here?" He ventures out. In short, there are all of them and it is they who actually receive Borgonzoni on stage when it is their turn.
The Baptism of the Lucia Borgonzoni Race – The candidate who lives (or suffers) from the reflected light is the face in which Carroccio touches everything. In Bologna, he is known for being the absent councilman who, despite his seat in the Senate, never resigned. But today we play another game, and if Salvini chose it, everyone goes for it: in line, there are those who admit they don't know much about it and its history, but the leader's blessing is enough to make him accept it with the naked eye. . closed. "Emilia Romagna must return to all", attacks Borgonzoni on stage. It is the slogan of the campaign that has been tailored, which displays posters written in large letters "with the heart" and also something else. They need it to do so. His themes, the ones he will point to, list them all: "Health." Because, he says, "It's not true that everything is right here." Then "more infrastructure" to make Emilia Romagna a region that has worked for ten: "Today, despite being ten years old, she works for six." The first intervention? "To free our administrators from bureaucracy." "We will free our land and then we will free all of Italy." The applause of this crowd is won before letting the man who is waiting for all rise.
The manifestation of the leader who dreams of the government's final shoulder on the most difficult land – Salvini enters the notes of Vincerò sung by Bocelli and goes around the basketball court. The intervention is cut and tailored to the Palace of Bologna. The premiere has one flaw: the square, at least for tonight, has awakened the sleeping Democratic Party, and all venues open with a photo of the sardine crowd in Piazza Maggiore. "If the arguments of others are to cancel us, I say: go ahead and have you win us. League history teaches that the more they deny reality, the more reality comes out"The building explodes and Salvini mentions (paralyzing) Gandhi:" First they ignore you, then mock you and then realize that you have won. As in Umbria, I hope. " But most of all, he uses Emilian Guareschi to invoke "freedom." The Carroccio leader then says a phrase that reveals the whole strategy of the coming days, the choice of trying to invade a region that, according to his supporters, "is doing well". Then play the humility card: "I come to Bologna on tiptoe, I have nothing to teach but much to learn." "Guys, this is Bologna the red," he says. And the audience whistles. "But no, what did you get? The red for what is the best red in Italy, Ferrari, Ducati, Lamborghini and good wine. And maybe from January 26th red we will just worry about it." land that seeks identities other than the red on the left. So here are their warhorses. Migrants, but saying "they don't want to import new slaves" and winking at a people that unites all or nearly all factions of humanity. Of course, the Bibbian system: "Get your hands off the children," he shouts. Finally, he comes to the last page, which reopens the controversy with Senator Liliana Segre: "We are and always will be with you and those who suffer violence and threats. "But there is always one but:" But without the hypocrisy of those who bring the Segre and then take to the streets to burn the flags of Israel. If some squads are left, fortunately they are not in this building, but are outside and want to prevent freedom of expression. ". The floodgate is for Walt Disney: "He said that" if you can dream it, you can do it. "I dream of a fairer Emilia. Friends of all, servants of no one." He finished. From the highlands, part of Cesare Cremonini's "Vespa special", and everyone queues for ritual selfies.
The longest two months before the vote and the missing square (for now) in the League – Here in Salvini, between his faces and history, he won. But he is the first to know that it is a difficult challenge. Gaia is 17 years old and at the Palazzo came with her father. Signaling a sign in front of the cameras and framing everything. Reads: "In Emilia of red, only Lambrusco will remain. " "They all oppose me at school for my ideas," he says. "It's not fair. Finally, I can say here. My mother is South American and she adapted to our culture when she got here." And where is he tonight? "At home to work". Buses to Romagna, up to twenty years old, are among the first to leave. They are not those who came from further afield: there are also groups that have left Lombardy. "I wanted to see the situation," says Vincenzo, who took the train after his shift at Linate airport, where he deals with baggage sorting. "I was at the big event in Rome, I wanted to be there today. We need to understand if we can do that. Because if we win here, we'll go to the government." Less than two months away, and Piazza Maggiore, so crowded, Salvini, doesn't underestimate her. Francesca does the first thing: she has a blue sweatshirt with Lega Giovani Emilia written. "We made a hundred cards just today, I have a good feeling." A few feet away, Salvini is still taking selfies. If he wants to play, he knows that here he will have to do much more than a live Facebook: "Next time I see you." Verdi Square"It's his greeting. He really lost the square. And he knows that to win, you have to pass (too) from there.
Source link