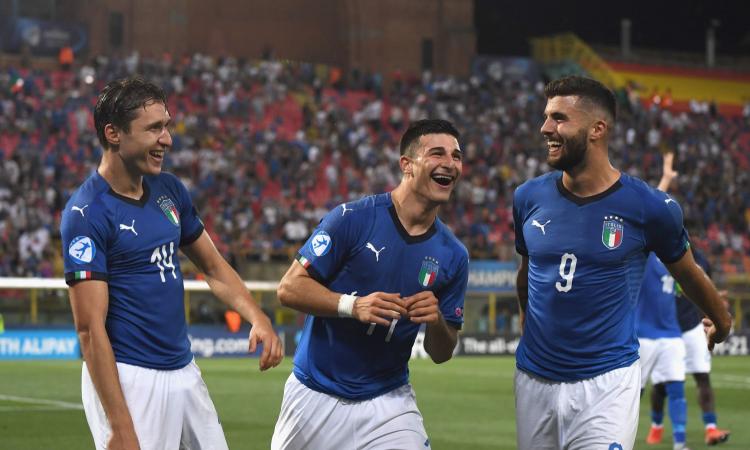 [ad_1]

After the very important success in the debut with Spain, theItaly Under 21 back to the field for the group's second game. Today's opponent is Poland by Michniewicz, who beat Belgium 3-2 in the first race. In Dall & Ara there will still be a large public structure, with about 30 thousand tickets sold: practically exhausted, therefore, in Bologna, where Mandragora and his companions seek great success. The Azzurri, with a success, would get the arithmetic qualification for the first semi-finals in the group. In fact, Spain's victory over Belgium puts Di Biagio's men in the position to decide their own future. With a draw or a loss, on the other hand, everything would be delayed until the last day (Saturday against Belgium).
ITALY-POLAND, OFFICIAL TRAINING:
ITALY (4-3-3): Meret; Adjapong, Mancini, Bastoni, Dimarco; Barella, Mandragora, Pellegrini; Orsolini, Cutrone, Church.
POLAND (5-4-1): Recorded; Fila, Wieteska, Bielik, Bochniewicz, Pestka; Jagiello, Zurkowski, Dziczek, Szymanski; Kownacki.
FIRST TIME
26 'Opportunity for Azzurra: Adjapong crosses from the right, the ball crosses the whole area and reaches Chiesa. The left-foot shot of the Fiorentina player is saved by Grabara.
21 'Chance by Pellegrini, who hits the ball at the entrance of the area and kicks: but the ball is too wide.
15 & # 39; Good start for Azzurra: Di Biagio's men break a lot with the outside.
10 & # 39; Nothing to do with shot of the Polish flag.
9 & # 39; Zurkovski fired wide from the edge of the box.
3 & # 39; Attempt of the church with the right to turn: the ball ends slightly. Great start to Azzurra.
3 & # 39; Pellegrini to the right of the end of the area: Grabara blocks.
1 & # 39; Italy immediately ahead. Orsolini flew in on the left wing, back and kick: high ball.
1 & # 39; Let's go!
[ad_2]

Source link