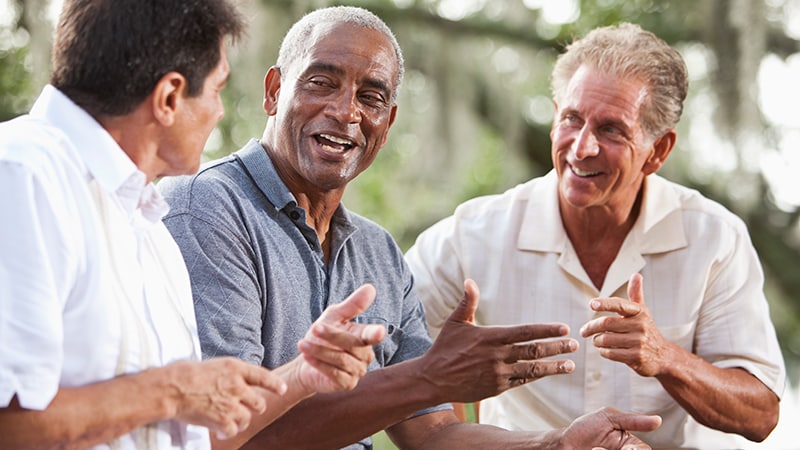 [ad_1]

Race was not associated with higher rates of death from prostate cancer in an analysis that examined how black and white men left when treated in places where patients standardized access to care.
The study was published online May 23 Oncology JAMA.
Previous research has found that black men were nearly 2.5 times more likely to die of prostate cancer than white non-Hispanic men, the authors note, led by Robert T. Dess, MD, of the University of Michigan.
In their study, they decided to find out how much of this difference could be attributed to access to care.
They contrasted the results of a large federal registry that they write reflects "multiple socioeconomic barriers to quality care" experienced by black men, for those in two environments where care was more standardized. These were the Veterans Affairs (VA) health system and Randomized Trials (RCTs) of the Radiation Oncology Group's Phase 3, sponsored by the National Cancer Institute (NCI).
For men who were treated within systems with equal access to treatment (VA cohort) or within the standard treatment approach and follow-up of a cooperative group (RCT cohort), there was no difference in specific prostate cancer mortality rates (PCSM ) between black and white patients.
This finding contributes to a growing body of evidence pointing to gaps in treatment, not race itself, as a cause of higher mortality rates for black men with prostate cancer, the authors write.
In a guest review, Channing J. Paller, MD; Lin Wang, MSc, MMed; and Otis W. Brawley, MD, all from Johns Hopkins University, write that the new research provided "powerful evidence that equal treatment produces equal results among equal patients."
"It is a disquieting fact that there is no equal treatment in the United States." African-Americans, other minorities and the poor generally often experience unequal care quality or no care, "comment the editorialists.
There may be genomic factors involved in the experience of black men with prostate cancer, who deserve further research, they add. However, they emphasize the need to immediately improve care for black patients.
"We, as health professionals, will probably have the greatest effect on best outcomes for African-American patients with prostate cancer, ensuring that they receive the same care as white patients, not only in clinical trials, but throughout the national Cheers". the editorialists add.
Study Details
The study was designed to uncover the effects of access to care on results. To represent the general population, the authors used the NCI Surveillance, Epidemiology, and End Results Database (SEER), which reports age-adjusted PCSM rates.
The SEER data were then compared with the results of a multicenter cohort of five regional hospitals within the VA health system and a cohort treated in four NCI sponsored Radiotherapeutic Oncology Group RCTs.
Dess and co-authors write that the inverse probability weighting (IPW) was made to adjust demographic, cancer-related and treatment baseline differences.
After completely adjusting the IPW, they found in SEER that the black race was associated with an absolute rate of 0.5% prostate cancer-specific mortality at 10 years, with no evident statistically significant difference in the high-risk subgroup.
However, black race was not associated with lower PCSM outcomes in men who had equal access to care (VA cohort) or who participated in clinical trials (ECR cohort).
In fact, a deeper analysis of the results using sub-distribution risk (sHR) ratios indicates better results for black men, with this association reaching statistical significance within the RCT cohort (sHR, 0.81; P = 0.04).
Dess and co-authors found that, in the general population, as suggested by SEER, black men appeared more likely to face barriers to treatment, including lower insurance rates and lower income.
"Black race continues to be associated with many factors that negatively affect outcomes, and disparities persist at the population level," write the authors. "Continued efforts are needed to address this clear racial health inequity driven by modifiable non-biological risk factors."
In their commentary, Paller, Wang, and Brawley note that "race is a complex sociopolitical construction, not a biological categorization." They cite as an example how the US Office of Management and Budget (OMB) defines race for demographic data prior to each national decennial census. As a result, some people have been moved from one race to another several times over the past five decades, they write.
Still, the black race "generally correlates" with the greater likelihood of struggling to get quality medical care, commented the editorialists.
"The key issue is not to develop more appropriate therapies for minorities, but to provide all people with quality medical care (preventive, diagnostic and therapeutic) that they need," they add.
Study authors reported non-work related financial ties with AbbVie, American College of Radiology / Oncology NRG, Astellas, Augmenix, Bayer, Blue Earth, Cota, Dendreon, EMD Serono, Ferring, GenomeDx, Integra Life Science Services, Janssen Pharmaceuticals, MDx Health, Medivation, Nanobiotix, OPKO Health, PFS Genomics, Sanofi, Scripps Proton Therapy Center, ViewRay, Varian Medical Systems and Live. The editorialist Brawley reported receiving donations from the National Cancer Institute and Bloomberg Philanthropies during the study.
JAMA Oncol. Published online May 23, 2019. Abstract, Editorial
For more news about Medscape Oncology, join us on Facebook and Twitter.
[ad_2]

Source link