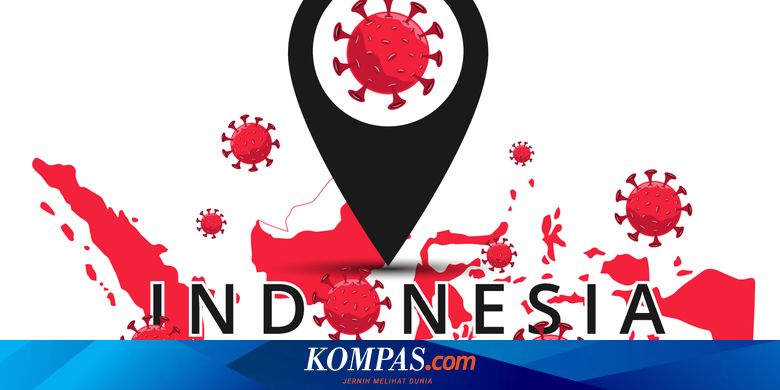 JAKARTA, KOMPAS.com – The government updates information on the development of the daily Covid-19 cases on Sunday (11/01/2020).
Based on data shared by the Covid-19 Handling Task Force on Sunday afternoon, there were 2,696 new cases of patients with positive confirmation for Covid-19.
Cumulatively, there are 412,784 positive cases of Covid-19 in Indonesia to date.
Read also: The total of examined specimens from Covid-19 reached 4,540,947
The number of additions was obtained from the results of examinations of 23,208 specimens in the last 24 hours.
Based on these data, new cases of patients with positive confirmation from Covid-19 are spread across 30 provinces.
In the meantime, four provinces were observed that did not register the addition of new cases, namely, Jambi, Central Kalimantan, North Maluku and Papua.
From these data, there were also five provinces with the largest increase in new cases.
The five provinces are DKI Jakarta (608 new cases), Central Java (458 new cases), East Java (253 new cases), West Java (245 new cases) and West Sumatra (225 new cases).
Also read: UPDATE November 1: there are 61,215 Covid-19 suspects in Indonesia
Meanwhile, the general transmission from Covid-19 has so far occurred in 502 districts / cities in 34 provinces.
Then, the government also noted that there were 4,141 more patients who were declared cured. Therefore, the total number of patients recovered from Covid-19 was 341,942 people.
In addition, 74 additional patients died after the previous positive test for the corona virus.
Thus, the number of patients who died due to Covid-19 is now 13,943 people.
The following are data on the distribution of new Covid-19 cases in 30 provinces as of November 1, 2020:
1. DKI Jakarta: 608 new cases
2. Central Java: 458 new cases
3. East Java: 253 new cases
4. West Java: 245 new cases
5. West Sumatra: 225 new cases
6. East Kalimantan: 168 new cases
7. Southeast Sulawesi: 120 new cases
Also read: November 1 UPDATE: There are 61,215 Covid-19 suspects in Indonesia
8. North Sumatra: 91 new cases
9. Banten: 90 new cases
10. Bali: 57 new cases
11. South Sumatra: 54 new cases
12. West Papua: 40 new cases
13. Riau: 31 new cases
14. Lampung: 26 new cases
15. South Kalimantan: 25 new cases
16. South Sulawesi: 25 new cases
17. West Nusa Tenggara: 24 new cases
18. West Kalimantan: 22 new cases
19. Aceh: 21 new cases
20. North Sulawesi: 21 new cases
21. Central Sulawesi: 19 new cases
22. Riau Islands: 17 new cases
Also read: Recovering Covid-19 Patients, 4,141, Total 341,942 people
23. DI Yogyakarta: 16 new cases
24. Maluku: 11 new cases
25. East Nusa Tenggara: 9 new cases
26. West Sulawesi: 7 new cases
27. Bangka Belitung: 4 new cases
28. North Kalimantan: 4 new cases
29. Gorontalo: 4 new cases
30. Bengkulu: 1 new case
Source link