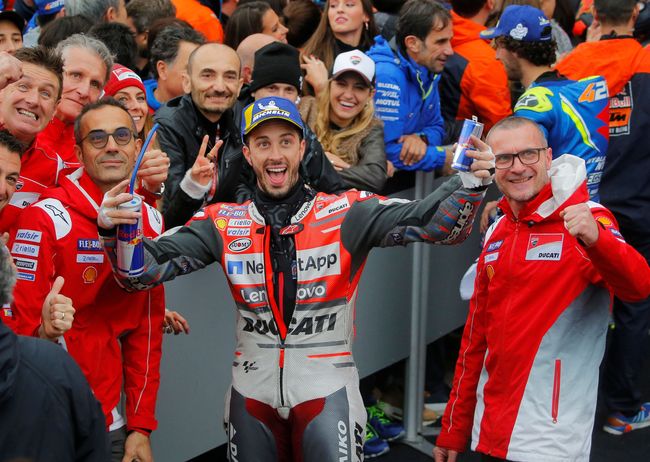 [ad_1]

Jakarta, CNN Indonesia – Drivers on the podium Valencia MotoGP 2018including Andrea Dovizioso, calling the Circuit Ricardo Tormo a crazy race.
In addition to Dovizioso, Alex Rins and Pol Espargaró, judging the final race in the 2018 season, which took place in the rain and the wet lane, provided his own experience.
Dovizioso, who is in the third starting position, has always been in the top three since the start of the race. The Ducati rider started to beat first place by beating Rins after the restart.
Dovi is like not experiencing obstacles means going at high speed despite the wet track.
"This is a crazy race," said Dovi, citing Crash. "I was not happy about not getting into the first race," Dovi said.
"But in the second race we made several changes and with the new tires I felt good. I was able to drive the bike as I wanted and it was more than enough for the competition," continued the rider who finished the 2018 season with second place.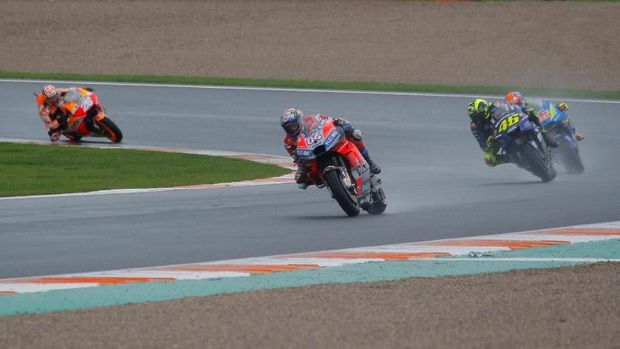 Valencia 2018 MotoGP race was temporarily suspended due to rain, which continued to wet the track. (REUTERS / Heino Kalis)
In line with Dovizioso, Rins also claimed to be surprised by the atmosphere of the 2018 MotoGP race in Valencia, the Suzuki rider was second in the race for the second time, similar to the results achieved in the Malaysian MotoGP 2018.
"When I saw the board in the first race I drove the race with a distance of six seconds. In the second race second place was not a problem, that's enough," said Rins.
The satisfaction of taking the podium was also felt by Pol Espargaró. Before the race was interrupted, Pol had competed with Marc Marquez. He had fallen, the rider who entered the fifth season in MotoGP managed to continue the race and take the podium for the first time throughout his first-class career.
"It's like it's not real, it's like it's not real, the last lap looks like a year, I drive very fast and I want to finish the race, I'm proud that KTB can compete with the best bikes in the world," said Pol. (nva)
[ad_2]

Source link