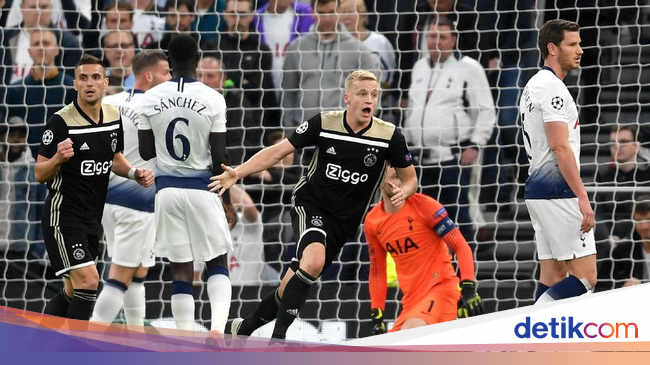 London – Amsterdam's Ajax were able to beat Tottenham Hotspur 1-0 in the first round of the first round of the Champions League semi-final. Donny van de Beek became his gunner.
Playing at Tottenham Stadium on Wednesday (05/01/2019) on the morning WIB, Ajax immediately appeared by pressing. The team made by Erik ten Hag played with high pressure, as demonstrated by removing Real Madrid and Juventus.
Donny van de Beek threatened in the fifth minute. He picked up a clay ball whose direction still deflected from the Spurs' goal.
Judge Ziyech made an individual action in front of the penalty area in the tenth minute. The movement of the Moroccan wing was silenced successfully by the lateral line of the house. Not long after Lasse Schone shot a speculative shot, but the ball did not aim at the target.
Ajax were able to overthrow the Tottenham goal in the 15th minute. Van de Beek ran from outside the box after receiving the Ziyech pass. The midfielder number 6 was easily scored after facing one against Hugo Lloris.
Winning 1-0 did not make Ajax reduce the intensity of the attack. Van de Beek came close to breaking the Spurs' goal in the 23rd minute. Van de Beek got a pass from Dusan Tadic, whose ball he threw immediately at the nearest post. Lloris can still break it.
Spurs just could not do it after 25 minutes. Fernando Llorente welcomed Kieran Trippier's ball with his head, but his direction was still slightly on the side with the goal.
Tottenham had to make a substitution after 39 minutes. Jan Vertonghen was withdrawn after colliding with his own partner Toby Alderweireld. Moussa Sissoko took the place of Vertonghen.
Tottenham started to pressure at the end of the first half, but there was no attempt to score a goal before half-time. Ajax won 1-0.
Player Composition:
Ajax: Andre Onana; Joel Veltman, Matthijs De Ligt, Daley Cego, Nicolas Tagliafico; Lasse Schone, Frenkie De Jong; Judge Ziyech, Donny van de Beek and David Neres; Dusan Tadic.
Tottenham: Hugo Lloris; Kieran Trippier, Sanchez Davinson, Toby Alderweireld, Jan Vertonghen (Sissoko 39;), Danny Rose; Victor Wanyama, Christian Eriksen, Dele Alli; Lucas Moura, Fernando Llorente.
(ran / nds)
Source link