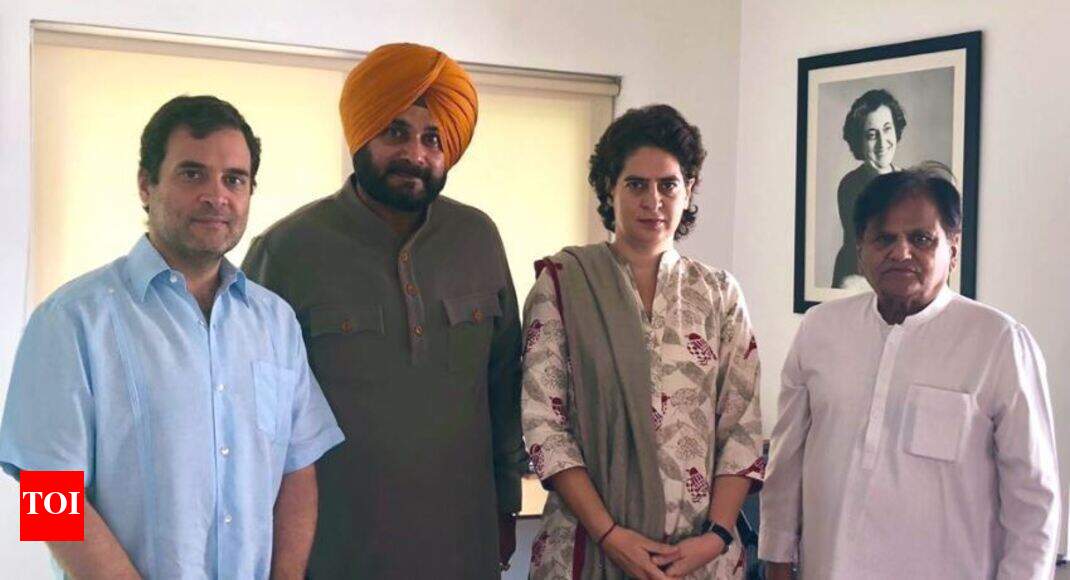 [ad_1]
NEW DELHI / CHANDIGARH: The fight between Punjab's chief minister, Captain Amarinder Singh, and his rival Facjot Singh Sidhu, took an interesting turnaround on Monday with Congressman Rahul Gandhi and party secretary-general Priyanka Gandhi.
"I met the president of the Congress, I handed him my letter, I informed him of the situation," tweeted Sidhu, who publicly protested against the eviction of local organs, leaving little doubt as to the purpose of his visit to Rahul's residence. He drove home the point posting a picture of him with Rahul, Priyanka and Congress veteran Ahmed Patel.
He met the president of the congress, gave him my letter, evaluated him of the situation! https://t.co/ZcLW0rr8r3

& mdash; Navjot Singh Sidhu (@sherryontopp) 1560140889000
Rahul's waiting time for Sidhu, who has positioned himself as a challenger for his CM, has led to speculation about leadership positions on the growing confrontation between the leaders of Punjab and, in particular, whether Captain Amarinder was allowed to change Sidhu's department of local bodies when he shuffled the responsibilities of his ministerial team last week. Congressional sources said Ahmed Patel was asked to address the issue in the "biggest interest" of the party.
The central leadership and the Punjab CM often appear to be in conflict with Sidhu. While Amarinder and Sidhu appeared to have split up during the Lok Sabha campaign, the central leadership remained indulgent with the former cricketer.
Amarinder attacked shortly after the elections, effecting a change in Sidhu's ministerial responsibilities. If the purpose of the exercise was to convey the message that Amarinder was the "captain," Sidhu's public celebration of his meeting with the Gandhi brothers was seen with the aim of transmitting it equally with the support of the central leadership.
While he has been in controversy since becoming a minister in Amarinder's government, Sidhu recently shook the CM when he accused him obliquely of having a connection with Akali Dal.
[ad_2]
Source link