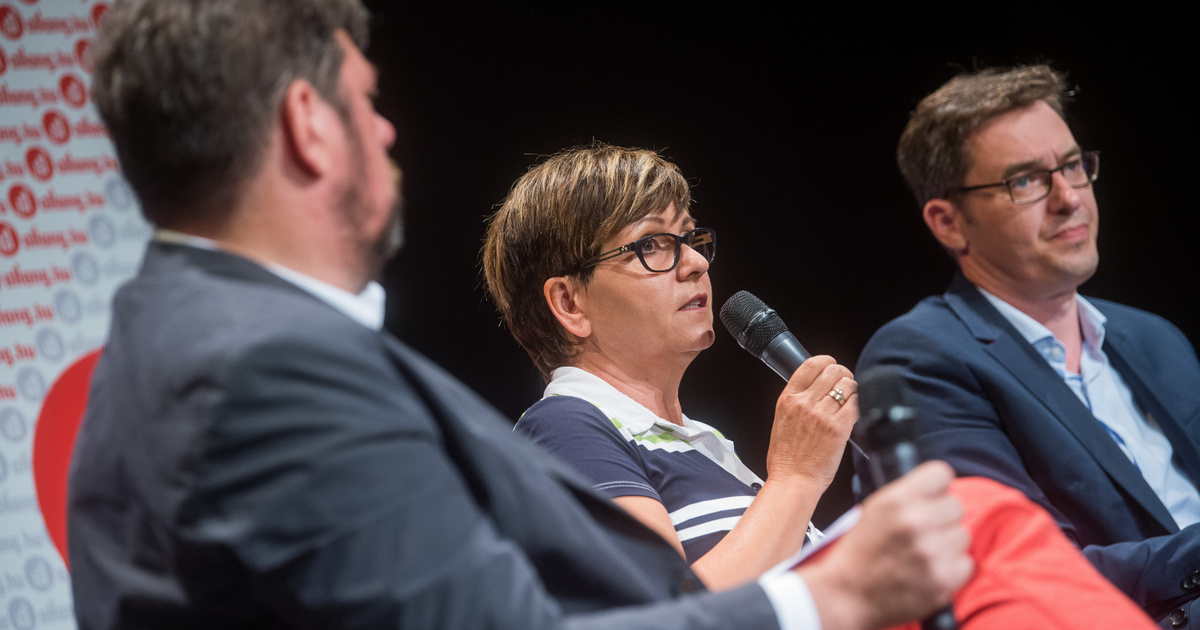 [ad_1]

Nominees for mayors of the opposition, ie – in alphabetical order – MSZP-Dialogue Gergely Karörös, Olga Kálmán supported by DK and Gábor Kerpel-Fronius at the moment, this time at the Atrium. In the debate, four topics (housing and homelessness, transport, climate protection, gypsy communities) were discussed in 20-20 minutes (here you can look back). However, instead of arguing with each other, the candidates tried to mimic the characteristics of their similar programs, often according to the details of the other candidate's program.
prelude:
Olga Kálmán pointed out, then let us know how a city would compare with our own home: everyone wants to live in a safe and clean environment. But none of them works now. He said: 10 buses should be replaced every month, the lower passages should be washed daily.
According to Gábor Kerpel-Fronius, a long-term vision for Budapest is necessary. Now the city is in the hands of the Mafia Fidesz, a trouble manager without vision. Momento has a vision until 2030, which responds to the problems of the capital.
Gergely Karörös wants a settlement with a big city, but also a medium in human scale, good air, like a small town. She wants a greener and more solid city, because now she is just a restricted elite. Tiborcz tax, pay NER knights! – issued the password.
housing:
According to Gábor Kerpel-Fronius, there are 5,000 new apartments for rent, but before that there is a survey, a register of social housing on vacant apartments. The 5,000 new homes imagine that when new condos are built, the builders will deliver some of the new homes to the counties at a lower price.
Olga Kálmán also believes it is necessary to evaluate how many municipal apartments are empty. There is no address report required, we are not aware of actual data. Together with the districts, it would be possible to build 10,000 new homes in five years. He does not believe there are so many empty municipal apartments.
Gergely Karörös imagines new community homes. He is thinking of things like housing cooperatives that the council helps with their own land. According to a municipal housing agency, this could help find many empty houses. One of the few contradictions was made when he said to the momentary proposal that he should not intervene in the market, forcing a condo builder.
Gábor Kerpel-Fronius continued, as he said, and the whole 9th apartment was empty. It would be subject to a tax on non-residents, and this would certainly lead to a reduction in rental rates.
homelessness:
Olga Kálmán promises thousands of new places to the homeless, but as a strict mother, she pointed out that the street should be order and cleanliness. In NGOs, he relies on his knowledge, spending 5 billion on homeless programs, which would make 100 homeless people a year.
Gergely Karörös would create money, billions of dollars a year to end poverty of housing, taxing private houses of high value, the Tiborcz tax. Because, in his view, if housing poverty is cut short, fewer people go out into the street. By way of example, he introduced the Zuglo system (where mayor) that those who are unable to withstand the overhead are borne annually by about one hundred million forints. For those who already lived on the street, instead of homeless barn-like hotels, we suggest renting a room or a shelter.
Gábor Kerpel-Fronius cautiously remarked that he had a bad feeling about transmitter Tiborcz, which could be the basis of anti-hostile humor. It is not known if anyone obtained an expensive property as a knight or NER merit. The objection was resolved by the fact that he liked the Zuglo social system because he gave a personal solution.
Olga Kálmán concluded with the theme that the problem of the homeless can not be understood as a matter of law enforcement.
transport:
In 10 years, all buses would be replaced by Olga Kálmán. He added that BKK's external service providers could rent a bus, but they would not allow Budapest. It would not happen at the same time, they would replace 10 buses a month and the electric vehicles would be cheaper. The government plans to buy 3,000 new buses, and should be requested.
Gergely Karörös would also like to have electric buses, but stressed that Budapest will have a debt of $ 150 billion until the new mayor begins work. The development of mesh traffic keeps you in the right direction. There is a tram on the Pest tram (tram number 14 for Bajcsy-Zsilinszky street, tram number 47), subway extension, subway connection (subway line 2 – Gödöllő HÉV). And to reduce the annual rental price of BKV.
Gábor Kerpel-Fronius calculated: In 13 years, the capital fleet could be replaced by 14.8 billion HUF. But he would be happy in the short term if BKV buses do not smoke much. In his view, railroads could also be used in Budapest for a better timeline. P + R car parks are also needed, with 40 to 50,000 instead of the current 2200. Another alternative is the bicycle, but there are no cycle paths connected to the center and the suburbs, and in many places the motorcyclist fights for his life.
According to Olga Kálmán, P + R parking is a key issue in reducing traffic and should be built in the agglomeration. Cycling is not too cheeky in the city and even as a car.
Everyone agreed that the government would spend a lot of money in Budapest, but not in the Carmelite monastery, in the stadiums, but in things that people need.
Climate change:
According to Gergely Karörös, large areas must be designated, which we use as parks, for example, in Csepel. A green belt could be created linking Margaret Island with catwalks to the Isle of Obb and the Roman Coast. In small, concrete in the condominium garden should be replaced with green, and rainwater must be collected and sprinkled with vegetation.
Olga Kálmán said that 70% of carbon dioxide emissions in the capital are caused by heating, not transportation. Therefore, you must restart the dashboard program. Insulation, replacement of doors and windows, installation of solar panels. The money would come from an EU source: nobody forbids the offer of capital – he said. He also emphasized the importance of district heating.
According to Gábor Kerpel-Fronius, global warming demands action at European level, but it is an example. He agreed that most private homes come with pollution, so care must be taken to modernize the heating system. He believes a stricter pollution warning regulation is needed.
The issue of the plug-in fee, which Gergely Karörös would introduce based on the example of Stockholm (after the social dialogue, after a referendum), and Olga Kálmán when the ring road was completed, also emerged. Gábor Kerpel-Fronius was more inclined to use a proportional toll, everyone would pay as much as he used the road.
Gypsy communities:
According to Olga Kálmán, in the capital, poverty and poverty are the biggest problem of gypsies. The preservation of Gypsy culture is important, cultural autonomy, education and school programs. As a result, the other two candidates also agreed, both emphasizing the need for self-organization of the Roma and their return to their institutions that had been abolished in recent years.
Finally, the question was answered by the candidates: why the mayor is opposition?
According to Gábor Kerpel-Fronius, it's symbolic, it's good to win Fidesz. Many things could not be done by István Tarlós, although he is supported by the government. With careful planning, the city can be well controlled by the wind, he thought.
Olga Kálmán reversed the question: what makes a mayor led by the government now? Not even the stubble was all. It can only come better. With a strong mayor, you can not hear the capital of the capital. You do not have to wave to the mayor, but to be strong.
Gergely Karörös also asked: Does Fidesz love the city, autonomous government and its own decision? And the people of the capital? This choice is not about parties, but whoever loves the city has finally solved the riddle.
(Bookcover: Olga Kálmán is an independent and mayoral candidate (b2) supported by the Democratic Coalition, and Gábor Kerpel-Fronius, Momentum (b) and Gergely Kar00, MSZP-Dialogue Mayor (j2) in the debate on Hang in Budapest, Atrium Theater on June 19, 2019. Right to Moderator György Szöllősi Photo: Zoltán Balogh / MTI
Thank you for reading!
If it is important for you to keep an independent press, support the Index!
[ad_2]

Source link