[ad_1]

Like all Hungarian media, PestSrác, working with the publisher of Gergely Huth, has been following the Czeglédy case of billions of budget frauds from the start. According to her own search engine, Angéla Füssy, a journalist, took the case of a lawyer-politician with the MSZP and the DK attached, publishing articles on the progress of the procedure. However, according to documents held by hvg.hu, the journalist actively intervened in the criminal case against Csaba Czeglédy, when he disclosed and released his own internal socialist informant to the prosecutor's office, which specifically provided information requesting anonymity.
He entered the investigation papers, in vain asking him to treat him in secret
The fact that Angela Fussy had published her informant in an ethically questionable manner would never have been revealed had the documents on this subject not been included in the investigation file and then in the possession of hvg.hu. In a file containing tens of thousands of pages, a separate chapter is devoted to 39 pages of material from or related to a PestiSrác employee.
It also contains a written statement directly to Attorney General Péter Polt, as he says that "only the highest level prosecutor's mediation" guarantees "an effective conduct in the proceedings" against Czeglédy and his associates. what "As an investigative journalist, he got hold of information and relationships that could have a significant impact" the Czeglédy case and therefore passes to the prosecution.
The document reveals that he was actively involved in the case: he also reported to the Csongrád county authority, which carried out the NAV investigation, after which he was also heard in Szeged, however, "according to his unfortunate experience, no there has been no significant change since then. "
"I pointed out in vain that since the network built under Csaba Czeglédy served political purposes, the political thread can not be ignored
Polt complains about Peter. Unfortunately, in his interrogation, he discovered that the acting authority "practically excludes the political thread that is the soul, motor and purpose of the criminal organization."
The PestiSrác journalist is also unhappy because he even sent witnesses to the investigators, but according to him, the questioning of the taxpayers he presented was not "complete." "As soon as they wanted to talk about sensitive details," the tax authorities' investigators "prevented them, arguing that political issues and actors were not part of the investigation," he complains.
So now he turns to the chief prosecutor to draw his attention to two "important factors":
– Has a significant role in the "strengthening" of the suspect
He tells us that through a common acquaintance he contacted one of the prominent suspects in the case, K. Norbert, whom he "strengthens, strengthens to this day to work with the authorities." "My person has a significant role to play" in the fact that Norbert K. made an exploratory testimony and "broadly help" the investigation and broaden the circle of suspects – so Füssy literally describes his contribution.
Thus, Norbert K. made a statement that "explores the whole circle of offenders, the operation of the system" in order to "justify the evidence of suspicious acts." The PestiSrác colleague almost boasts that Norbert K., "reinforced" by him, "showed maximum cooperation", so far "made three exploratory testimonies."
It is hard to imagine how a press bound by ethical standards is in a situation where he wants to prosecute; With Norbert, and worried that the information leaks, "examine the possibility of moving the procedure of Csongrád County".
– Released "MSZP Information-Carrier-Person"
PestiSrác's colleague disrespects another fundamental ethical standard: despite his explicit request, he publishes the MSZP source, Szabolcs Németh, who provided him with information about Czegléd and other suspects. It was so important for him to intervene in the procedure, not only to reveal his identity, but also to attach messages or emails that had been received confidentially from German. We also managed to obtain them and also shows that the socialist who knows Czeglédy, MSZP, specifically asked him for anonymity.
The journalist claims he was contacted by Németh, who is MSZP's "intelligence man" because he thought he wanted to "trick the public and divert the entire criminal case in a different direction."
In his collaboration with the informant, he found "disturbing" that the Socialist had "information of internal authority," including the fact that he had received two important suspects "the sum of Csaba Czeglédy to disappear from the country." The Terrorist Center (TEK) has already been informed of the danger of escaping a plea – calling Polt's attention that he thinks he is trying to stop the criminal case. TEK's announcement is also among the material we have at hand, in which a stranger actually claims that Czeglédy could have spent two million suspects abroad, but also a weapon. We know that the authorities took it seriously, and referred to it while they extended the arrest of the leftist politician.
Fssy also attached a portion of his correspondence, from which it seems that Németh, who was actually carrying information, had a very cooperative relationship. In one of his conversations, Németh promises "a little stuff," but only if he writes an article by Füssy, and "it can not be revealed that he added the material," and the reporter responds that he is okay. And then they agree to include German in the article for the sake of the dream, this part of the document:
Németh: It does not hurt if I make a little "laugh". Because then you will not leave.
Füssy: (smiley) Good sugestion.
Németh: But do not overdo it …
Füssy: I know who the friends are, I do not know. Even if we're not on a platform.
It is difficult to say after what kind of materials were created based on this, but an article is currently available on the portal, in which Füssy does not put it exactly in his article, Szabolcs Németh.
"Manage Confidentiality"
We also have a letter that Nemeth sends a report to the journalist about "what was his role in the case of Czeglédy." He also asks the journalist PestiSrác to treat it as "very confidential, because it is not public", only the Public Prosecutor's Office has a copy. Therefore, he suggests that it would be "convenient, if not as an audit report," refer to Füssy in the article, but "say a document from an independent judicial expert, which was included in an envelope sealed by the PS editorial office, postmark on Szombathely ".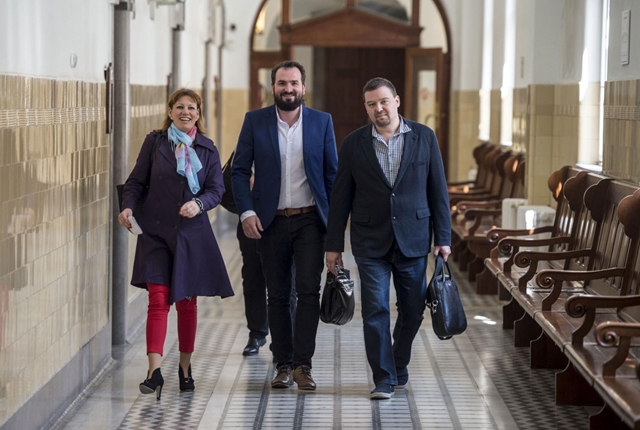 Your exchange of communications with the prosecution is about when to close the investigation, so he asks plurally "how much time can we have?". When you get Fussy's response that he thinks in April when he's down with a smiley, there's little time to extend the investigation.
He even discovered that he came to us
"If we are stubborn enough and, of course, persistent, simply not releasing history, we can contribute to the triumph of truth!" – this is the motto of Angels Füssy, at least it is also the case of the articles of Czeglédy published by PestiSrácokan. "I do not deny, I actually wrote a petition to the prosecutor's office, but I find it absolutely incredible that this is for HVG," he replied. But when we asked him to release his informant, he said, "I do not want to talk to you anymore," and hung up the phone.
Szabolcs Németh was informed by us that, despite the journalist's request, he issued the charge as he said, "if he did, he would qualify him." He claimed that he was not looking for Füss and that he had nothing to do with Czeglédy's case, nor was he happy to "get in the way of these people." According to Németh, he left the MSZP in March, so we know it was almost at the same time with an ethical procedure. He was vice president of the Keszthely organization before his cease party membership.
"Fidesz loves betrayal, not the traitor"
"It is impressive, but at the same time it describes well the Hungarian reality that happened: a journalist protects his informant through fire and water, especially against power, a PestiSrác operated by Fidesz, who did not defend, but voluntarily and freely released the prosecution "Csaba Czeglédy replied:" He also shows that Füssy is not a journalist and, where he works, he is not an editor. "" Journalists control power in a democracy that works normally and does not help in retaliation, and even Füssy testified to me, " he added.
"Of course Fidesz loves betrayal, not the traitor, because his journalists threw out the politicians who provided false information about their MSZP colleagues," said Szabolcs Németh. In her opinion, her former party partner mistakenly told him more about Fussy, but the latter, as a journalist, "does not give her the right to betray her source."
[ad_2]

Source link