Risk of Electric Shock: Apple is Recalling Certain Power Outlets
The US technology company Apple has released a callback for certain power outlets. The company discovered that the products could break the pins and therefore there is risk of electric shock.
Risk of electric shock
"Apple has found that its three-prong power plugs, which are primarily intended for use in the United Kingdom, Singapore and Hong Kong, may in rare cases cause the pins to break and thus run a risk of electric shock. when exposed metal parts are touched, "the US technology company writes on its Web site. Apple has therefore launched a recall program for these products.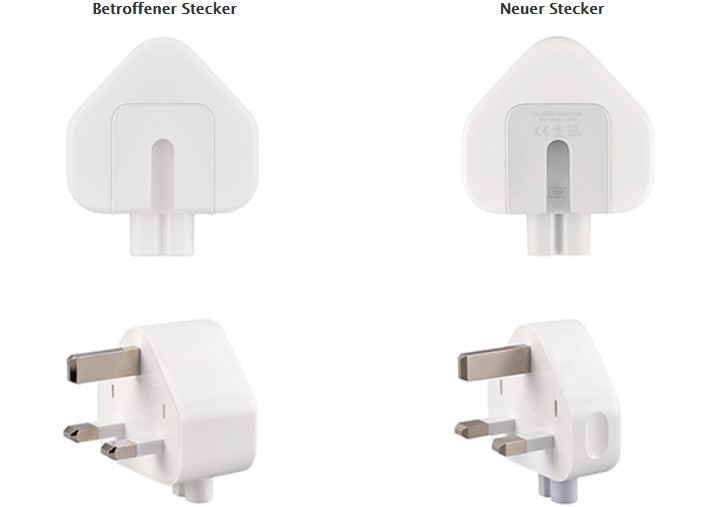 Memories affected by the recall can be changed for free
According to the company, these power adapters were shipped between 2003 and 2010 with Mac computers and certain iOS devices and as part of Apple's Travel Adapter Kit.
The power plugs affected by the recall can be exchanged for a new one for free.
According to Apple, the power adapter should be compared to the images shown on the site.
According to the information, the affected three-prong power supply plug is white and has no letters inside the junction with the Apple power supply.
The new adapters, on the other hand, are white and gray inside the intersection with Apple's power supply.
Customers who purchased an affected power supply plug should contact an Apple Authorized Service Provider, Apple Store, or Apple Support for replacement.
"Power adapters to mainland Europe, Australia, New Zealand, Korea, Argentina and Brazil may be affected by Apple's power adapter recalculation program," the statement said.
The company points out that Apple's USB power supplies are not affected by this program.
After a shock to the doctor
Electric shock can have dramatic consequences for people. For example, life-threatening cardiac arrhythmias may occur, sometimes resulting in ventricular fibrillation.
Then the heart beats so fast that it no longer pumps blood into the circulation. The result may be cardiac arrest.
In addition, there is a risk that the current will strain the pulmonary musculature, which, in the worst case, leads to respiratory arrest.
Health experts advise that you go to the doctor after an electric shock, even if you are well. Because cardiac arrhythmias may also occur late.
However, if you have symptoms such as rapid heartbeat, heartbeat, shortness of breath or chest cramps immediately after an electric shock, the rescue service should be called immediately. (Ad)
Source link