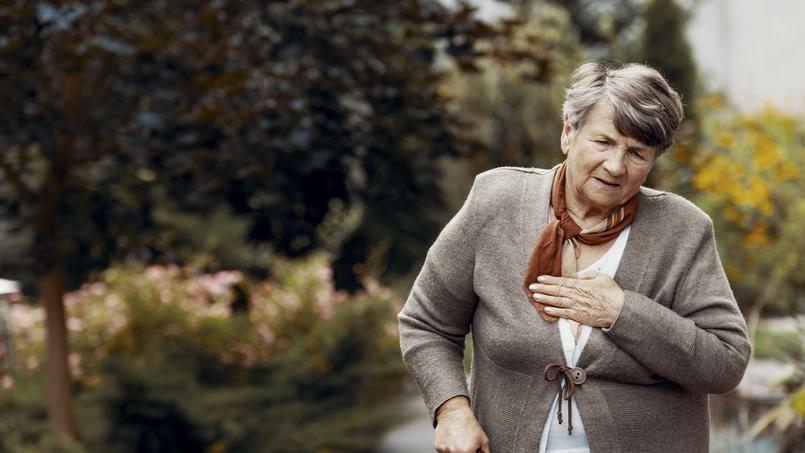 Sneaky because difficult to detect, this disease especially strikes the elderly.
It is a chronic disease that causes almost 200,000 hospitalizations and 70,000 deaths each year in France, 7 times more than myocardial infarction and 14 times more than traffic accidents. According to the High Authority of Santé, 2.3% of the adult population and 1.8% of all French suffer from heart failure. "The numbers are probably bigger, slides Dr. Patrick Assyag, President of the Ile-de-France Cardiology Association, not only is the average age of patients about 80 and the population is aging, but many people are unaware that they are concerned. "
A big public health problem
An underestimation recently confirmed by two studies from the Heart Failure and Cardiomyopathies Group (Gicc) of the French Society of Cardiology. The first, "Heart Alert", was conducted by interviewing 5000 adults aged 18 and over in spring 2017. According to their findings, no less than 3.6% of the population would suffer from heart failure.
But this study points out above all the lack of knowledge of the symptoms of the disease. When chest pain is a warning sign for 72% of respondents, exercise shortness of breath is mentioned by only 44%, sudden weight gain and lower limb edema by 6% and fatigue in 22% of cases.
This study also shows that in the face of one or all of these symptoms, referred to as DPOF (shortness of breath, weight, edema, fatigue), 64.2% of respondents did not find it helpful to go to consult. The results of a second study, called "IC-PS2," conducted among 800 patients hospitalized for cardiac decompensation in spring 2018, follow in the same direction.
»Read also – Heart Muscle Diseases: Nearly one in two cases of genetic origin
Older people at the front line
Complications of heart failure are problematic, as is precisely decompensation. In case of failure, the heart can no longer adequately guarantee its role as a pump. Because it no longer properly feeds the body with blood, ie oxygen and nutrients, compensatory mechanisms are implemented at the organ level: its rate accelerates, its wall is reduced. it thickens, its cavities dilate …
But due to various factors – infection, tension, weight gain, etc. – These mechanisms are no longer sufficient to overcome disability. "All of these problems can put pressure on the atrium and instead of circulating normally, the blood goes to the lungs and drowns, so it leads to pulmonary edema." comments Dr. Assyag. This is called left decompensation, as opposed to right decompensation, which attacks the liver or global (right and left).
In all cases, there is urgency, and this is how the patients with whom the GICC conducted its second investigation ended up in the hospital. However, if symptoms had been observed shortly before 18% of respondents, they were present on average in 30% of them for four and a half months without consultation. Worse. At the end of hospitalization, only two thirds of patients knew they had heart failure: 23% thought they had a respiratory failure problem, 2.6% had venous insufficiency and 6% indicated they did not know about the disease!
Read also – Heart palpitations: when should you care?
An irreversible disease
This is one of the challenges faced by the management of this disease. As if heart failure is a chronic disease – irreversible after installation – and can only get worse, we have drugs to slow its progression. Any delay in diagnosis is therefore detrimental to the patient.
Also, as pointed out by Dr. Assyag, "The disease is even more serious because the patient is hospitalized several times, each hospitalization worsening the prognosis". The discovery is alarming. Especially because the disease mainly affects older people in an aging country.
"In general, patients remain hospitalized for eight to ten days, and when they return home, there is a real need to formalize a coordinated path of care between the cardiologist, general practitioner, nurse, and nutritionist. To avoid further decompensation and enable maintenance at home, improving the quality of life of heart failure patients ", continues Dr. Assyag.
That is why your association (Résicard) is setting up a therapeutic education program in the form of workshops currently offered at multidisciplinary centers and health centers in Ile-de-France. Once the diagnosis is made, support actually depends on a panoply of medicines (to decrease blood volume, decrease tension, slow the heart …), even surgery (valves, shunt, defibrillator). ..).
But it is also necessary and above all to intervene in the hygiene of life (weight loss and daily control, unsalted diet, compliance with treatment, cessation of tobacco, limited alcohol …) and in addition to establishing a cardiac rehabilitation program. associating physical training, therapeutic education and treatment optimization.
It also remains to lead upstream prevention campaigns, because many of tomorrow's inadequacies are hypertensive today. This is one of the main reasons for being European Heart Failure Day. This is also what motivated the launch of a website on the topic heart failure for caregivers and patients. Or developing a smartphone app. There is urgency …
---
GOOD TO KNOW
Myocardial infarction and high blood pressure are the main causes of heart failure. This deficiency can also be triggered by cardiomyopathies, valvulopathies or the toxicity of certain medications.
In addition to decompensation, another serious complication of heart failure is sudden death from ventricular fibrillation. Infarction usually causes what is called heart failure with a reduced ejection fraction, whereas in the case of hypertension, this ejection fraction is preserved: both cases are so severe, but the first has been since. bit of innovative treatment that greatly reduced the risk of cardiovascular events and mortality.
Source link