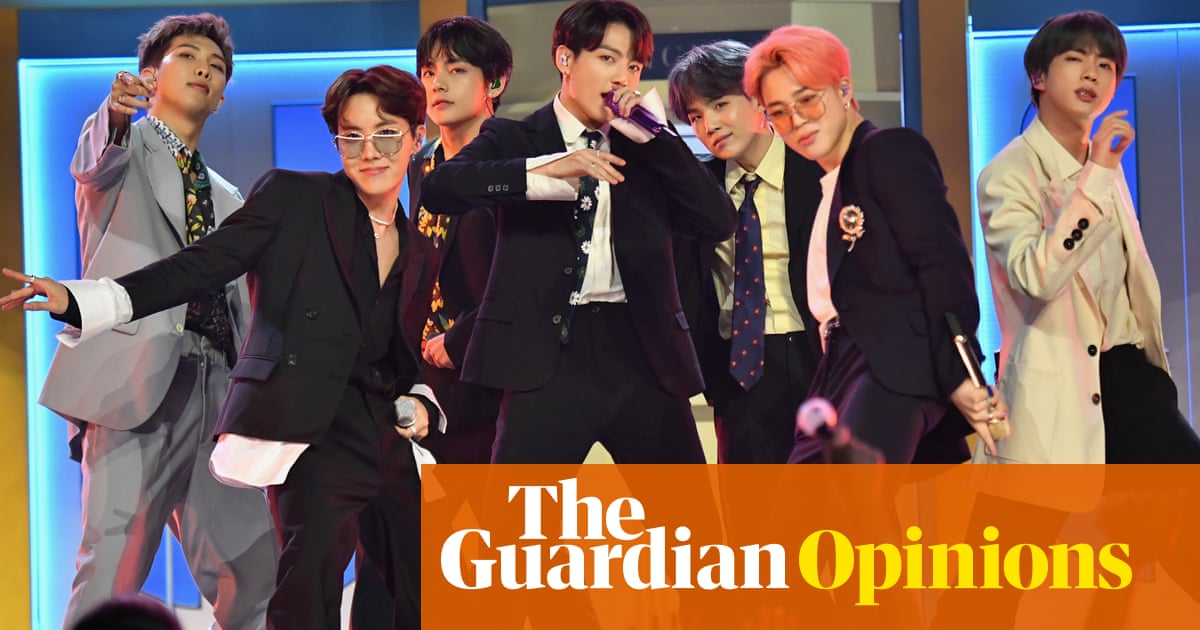 [ad_1]

TThe Nine Network discovered the power of ARMY, the self-described fanbase of South Korean group BTS, after running a segment of the band in 20 to One, a program that lists global crazes and viral content. The group gained its place due to having more than 5 billion views on YouTube and having led the charts in 73 countries, including Australia, where their last album went straight to number 1. The segment had a "today's emoji up-to-date "attitude and comparisons with groups of western guys like One Direction. This all put the BTS ARMY on the warpath, triggering furious tweets with the hashtag # channel9apologise and instructions on how to complain to the network and to the band's agency, Big Hit Entertainment.
In a statement to SBS Pop Asia, Nine replied, "As a light entertainment program, we believe that the episode of 20 for One last night … did not violate any broadcast regulations, and intended to humorously highlight the popularity. of the group. We apologize to anyone who has been offended. "
By then, elements of the fandom had already shifted to another target, Adelaide comedian Alex Williamson, who had not been on the show, but had cited one of the fans in a sneaky response in which he said that boy bands were a cynical marketing exercise meant to separate teens and their money.
Before long, some BTS fans were sharing their family details online and bragging that they had their credit card number. Many others within the fandom, however, were exasperated by the behavior.
On Thursday night, the 20th One tweeted an apology in English and Korean that was immediately rejected by fans still angry.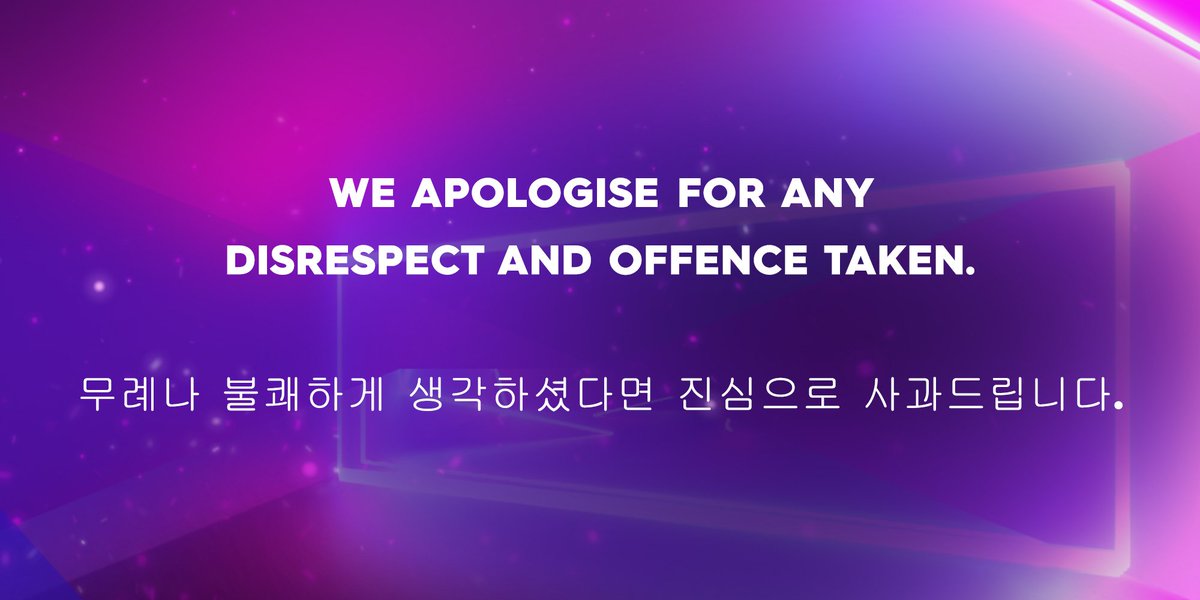 Aborted trial
The sexual assault trial of former Anglican Rector of Newcastle, Graeme Lawrence, was aborted this week after a radio broadcast by the local ABC. Lawrence pleaded not guilty to a charge of sexual intercourse without consent and a charge of indecent assault on allegations that he had sex with a 15-year-old boy in 1991. He once was one of the church's most powerful figures in Newcastle. , his long-awaited trial began Monday afternoon in front of a jury. It did not last long though.
On Tuesday morning, Lawrence's attorney Paul Winch filed a motion to have the jury dismissed after a play on ABC radio in Newcastle, which he said was "way beyond" a fair report on the court case. During the interview on the ABC program on Monday between program host Paul Turton and court reporter Giselle Wakatama, the reporter made numerous references to the actual commission on child sexual abuse – which were deliberately kept away from the jury because of of their prejudice. nature – interviewed a survivor of child sexual assault unrelated to the case, and at one stage referred to the alleged victim as "the victim of abuse."
Judge Tim Gartelmann, SC, agreed with Winch and dismissed the jury. It will now begin again as a judgment without judgment. "I am of the opinion that the bulletin last night gave rise to a significant risk of injury to the accused and his right to a fair trial," he said.
An ABC spokeswoman said the station was worried about the judge's decision and was "considering the circumstances in which it happened." An internal newsletter from ABC Newcastle, however, took on a different tone. Under the title "oops," this week noted that "on the UP side" was "good to know that our Drive program is heard by enough people that a judge would judge to influence a jury!"
Another blow to regional news
In another blow to regional news coverage, TV network WIN announced on Thursday it would stop producing local newsletters at four locations – Albury, Wide Bay, Orange / Dubbo and Wagga Wagga.
The network blamed the commercial viability of producing news on those sites for the decision. "Changing content consumption habits and increasing competition from digital content providers who do not face the same regulatory conditions that challenge traditional media has led to a reduction in demand for local news bulletins in those regions," said the network, adding that he would try to redistribute the team elsewhere.
The move caused anguish, even among current and former reporters, and prompted NSW Nationals to withdraw advertising from the network in protest. NSW Nationals state director Ross Cadell said the party spent $ 3 million on regional TV advertising in the first six months of 2019 but did not spend more on WIN until it reversed the decision.
ABC's "offensively low" payment offer
Things are heating up on the public broadcaster over the company's new bargaining agreement. Both unions rejected the administration's offer of a 1.7 percent wage increase for one year, a number described as "offensively low" on renegade campaign posters that have sprung up in some ABC offices. On Thursday night – four weeks of formal negotiations – ABC managers said in an e-mail that the salary increase was their "best and last offer" and that they would adopt a team vote anyway.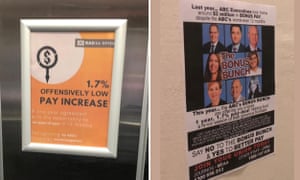 Other posters are highlighting the recent executive bonuses paid by the broadcaster. According to ABC's annual report for 2017-18, bonuses totaling just over $ 2 million were paid to 157 ABC executives, while 47 non-executives shared a bonus of $ 150,000. The posters label a group of executives, including new managing director David Anderson, the "bonus group." Anderson confirmed at a meeting of the city hall of the team this week that received the mystery bonus of $ 232,500, which was reported in the pay disclosure report last year, although its recipient has not been named. The figure would have included a large "retention bonus".
'We want you back'
Anita Jacoby, the only board member of the Australian Academy of Film and Television who declined to sign an apology letter to Oscar-winning actor Geoffrey Rush in 2017, lost her position in the film industry. The Australian reported Thursday that the TV producer's tenure on Aacta's board expired at its most recent AGM this month and that it was replaced by Jo Smith, director of film and director of the Australian Guild of Screen Composers. The other board members, who signed the letter, held their positions.
Jacoby – an award-winning producer who was Andrew Denton's right hand for more than a decade and produced Enough Rope among other shows for ABC – was the only board member to voice his opposition to the letter sent to Rush in December 2017, after that he stepped down from his position as president of Aacta following allegations published in the Daily Telegraph, accusing him of engaging in "inappropriate behavior" with a colleague. Rush sued the Telegraph for defamation.
"The moment you needed and deserved our full support, we failed you," the letter said. "Simply put Geoffrey: We Want You Back and we hope you can find a way to agree, under whatever terms you want to propose."
In an email to Aacta's chief executive, Damian Trewhella, and to the board, Jacoby called the letter "crawling." In April this year, Judge Michael Wigney ruled in favor of Rush, and he should receive $ 2.9 million in damages. The Daily Telegraph is appealing the ruling. Jacoby was awarded an Order from Australia this year for her service to print and radio and community mental health groups. Jacoby and Aacta did not respond to requests for comment.
Amanda Meade is on leave and will return with Weekly Beast next week. Josephine Tovey, Michael McGowan, Stephanie Convery and Gabriel Wilder all contributed to this play.
[ad_2]

Source link