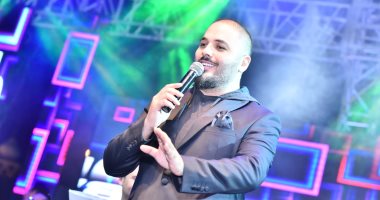 [ad_1]

Lebanese star Rami Ayach performed a successful concert at the 27th Arab Music Festival, and Ayash performed the song "Baladi" and "God Aleikai O Egypt".
In his speech, Ayash said it was a great honor to sing on the opera stage for the fifth time, noting that his mother attended the opera house and took pride in him, noting that his spirit is certainly present at the ceremony, thanks to Mustafa Mahmoud and music Group..
The song "Ami", accompanied by 4 children, in addition to the songs of "Raeika people" and "Balsaf" and "Khalini Maak", "Sun Bright" and "I love you" and "Prince of singing" and "Oh my eye "" Gibran "," From the Net to Rameelk Hala "," Qadish was in Nas "by the star Firouz," Sawah "by the Nightingale," Lebanon Ya Sama "and" Janni said two days later ".
The 27th session of the Arab Music Festival and Festival includes 43 concerts and musical performances with 73 singers and soloists from eight Arab countries, including Medhat Saleh (Egypt), pianist Omar Khairat (Egypt), Karlamiya (Lebanon) Mohandi (Egypt), Ali Hajjar (Egypt) and others.
[ad_2]

Source link