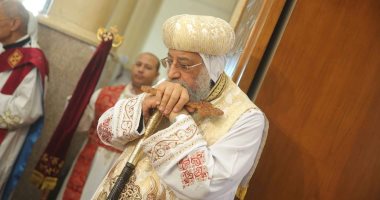 [ad_1]

His Holiness Pope Benedict II, Pope of Alexandria, Patriarch of the Annunciation of St. Mark, on Sunday morning, inaugurated the Mass of St. Mark's Cathedral in Anba Ruiss in Abbasia after completing his development work on the occasion of his 50th birthday .
The Pope entered the cathedral, accompanied by members of the Holy Synod of the Church, and was received by the choir of the Episcopal Seminary before the opening of the prayers.
The Mass began with the presence of members of the Holy Synod and a large gathering of priests and people.
The spokeswoman for the Coptic Orthodox Church, arrangements for entry and participation in the Mass of the opening of the Cathedral, and that no one will be allowed to enter only for the holders of invitations only.
[ad_2]

Source link