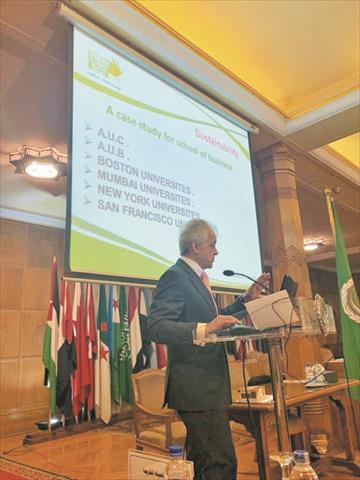 Posted in:
Tuesday, April 30, 2019 – 2:22 p
| Last update:
Tuesday, April 30, 2019 – 2:22 p

Dr. Moez Al-Shahdi, CEO of the Egyptian Food Bank and the Al-Khair banks, attended the meeting organized by the League of Arab States for the Subcommittee on the Elimination of Hunger in the Arab Region.
In his speech at the meeting, Al-Shahdi pointed to the role of the Egyptian food bank and its leadership in the food field, so that it has become a model for the establishment of food banks in the world.
He pointed out that the Food Bank of Egypt is working to eliminate the hunger problem through a variety of development, awareness and nutrition programs, and pointed out that the Bank is working on a scientific methodology to reach millions of deserving citizens. Unable to work, such as the elderly, pregnant women, families with chronic diseases or disabilities and orphans, receive monthly and seasonal feeding programs, school meals, fasting and sacrificial feeding.
He added that the second category has the right to work and that education, training, rehabilitation and small projects have been allocated so that they can integrate into the labor market and spend the day without the need for any assistance.
He commended the role of the Egyptian Food Bank in developing and organizing random food distribution through a comprehensive and detailed database through which the numbers, names and places of the beneficiaries studied are monitored in all provinces, which contributes to the organization of randomness and duplication in geographical and temporal distribution.
Al-Shahdi stressed the need to increase investment to ensure continuity: Egyptian Food Bank has a packaging factory, dairy farms, fattening, transportation and others.
He added that the Egyptian Food Bank developed a professional operating guide to be applied in hotels and restaurants in cooperation with the hotel facilities room, registered as intellectual property in the Egyptian Bank and exported to the countries of the world, as well as presenting a lesson in the third year reading book.
He also emphasized the belief of the Food Bank of Egypt on the importance of not wasting food and raising awareness on the subject and spreading the culture of not wasting food and how to use it to eliminate hunger.