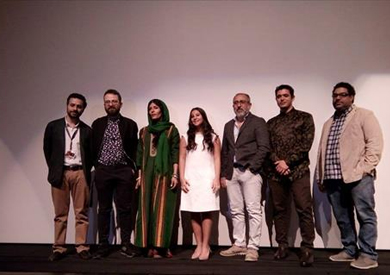 Posted in:
Thursday, November 22, 2018 – 1:28 p.m.
| Last update:
Thursday, November 22, 2018 – 1:28 p.m.

Director: The second wife of the northern men is often Syria .. There is a change in society after allowing women to lead
The opening of the "Afraq Arabia" competition was held last night with the screening of the Saudi film "Amra and the Second Marriage" at the Cairo International Film Festival in the presence of director Khairi Bishara, director Amr Salama and Saudi ambassador to Cairo Osama bin Ahmed Al-Naqali.
After the film was shown, a seminar was held by the director of the "Afaq" contest, Ahmed Shawki.
The director said that the theme "Umrah and the second marriage" reveals the masculinity of society and how to deal with women, noting that he was willing to provide the meal in a somber but comical manner, pointing out at the same time that very rapid changes occurred in Saudi society. Let the women drive.
Al-Sabbagh explained that most "second" marriages in the North are from "Syria" and not from Saudi Arabia. This is a prevalent pattern in Saudi society, noting that the character of the girl "Jamila" expresses the new generation in Saudi Arabia. The family's disintegration and collapse.
Al-Shiba said she was looking for an actress to play the role of Umrah spontaneously without performing a mockery to show a personality of the reality of Saudi life and the suffering that is affecting Saudi women.
For her part, said Shaimaa Tayeb, this work is the first of her cinematic experiences, indicating that she underwent some intense personality exercises very intensely with director Mahmoud Sabbagh before the performance of personality, so that everyone sympathized with the personality and believe.
Amra and the Second Marriage, led by Mahmoud Sabbagh, starring Shaimaa al-Tayeb, Mohammed Al-Hamdan and Khairiya Nazmi, revolves around Amra, a 44-year-old housewife who discovers that her husband intends to marry another young.