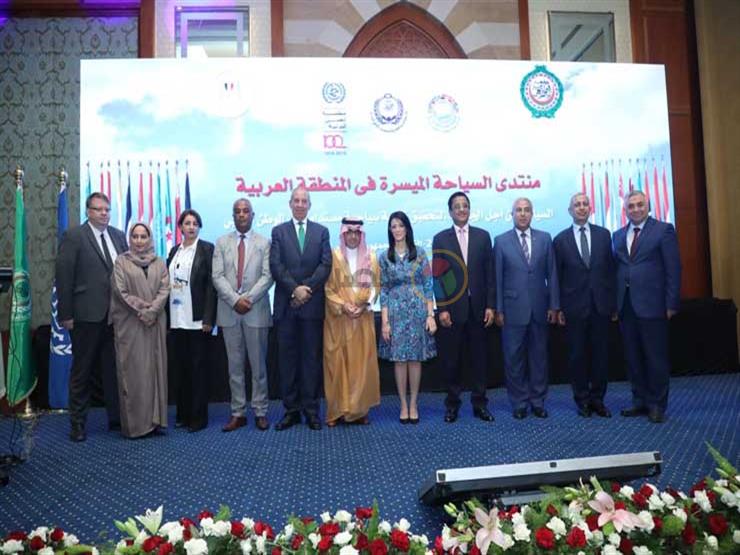 02:03 PM


Tuesday, June 25, 2019

Books by Youssef Afifi:
The activities of the Forum on Tourism Facilitation in the Arab Region, organized by the Ministry of Tourism and the League of Arab States, were completed in coordination with the Arab Organization for Tourism, the Arab Academy of Science, Technology and Maritime Transport and the International Organization of Work.
Dr. Bandar bin Fahad Al Fahid, President of the Arab Tourism Organization, presented the recommendations made by the Forum during the closing session, including:
– Request the Arab Tourism Organization to establish a competent council to facilitate tourism in the Arab world, with the participation of various experts, academics and specialists.
– Emphasize the need to work to increase the efficiency of the human element through the organization of training courses, and to continue to establish and organize conferences and seminars to raise awareness about the concept of soft tourism.
– Invite the various media and social networking sites to highlight the concept of smooth tourism, as the media is a key partner to support and develop tourism.
– Benefiting from the programs of the Islamic Development Bank Group to implement many programs to achieve these objectives and to benefit from the studies and programs available in the international, regional and Arab organizations and universities of the Arab world.
Minister of Tourism, Major-General Ahmad Abdullah, Governor of the Red Sea, Major-General Ahmad Ibrahim, Governor of Aswan, Mohamed Abdel Meguid Qabati, Yemen Tourism Minister, Khaydar Bashir Malik, Head of the Libyan Tourism Authority Dr Dina Al Zaher, Dr Bandar Bin Fahad Al Fahid, President of the Arab Organization for Tourism, Dr. Ismail Abdel Ghaffar, President of the Arab Academy of Science, Technology and Maritime Transport, Ms. Basma Al Maiman, Director of the Regional Department E Eric Ochlan, Director of the ILO Cairo Office and Director of the Technical Working Group for Decent Work in the Countries of North Africa.
The forum sessions included four seminars, the first of which was titled "The Concept of Soft Tourism: Vision and Sustainability", and the second was on "Applications and Rehabilitation of Hotel Facilities for the Use of Soft Tourism." During this session, Pointing to deaf and dumb tourists, as well as discussing the importance of technology and innovation in serving hospitality and facilitate tourism through the use of artificial intelligence applications.
Source link