[ad_1]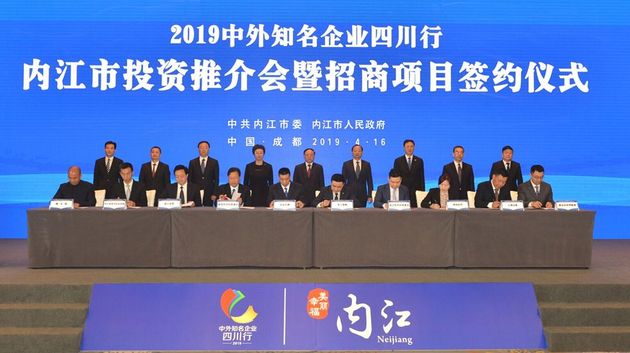 Neijiang Investment Promotion Conference and Signing Ceremony of the Investment Project Photo Source: Neijiang City
In the afternoon of April 16, as one of the components of "2019 Chinese and foreign enterprises known in Sichuan," the city of Neijiang held 189 projects with more than 150 representatives of well-known Chinese and foreign entrepreneurs at the signing ceremony of the Neijiang Investment Promotion Conference and Investment Promotion Project. In the scene, Neijiang also signed 34 projects with the parties, with a total investment of 33.22 billion yuan.
Since 2019, Neijiang City has attracted investment as the "engine" to lead the city's economic and social development, focusing on its advantages and highlighting investment in key regions, key industries and key projects. From January to March this year, the total investment of 425 key construction projects in Neijiang City was 7.56 billion yuan, and the annual target was 27.5%, and the progress of the time was 2.5 percentage points, reaching the first season of "opening the door".
Currently, Neijiang is taking the "year of promotion of industrial projects" as its driving force, focusing on building a modern industrial system "5 + 4 + 5" and developing cohesive new materials, new equipment, new medicines, new energy industries and big data. Actively develop characteristic agricultural industries, vigorously develop modern services industries such as e-commerce, modern logistics, cultural tourism, modern finance and healthy care for the elderly, and actively promote the three-dimensional and large-scale opening.
In addition, from 17-18 April 2019, the Huashang Belt and Road Belt and the Overseas Chinese Markets Neijiang Bank held activities and more than 50 well-known Chinese entrepreneurs visited the city of Naijiang to experience the vitality of Neijiang and seek opportunities for cooperation. More than 50 Chinese foreign businessmen from Australia, Italy, Greece, Hungary, Congo and other countries and regions visited the Neijiang Urban Planning Exhibition Hall to learn about the construction and development of Neijiang City and investigate industrial development projects, industrial economy and modernity. Agriculture, high-tech industries, modern tourism and other fields seek broad cooperation. (Daily Economic News Zhang Qiang)
Copyright Statement
1This article is the original work of "Daily Economic News".
2

It may not be used in any way without the permission of the Daily Economic News, including, but not limited to, reprinting, extracting, copying or creating mirrors.
3Copyright cooperation phone: 021-60900099.
[ad_2]

Source link