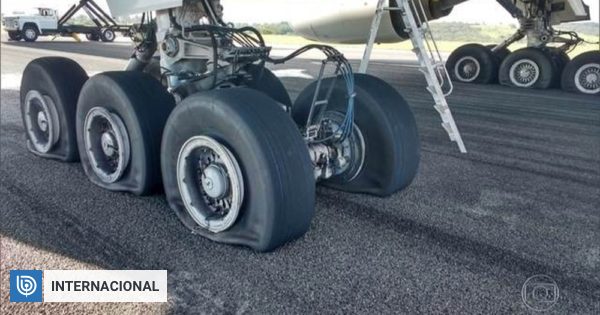 A plane belonging to the airline Latam was seriously damaged after an emergency landing on Thursday morning in the southern Brazilian city of Belo Horizonte, which forced the closure of Tancredo Neves airport.
Flight LA8084 covered the São Paulo-London route, when He suffered a malfunction and had to land emergency in Belo Horizonte, about 1:43 on Thursday according to local time (00:43 in Chile) and remained on the tarmac for 21 hours, delaying the departure of more than 30 flights and limiting the operation of the air terminal.
The accident occurred an hour after the plane took off at the Guarulos airport in Sao Paulo, so the ship's fuel tank was almost fully charged, resulting in during the descent, the tires will be emptied when a safety system is activated.
The safety system removed air from 8 of the Boeing 777's 14 tires to prevent an explosion from landing, After touching land, the airport employees were foaming the sector where the machine was.
A Boeing 777-32WER from LATAM Airlines Brazil made an overweight landing at Confins International Airport, Brazil. This caused several tires to empty. The aircraft was deactivated on lane 13, forcing the airport to close. https://t.co/mE3hX1LCea pic.twitter.com/ihyGFnl2Bs

– Breaking Aviation News (@breakingavnews) December 20, 2018
Even a Hercules aircraft of the Brazilian Air Force had to help the emergency crews at the airport remove the plane, the G1 portal said.
According to the passengers interviewed by the Brazilian media, the pilots reported that due to an electrical fault, the plane had to land in Belo Horizonte, something that was not confirmed by the company.
Latam through a statement explained that the passengers were without any injuries or damage from the incident, and are collaborating with the authorities to determine the causes that led to the emergency.
Flight LA8084 that departed today (20), alternating or Confins airport due to technical issues. The tires have been damaged and will be changed to allow the aircraft to be taken off the runway, which is banned until 7 pm. Learn more at https://t.co/Sf38SuPeRa.

– LATAM Brazil (@LATAM_BRA) December 20, 2018
Or the LATAM Boeing 777-300ER (PT-MUG), flying LA8084 (GRU-LHR) with the emergency landing at Confins at dawn. Aircraft suffered severe fire panel without even fuel conditions. Or old landing without the wounded, thanks to the great work. Photos via social networks. pic.twitter.com/z4toiqcDJS

– Site AeroEntusiasta (@AeroEntusiasta) December 20, 2018