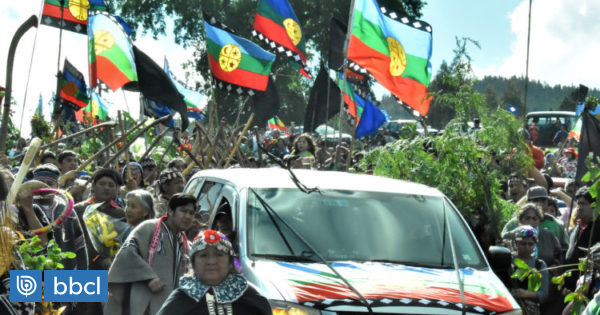 Marcelo Catrillanca, father of the communal cartuche Camilo Catrillanca, who died in the middle of a police operation in La Araucanía, was in disagreement with the measures taken by the Executive, after it was confirmed that the policemen erased the recording of the incident and requested the departure of the mayor in the Luis Mayol area, Governor Víctor Manoli and Minister Andrés Chadwick.
On Sunday morning, Vice-President Chadwick confirmed the departure of six policemen of Carabineros to the new antecedents known in the case of Catrillanca.
Specifically, of the six officials who left the institution, four were members of the GOPE who participated in the operation in which the plebeian died.
Meanwhile, the remaining two are Mauro Victoriano, head of Order and Security of Araucanía, and Iván Contreras, mayor of the Araucanía forces, who resigned.
At a news conference on Sunday, Marcelo Catrillanca pointed out his criticisms to Minister Chadwick, considering that the measures taken are insufficient.
"We question the minister, that he, by an act of good faith and that the government could say that justice is being done here, (…) must leave the post and, a fortiori, the mayor of the region (…) the governor also has great responsibility, "said Father Catrillança.
"I want to tell the government that this kind of patch response, which the government may want to implement, we do not accept as family, because here Mr. Chadwick, Minister of the Interior, You have to understand that there was a massacre here, my son was killed in the back and point-blank. The machinery of the community was destroyed, "emphasized Marcelo Catrillanca.
"In the first instance, the interior minister said that my son was a thief, a criminal, so we do not like it and I do not think it is. relevant that the government can portray today, "he said.
The dead comunero's father added in relation to the personnel involved that "the officer Carabineros, whatever their position, he will rest, because here the government to them as officials they fulfilled the main objective of killing someone from Temucuicui, intervene the community ".
Finally pointed directly to Carabineros, stating that the death of his son confirms that the institution develops assemblies in the area.
"I do not want what is happening today that they give you house arrest, which will not leave us satisfied. The prawns also have to suffer what many people of the Mapuche people are suffering, they are imprisoned," closed Catrillança father.