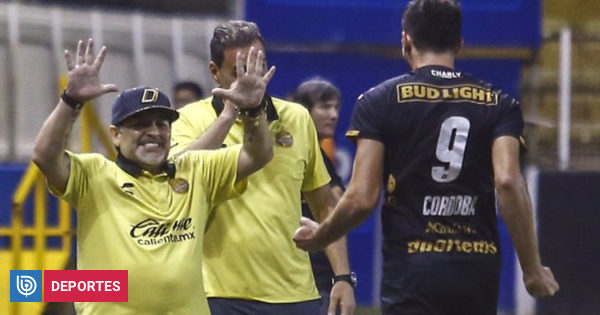 Did you find an error?
tell us
Rashide Frias / Agence France-Presse
The Dorados of the Argentine technician Diego Maradona they set foot in the final of the 2018 opening tournament of the Upload MX (second division) on Wednesday after win 2-0 in Juarez in the first leg of his semifinal played at the Banorte stadium.
Sinaloan's victory began to take shape at 13 minutes, when the Argentine Jorge Córdoba signed the 1-0 with a nod after receiving a corner kick to the right.
Maradona and his assistant Luis Islas celebrated the score screaming euphorically in front of their bench.
Only a minute later, the Dorados approached the second goal with a shot on the post.
The 2-0 fell to 27, scored by Raul Sandoval with a shot with the left foot inside the area.
The Argentine coach left his bench and expressed his joy by dancing smiling in his technical area.
During the second semester, the Dorados dominated the game and pleased Maradona who willingly, once when the ball came off the side, picked up and kissed it before returning it to court.
A dangerous long-range shot by Fernando Arce at age 75 passed by Juarez goalkeeper as a threat to the third goal. Maradona was thrilled with how close to the post the ball went.
As soon as the final whistle was heard, Maradona embraced the Islas and their players.
In this way, the Dorados of Sinaloa, seventh of the classification in the regular phase of the tournament, They beat Juarez Braves, who finished as a leader.
"We can win, lose or draw, but what we can not lose is the dignity of the work that brought us here, because that did not happen overnight," Maradona said at a conference at the end of the match.
The Los Dorados losing sequence under Maradona reached nine: seven wins and two draws.
"I am not the coach Mourinho, I am Diego Armando Maradona with the cap of the Dorados", said the Argentine coach.
The second leg of this tie will be played on Saturday at the Benito Juárez Olympic Stadium.
"Now we have another end. On Saturday we will play according to the deficiencies and the virtues they have, they can not be discarded. We will not take refuge in these two objectives that we have to advantage ", He covered Diego.
In the other semifinal, to be held on Thursday and Sunday, will face Atletico San Luis and Atlante.