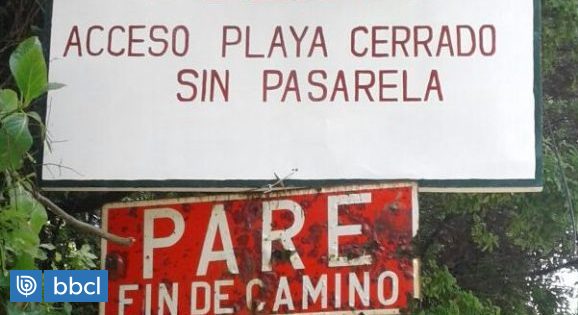 [ad_1]

The Minister of National Assets, Felipe Ward, launched in Viña del Mar the national campaign "Do not miss the beach" that invites people to claim the right of free access to the beaches of the sea, rivers and lakes of Chile.
So far this year, said portfolio received 314 complaints of prohibition of access to beaches, concentrated in the regions of O Higgins, Biobío, La Araucanía, Coquimbo and Valparaiso.
This is a 71% increase compared to the 184 complaints received last year. Of the total complaints, there are 27 emblematic cases: the lake beach of Villarrica (Araucanía), Topocalma (O & # 39; Higgins), Playa Blanca (Coquimbo), Laguna Chica (Biobío), among others.
The authority recalled that all sea beaches, rivers and lakes are national assets for public use, so that adjacent landowners are required to provide free access to them when there are no other public roads or ways to do so.
"We ask citizens to collaborate with this campaign by making complaints when it turns out that in practice there is a beach that does not have public access. We want to reduce the currently restricted beaches to zero ", noted the owner of the National Heritage, Felipe Ward.
In case a restriction is identified to enter a beach, it must be reported to the Regional Office, the Regional Secretariats of the Ministry of Assets, Governments, Municipalities or at www.nationalnacionales.cl.
In the activity, Minister Ward also announced the next Bill that establishes sanctions of up to 100 UTM (almost 5 million pesos) that prevents free access to beaches established by the authority.
In order to report these cases, the identification of the claimant, identification of the land adjacent to the beach to be accessed, identification of the owners, tenants or owners of such lands and the proposal of a strip of land as the access route should be presented.
[ad_2]

Source link