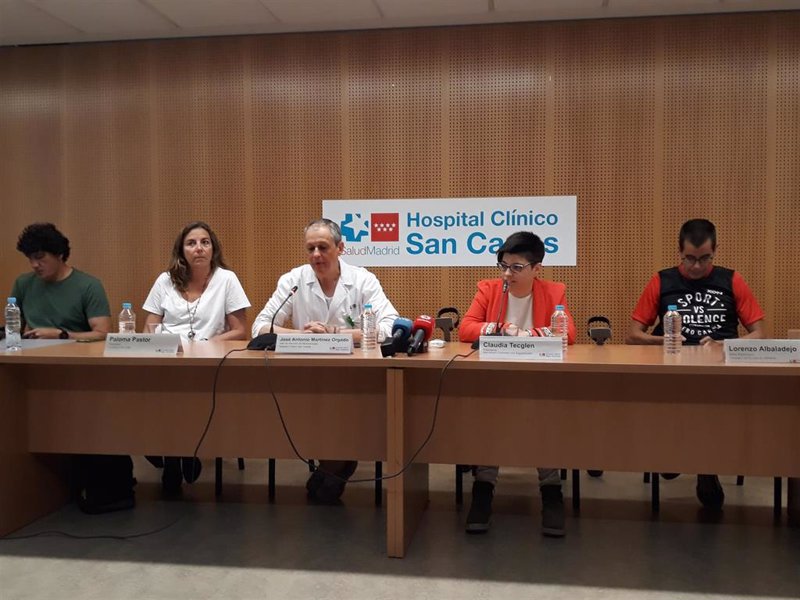 Posted 05/16/2013 13:28:47CET
MADRID, May 16 (PRESS)
Administration of cannabidiol together with hypothermia can reduce brain damage by 80% to 100% in neonates with severe asphyxia, according to tests performed on pigs, mice and rats by researchers in the neuroscience area of ​​the Institute. Sanitary Survey of the Clinical Hospital of San Carlos de Madrid, led by the head of the section of Neonatology of the hospital center, José Antonio Martínez Orgado.
This is the first time that results have been published on cannabidiol as a treatment for neonatal damage of hypoxic-ischemic origin, in both severe and moderate cases. Data from all preclinical trials performed to date have been published in journals such as "Pediatric Research", "Frontiers in Neuroscience" or "Neuropharmacology".
Every year, around the world, most of them die in third world countries, one million newborns due to acquired brain damage and two million suffer from a serious disability throughout life. In addition, it is estimated that every minute, globally, four children suffer brain damage, two and three minor each week in Spain.
Despite advances in newborn care, there is currently only treatment of therapeutic hypothermia, which reduces the risk of death or severe disability, but only a very small group of children. Specifically, of the two or three newborns with severe asphyxiation per 1,000, 50 percent are candidates for hypothermia, and of these, only 54 percent benefit. In the same way, it can have important side effects that can sometimes lead to death.
For this reason, researchers in the Hospital de Clínicas de San Carlos in Madrid analyzed in animal studies the potential that cannabidiol can have in these newborns, since it is a cannabinoid with no psychostimulant effect and whose potential is based on E one of the most powerful anti-inflammatories and antioxidants that can act simultaneously in the three main factors causing brain damage: inflammation, oxidative stress and excitotoxicity. In addition, it is a "potent" and anxiolytic anticonvulsant, which offers additional benefits for the treatment of newborn patients.
In fact, preclinical studies have shown that cannabidiol alone significantly reduces brain damage due to asphyxia in moderate and severe newborns. Specifically, researchers have shown that parenteral administration of cannabidiol in cases of neonatal brain injury of moderate hypoxic-ischemic origin reduces this injury by 50% according to MRI and histological tests and up to one hundred percent functional disability, as observed in functional or neurological examination tests.
Scientists have also observed that this benefit is maintained over the long term, even if the treatment starts at 18 or 24 hours after the onset of damage, thus extending the therapeutic window to hypothermia, which should be administered for the first six hours. "We also discovered that cannabinole has no side effects," said Dr. Martinez Orgado, commenting that this treatment has proven to be effective both when given alone in moderate cases and when done in conjunction with hypothermia in severe cases.
These results led the European Medicines Agency (EMA) to approve the first European multicenter clinical trial, which will be coordinated in Spain by Hospital das Clinicas, to test it in newborns with asphyxia during childbirth. and that they need to receive hypothermia. The study will begin in late summer and the first results will be published within a year and a half.
In this study, 30 to 40 newborns will participate, which will blindly be provided to researchers, cannabidiol or placebo. "What we want to demonstrate is its safety and efficacy," said Dr. Martinez Orgado, after reporting that the study will be coordinated at a general level in a hospital in the United Kingdom, since funding for preclinical work was done. responsible for the British laboratory GW Pharmaceuticals.
"Avoid more tears and suffering in the future"
Good pre-clinical outcomes, and those who may leave the trial, were received with hope and enthusiasm by patients and families affected by brain damage, as well as conveyed by the president of the Convives with Spasticity Association, Claudia Tecglen; the European Paralympic Athletic Champion, Lorenzo Albadalejo; or president of the Foundation Without Harm, Paloma Pastor; and the president of the Jero García Foundation, Jero García.
"The simple fact of being able to breathe without pain is fortunate, and research like this may allow many children to breathe and avoid many tears and suffering in the future, as I and my family move away from," Tecglen said. a psychologist who was born at 22 weeks gestation weighing 900 grams and whose prognosis was death or remaining in a vegetative state for life.
In a situation of incapacity is also Albadalejo, who suffered hypoxia during childbirth. "I was born in the 90s and now, thanks to research, people who suffer can suffer fewer consequences," said the Paralympics athlete, who emphasized the need for administrations to increase the budget to finance projects. search
Likewise, Pastor and García said the project is a "great hope" for patients and mothers who may suffer future complications in childbirth. "Why is it so difficult to help with research? There is a deficiency and we need help," said Jero Garcia Foundation president.
Source link