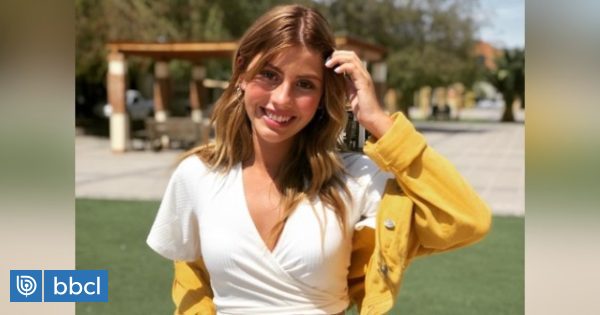 [ad_1]

It was in 2014 and with a leading role in the television series Worth itwhen María Fernanda Bertero achieved fame. Later, he joined the cast of productions from other channels as The Colombian and If I were rich.
Although currently off-screen, the 17-year-old is working on a major anti-bullying campaign today. In conversation with page 7, "Mafe" talked about the difficult process he experienced during his school years and how he has worked to end the harassment.
The actress pointed out that in her childhood, her classmates bothered her about her blond hair, even cutting her hair to avoid harassment. "The best therapy was to say," acknowledged the young woman who suffered for five years the constant jokes of her peers.
As revealed in his testimony, his former partners They nicknamed her "corn-hair" and bothered her because of her teeth, saying that they were very "big and ugly". Besides that, they hid the notebooks before the global tests, so that the subject had to be obtained by his own means.
Undoubtedly, her mother was a fundamental pillar to overcome this stage. "She accompanied me by raising my spirits, pulling me up, giving me advice"said Bertero, who later had to change schools. "That was all different, starting from scratch", he acknowledged.
When she was 12, the young woman made her debut in Worth it of Channel 13, and despite continuing his fear of rejection, he acknowledged that being part of the production was good therapy. "I started to record and it served me well to distract me, to do new things, it was a good window to get out of everything"he said.
Will be the face of a campaign
"No more bullying" is the name of Ripley's campaign, in which "Mafe" will play a key role. "I am very happy to be part of this, because I am a person who suffered and who also witnessed how other people lived it"He explained.
In this context, the actress revealed that it has been a very pleasant experience to be able to conduct this mission that will raise awareness in many children. "I'm anxious to continue this. We're going to do a lot of things, like commercials and we're going to release an emoticon to use in the campaign", he advanced.
It is the symbol of an "eye" that, as explained, can be used in social networks to represent that you have been an active witness to bullying. "If you see harassment on Instagram, put the emoticon to say:" I'm not part of it, "he exemplifies, adding that this Thursday will be a video explaining the campaign.
[ad_2]

Source link