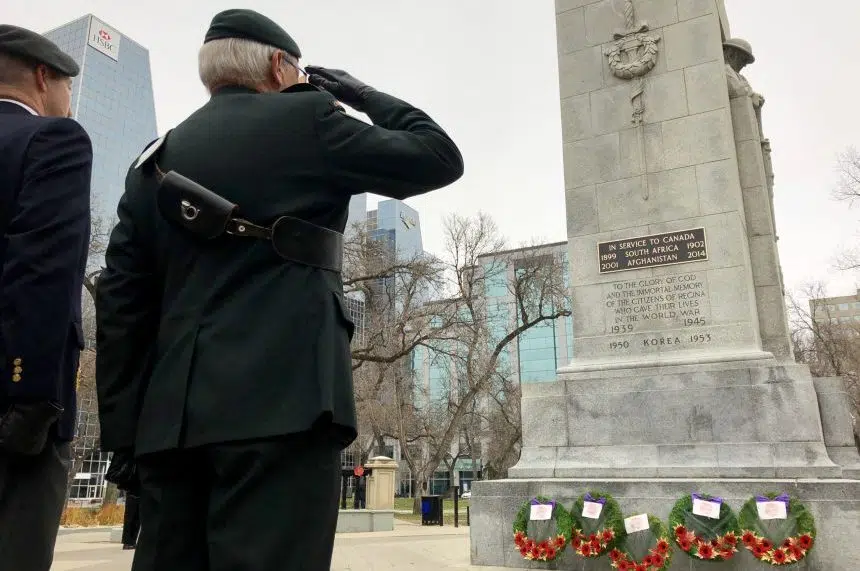 [ad_1]

For the first time in almost three decades, a new plaque was added to the cenotaph in Regina Park on Sunday to pay homage to those who fought in South Africa and Afghanistan.
"I am very happy to be there among the other heroes and legends," said the lieutenant colonel. Stacy Grubb, who served as commander of the fighting team in Kandahar province for eight months in 2008.
"I am grateful that it means something. I know there are soldiers who are still fighting the battles of Afghanistan now, and that means a lot to them."
When the cenotaph was originally built in 1926, it was to recognize the veterans of the First World War. In 1990, the monument was rededicated to those who served in World War II and the Korean War.
Speaking of the second rededication of the cenotaph this weekend, the Royal Canadian Navy, lieutenant colonel. James Balfour said it is important that the first and last war that the Canadians fought was marked at the memorial.
"Wherever they are (veterans), whatever they are remembering and whatever they are going through, we are there with them – we are standing next to them," Balfour said when asked what he expects veterans to take of the new brass plate.
Like one of those veterans, the lieutenant colonel. Grubb said, as he looks at the plaque, he thinks of all the good he and his companions did while abroad.
"The whole fellowship, the fellowship – just people working together to solve a problem, a very complicated problem, and sacrificing as much as we could every day."
https://media.socastsrm.com/wordpress/wp-content/blogs.dir/648/files/2018/11/Regina-cenotaph-rededication-Nov.mp3
[ad_2]

Source link