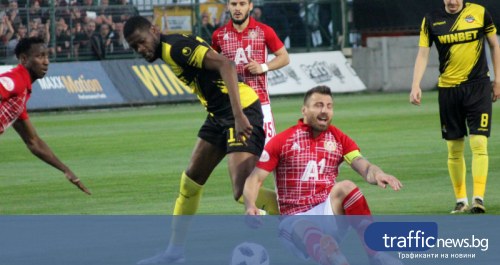 Botev again beat CSKA very badly and after the Bulgarian Cup is about to reject him from the title. The yellow-black won 2-0 at Comatevo, with late goals from Ferrebori Dore to the 83rd and Todor Nedelev to the 90th. In the win, the reds could have been just 2 points behind the Ludogorets, who on Friday fell from the Black Sea and dream of the title. Now, however, the difference remains 5 points in favor of the Eagles and for Lubo Penev's team it will be very difficult to eliminate it. Kanarcheta played the game extremely sensibly, comprehensively and patiently, made his strike on time and definitely proved to be the most valuable team of CSKA and one of the best teams in our country.
The duel in Komatevo was dynamic and interesting, but without many goals in front of both doors. The hosts were without the penalties of Vutov and Filipov, and before the start of the match, the players of Botev stretched a great track "Chico, we are all with you", to give moral support to the legend Dinko Dermendjiev. Before the interval, Pirgov hits the head after a corner kicked by Nedelev, but the ball passed through the beam.
After the interval, the referee saved the second yellow card of Thiago and Cristian Malinov. Meanwhile, young Chris Dobrev revived the game of the canary, which hit his 83rd. Then Nedelev gave a perfect pass to Dore, who broke the cross of the CSKA defender in front of him and shot the net. In the end, Ali Soe managed to equalize after Terziev's error and went to Kaiser, but Botev's goalkeeper saved his shot. In time, Todor Nedelev took a long pass to the right, finishing a defender and firing the goalkeeper in the far corner, setting the final 2: 0 for Botev.
BOTEV (PLOVDIV) – CSKA-SOFIA 2: 0
Ferrari Dore 83
Todor Nedelev 90
BOTEV: 22. Kaiser, 66. Ebert, 3. Pirgov, 5. Dimitrov, 24. Marin, 18. Terziev, 17. Baltanov, 8. Nedelev, 7. Tonev, 16. V. Shopov, 10. Doere
CSKA-SOFIA: 1. Stipica, 2. Atanasov, 5. Bodurov, 24. Tomasz, 19. Turgitsov, 15. Malinov, 16. Bikel, 17. Enrique, 20. Tiago, 10. Evander, 22. Nut