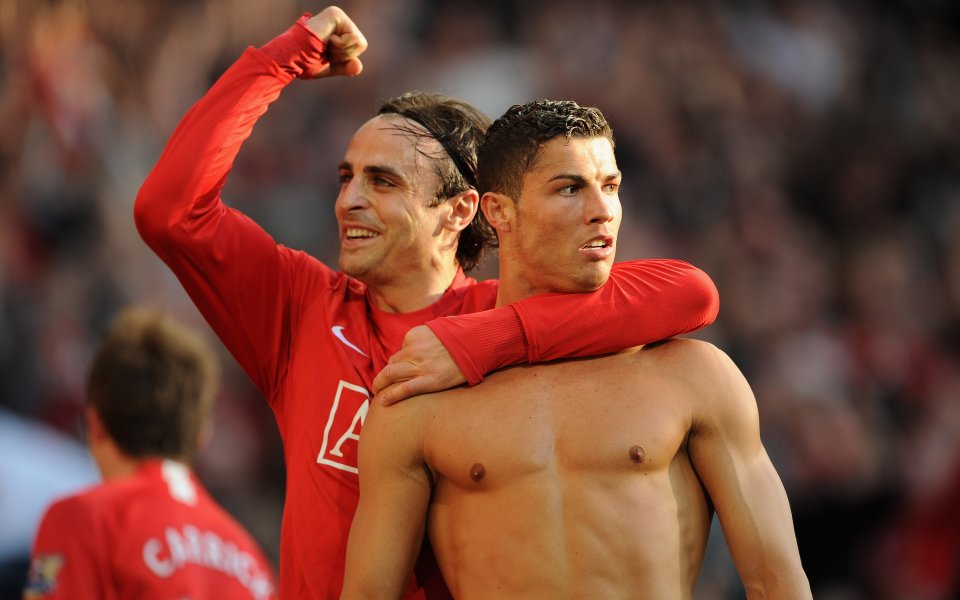 Dimitar Berbatov was definitely a football player, unlike most of his colleagues. Not understood by some, Berba has always played football as he understands – clever and handsome. "Genius explains his genius" – the Independent newspaper described the extensive material he devoted to Berba and the trail he left on the English soil.
The official edition includes the Bulgarians in a company of elite players who enriched the Premiership with technique and a different view of the things they rarely find. In this respect, the Independent puts him along with names like Eric Cantona, Dennis Bergkamp, ​​Gianfranco Zola, David Silva and Mesut Ozil.
Perhaps the moment that best describes the unconventional vision of Berbatov's game was Cristiano Ronaldo's incredible assistant at the 2008 West Ham game. At first, the Bulgarian fought James Collins in an incredible way to bring the ball to perhaps the goal in Ronaldo's career.
I'm running for the ball and I see the rival playing while I'm running I think what to do Is two seconds Two seconds It happens very quickly So suddenly I do not even know how to describe it You find the best option.
"For this turn I was in a situation where I had to do something What are you doing Do you turn around and just try to get the ball in the game? It's a little boring I do not even know how to describe it But you want to overcome the defender You wants to entertain, make the audience breathe, you just sit and it's happening, I've improvised automatically and done it. "
"When you reach the player against West Ham and you hear the audience stay a bit, you want to play even more!"
To illustrate all this, Berbatov used several other iconic performances – Ronaldinho's fingertip against Chelsea in the 2004-05 season and Bergkamp's turn against Newcastle in 2002.
"I'm sure Ronaldinho did not think about doing this before, it was the obvious decision for him at the moment, because in his head it's different from what happens in his head or mine, he can do it.this situation I would have done something else, maybe I used an external hit, but that's the best solution for him and he did it. "
"It's just a different way of looking at the game. Some players struggle with the ball when they have it, they think" what am I doing with it now? But to me, it may have been the DNA coming from my father who was a football player. It's just the way I see football. I try to think a step further. I look at you, but at the same time I see what happens where everyone is on the field. I look at two or three solutions. "
"It does not happen every time, but when you do it often, it becomes a habit. The ball comes and I can play immediately without looking."
Like Bergkamp, ​​for example. It's a real pleasure to watch. But not just tricks with no effect. When he does something, it is for the purpose. Like the goal of Bergkamp vs Newcastle. This is not something you would experience in a workout. That was the obvious decision for him in the game, just like Ronaldinho. "
"Leo Messi looks at football in a very different way from everyone else, by the time he catches the ball, you see in the tongue of his body that he feels so comfortable with the ball, and by the time you start run and try to get him Take it, he now has five options: where to go, where to run, and while running, he sees more decisions, this is a completely different level now, you can not teach it, it's just in yours head.
"Some players make and celebrate like crazy, it's not me, it's normal for me to be inside, I have the impression that I've overcome things, but I feel the tension inside, before games, after games, after defeat, after losing the chance I did not play well We're people No matter how pretending to be strong You'll feel the tension from time to time.
"It's important how you deal with it, it's not at all strange to talk to a psychologist, great teams have to have one, especially today with so many insults and criticisms, and will affect their performance." If you had someone to help you, it's beneficial. "
"It's not easy In such situations the tension is great, the time is high, there are more mistakes Everybody starts to feel the panic somehow They're in a hurry The way I touched You can calm everyone and tell them just trust on me in my abilities. "If you have someone like me who shows confidence and calmness, even within tremors, it's good for the team that I played with these players. Sometimes you're overwhelmed and look back and see Giggs and Scholes being calm. "
"Ferguson knew not only with me that if he gave the player the freedom and confidence to do what he could, it would be beneficial for the team against West Ham in the right place at the right time if you have the skill and confidence, knowing the boss will be happy if you try, you will. "
Berba, however, admitted that it would be harder to play his game today. "If I was playing fast, it would have been harder for me. If you are not fast enough, you will be compensating with the speed of the mind and the positioning of the field, and you look much better than someone who is very fast."
"I tried to play simpler and if I did not play my way, it would not be me, and if I do not feel happy I will not play well," added the Bulgarian.
Source link