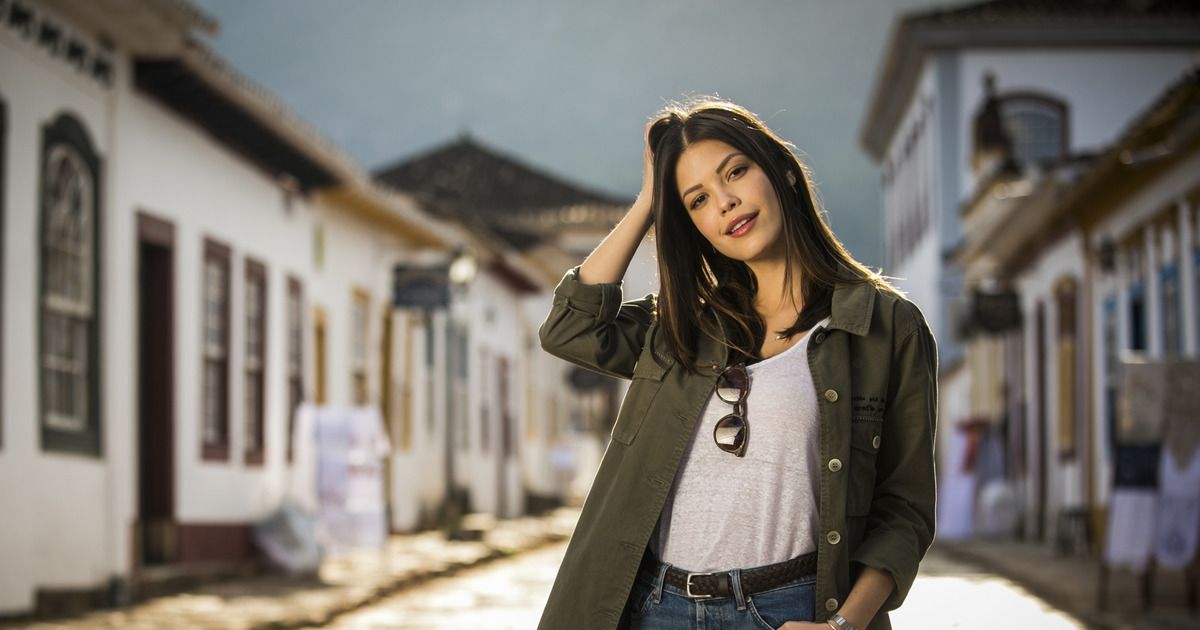 ABSTRACT OF THE NOVEL "MIRROR OF LIFE" – WEEK FROM NOVEMBER 26 TO DECEMBER 01, 2018
CHAPTER 52 – MONDAY
The breakup of Alain's (João Vicente de Castro) engagement with Cris (Vitória Strada) causes Mariane (Kéfera Buckmann) to celebrate. In Rosa Branca, Ana (Julia Lemmertz) disembarks in Rosa Branca. Carmo (Vera Fischer) is suspicious that Mariane is responsible for what occurred while Sergio (Marcio Machado) was exhibiting. Gentil (Ana Lucia Torre) reproaches the attitude of Americo (Felipe Camargo) when he learns that the ex-wife arrived at the White Rose. Zezé (Maria Mônica Passos) uses his game to confirm that Américo is not reliable. Isabel (Alinne Moraes) arranges something to incriminate Josi (Thati Lopes) and Mariane. Lenita (Luciana Paes) is blackmailed by Isabel. Ball (Robson Nunes) speaks ill of Alain and the filmmaker disapproves. Américo throws charm to the ex-wife. Cris goes after Dalton (Marcello Scorel).
CHAPTER 53 – TUESDAY
In conversation with Dalton, Cris says he has gone back to the past. Alain, Lenita admits to having taken the images from Isabel's computer. Cris receives from the Guardian the key to the house in which Julia (Vitoria Strada) lived. In the other life, Dora (Alinne Moraes) helps Cris / Julia and Danilo (Rafael Cardoso) to see each other. In the essay, Solange (Luciana Vendramini) and Emiliano (Evandro Mesquita) beat Boca and Bola catch their attention. Priscila (Clara Galinari) apologizes to Flor (Maria Luiza Galhano). Gustavo (João Vicente de Castro) learns about Cris / Julia and Danilo through Dora. Alain decides to look for Cris in the house where Julia lived. Gustavo searches for Cris / Júlia and Danilo in the hovel.
CHAPTER 54 – WEDNESDAY
Alain appears in the room that belonged to Julia, watched by the Guardian. Dora and Gustavo are seen after she takes Cris / Julia home. Piedade (Julia Lemmertz) does everything to support her daughter when Cris / Julia destroys her agenda because of Eugenio (Felipe Camargo). Cris can not get back from the past by observing Alain in Julia's room. Alain goes after Dalton. Piedade sees Eugenio turn a strange document. Someone calls Americo and Zezé catches. Jorge Benício (Miguel Coelho) appears in Rosa Branca to act in the film. In Julia's shoes, Cris is forced to dine with Gustavo. Cris / Julia rushes toward the dressing table when the clock goes off. Cris makes Ana anxious. Cris is faced by Alain.
CHAPTER 55 – THURSDAY
Gentile is afraid when Lenita agrees to dinner with Emiliano. Jorge leaves Cris upset when they see each other for the first time. To prepare for dinner, Pat (Débora Ozório) wins the aid of Michele (Catarina de Carvalho). Margot (Irene Ravache) and Ana appear in the dream of Edméia / Grace (Patricya Travassos), who wants to talk to Flávio (Ângelo Antônio). Emiliano and Lenita appear together and make Solange drink it. Mariane plays charm for Marcelo (Nikolas Antunes). Alain talks about Cris and makes Ana surprise. Cris admits having another man when he dances with Alain.
CHAPTER 56 – FRIDAY
Cris leaves the celebration when Alain revolts. Ana assures that Flávio is able to take over the reform of the confessional when Father Leo (José Santa Cruz) demands that the church be restored. In the room of Tavares (Marcelo Laham), Lenita and Emiliano flirt and have the attention called by Father Leo. Isabel tries to play to call for Alain, but Bola prevents. Pat kisses Mauro (Romulo Neto) and Mariane sees. Lenita is mistreated by Isabel. Margot learns from Edméia / Grace about the dream. Cris is suspicious to see an image of the son that Margot had.
CHAPTER 57 – SATURDAY
To Cris, Margot confirms to be her son the child that appears in the image. Cris and Jorge are treated by Alain. Isabel forces Mariane to play charm for Marcelo. They put Mariane and Josi out of the house where Julia lived. Tavares reads Solange's old magazines and Neusa (Flavia Garrafa) gives him the catch. Ana and Edméia / Grace are going to visit Margot after Edméia / Grace finds Ana in the street, being astonished. Edméia / Grace is seen by Americo, who seeks a hiding place. Alain must go to Dalton's office, says Isabel. Américo and Ana are caught in the room by Flávio, who enters the place by force. Cris returns to the house where Julia lived. Dalton proves who Priscilla's father is.