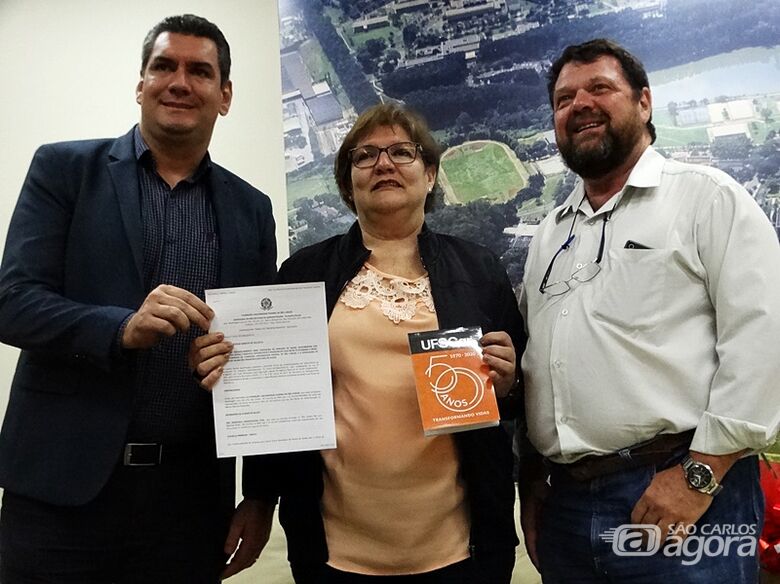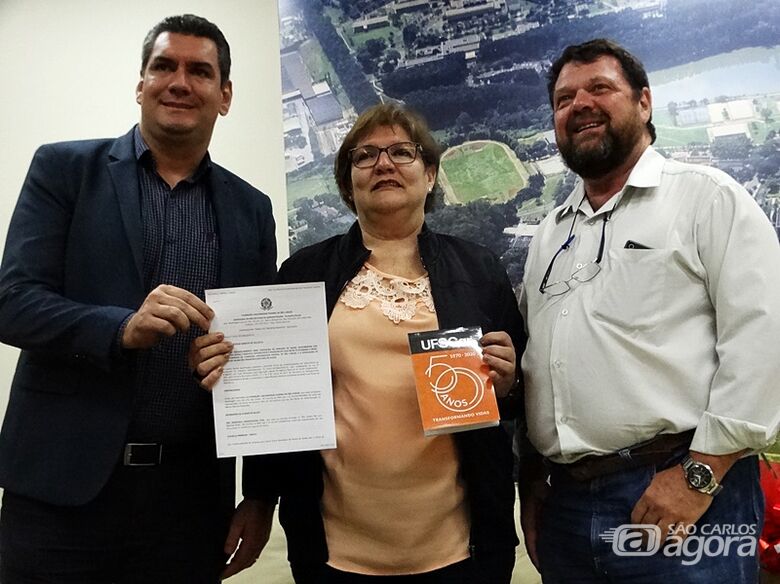 Credit: Marcos Escrivani
About to complete 50 years of uninterrupted activities in training liberal professionals for society and using the phrase Transforming Lives, the Federal University of São Carlos (UFSCar) officially announced on the afternoon of Thursday, 14, the partnership with San Francisco Health and Dentistry.
The dean Professor Wanda A. M. Hoffmann and the commercial manager Guilherme Bertolino signed the contracts validating the health and dental plans that will accredit approximately 2,300 teachers and administrative technicians of the units of São Carlos, Araras, Sorocaba and Lagoa do Sino. Adding the dependents will increase the number of potential users to approximately 5,000 people.
"UFSCar will only broker the contract that is in effect today (Thursday, 14). Interested parties should be accredited by the Dean of People Management. Thus, employees and their dependents will be able to use the services of San Francisco Health and Dentistry, commented Wanda Hoffmann, noting that the plan has no age restriction and will meet all medical and dental specialties.
THE PLAN
According to the dean, being a federal public body, UFSCar launched a bid through public notice and San Francisco Health and Dentistry was interested. "It met all the prerequisites and terms of reference of the notice," he explained.
"And we identify with having a health and dental plan. It is important because it provides quality of life for our servers and their dependents. It's one more option, "he emphasized.
SAN FRANCISCO HEALTH AND DENTISTRY
For 9 years in São Carlos, São Francisco Saúde e Odontologia has today a São Carlos as commercial manager. Guilherme Bertolino did not hide the satisfaction of concluding the partnership with UFSCar.
"Servers may use all our services that are regulated by law. And we welcome this partnership. We already have a partnership with USP and now we join UFSCar, "he said.
According to Bertolino, the goal of San Francisco Health and Dentistry is and always will be to provide quality services and good care. "Today we are in the negotiation phase to define the value table. But the certainty is that the user will have many advantages, "he noted. "We are now waiting for the adhesion of employees";
The commercial manager also pointed out that the B 2nd wing of Santa Casa is available to the cooperative members for hospitalization and surgery. "We also have our own structure for urgent and emergency care with 24-hour care, partnership with Francisca Cintra Silva Maternity, and an own laboratory for clinical analysis," he said.
comments powered by
Read too
Latest news