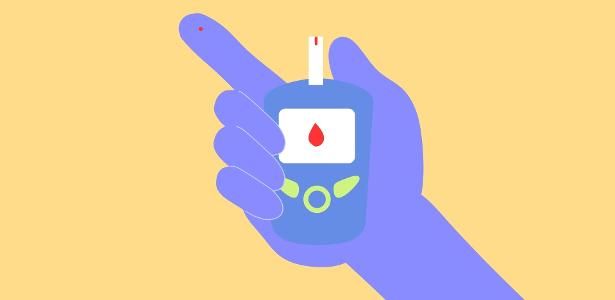 About 250 million people worldwide have diabetes. The numbers scare and help gauge the size of the challenge to combat this disease. And to raise awareness about this disease, especially regarding its prevention and the difficulties faced by patients, was instituted by the International Diabetes Federation (IDF) and the World Health Organization (WHO), on November 14, the World Diabetes Day.
According to the Brazilian Diabetes Society, in Brazil there are currently over 13 million people living with diabetes and this number is likely to increase. In Brazil, Chronic Noncommunicable Diseases (NCDs), such as diabetes, are responsible for more than seventy percent of deaths, and being overweight is the biggest risk factor for the increase of the disease. "In Brazil, in 2008, 70.6% of cases of diabetes in women and 60.3% of cases of diabetes in men are attributed to being overweight," said the General Coordination for Chronic Disease Prevention and Tobacco Control. Ministry of Health.
What is diabetes?
It is a chronic disease in which the body does not produce insulin or cannot properly use the insulin it produces. But what is insulin? It is a hormone that controls the amount of glucose in the blood. The body needs this hormone to use the glucose we get through food as a source of energy. When a person has diabetes, however, the body does not make insulin (or does not make enough insulin) and cannot use glucose properly. Blood glucose level gets high – the famous hyperglycemia. If this condition persists for long periods, damage to organs, blood vessels and nerves may occur.
Nutritionist Sabrina Scotton has had type 2 diabetes since she was 11 years old, she says that her profession has helped her understand the issue and this has helped her with preventative measures, but warned that you need to understand about the disease to live well with it. "My diet is regulated and knowing my body was fundamental to live with the disease," he said.
Specialized counseling and guidance are essential for the patient to feel safe and to treat this type of chronic disease, especially to feel supported and welcomed to deal with the differences in diabetes.
Major types of diabetes
Type 1 Diabetes It occurs because the body's immune system attacks and destroys the cells that produce insulin.
Type 2 diabetes The body does not produce enough insulin or the body's cells do not react to the hormone. It is much more common than type 1.
Gestational diabetes
During pregnancy, to allow the baby to develop, a woman undergoes changes in her hormonal balance. The placenta, for example, is an important source of hormones that reduce the action of insulin, responsible for the uptake and utilization of glucose by the body. The pancreas consequently increases insulin production to compensate for this.
"My insulin doses increased during pregnancy, but only in pregnancy. Already in the period of breastfeeding returned to normal dosage. But I knew this would not be a problem during breastfeeding, which would not pass to my daughter," said the nutritionist .
In some women, however, this process does not occur and they develop gestational diabetes, characterized by increased blood glucose levels. When the baby is exposed to large amounts of glucose while still in the intrauterine environment, there is a higher risk of overgrowth (fetal macrosomia) and, consequently, traumatic births, neonatal hypoglycemia and even obesity and diabetes in adulthood.
Other types
They are due to genetic defects associated with other diseases or the use of medicines. These may be: genetic defects of beta cell function; genetic defects in insulin action; exocrine pancreas diseases (pancreatitis, neoplasia, hemochromatosis, cystic fibrosis, etc.); induced by drugs or chemicals (diuretics, corticosteroids, beta-blockers, contraceptives, etc.).
Main symptoms
Type 1 Diabetes: urge to urinate several times; frequent hunger; constant thirst; weight loss; weakness; fatigue; nervousness; mood swings; nausea; Vomit.
Type 2 diabetes: frequent infections; visual change (blurred vision); difficulty in wound healing; tingling in the feet; boils.
Pre-diabetes
People who have blood sugar levels above the normal range but not high enough to be diagnosed as having diabetes. It is known as pre-diabetes. If your blood sugar is above the normal range, your risk of developing complete diabetes is higher. It is very important that diabetes is diagnosed as early as possible because it will get worse if left untreated.
SUS treatment
It is important to remember that SUS offers complete treatment free of charge to the population. As a prevention, a simple blood test can reveal if you have diabetes. With a drop of blood and three minutes of waiting, you can tell if there is any change in blood glucose. If the change is considerable, further examination will be required. To perform the test, simply look for a basic health unit.
food
According to the Food Guide for the Brazilian population, the diet of the whole population, with or without diabetes, should be based on fresh foods (fruits, vegetables, meat and meat) and minimally processed products (rice, beans), limiting consumption. of processed foods (jam, canned tuna, cheese) and avoiding ultra-processed foods (ice cream, cereal bar, instant noodles).
Everyone, including those with diabetes, should try to eat at similar times every day. It is recommended to eat 5 to 6 meals a day, avoiding "pinching" foods between meals and staying long periods without eating. In addition, it is advisable to eat slowly and whenever possible, in company, with family, friends or coworkers or school.
The person with diabetes should consume vegetables (lettuce, cherries, cabbage, etc.), vegetables (carrots, cucumbers, tomatoes, zucchini, etc.) and fruits, preferably raw, because they have higher amounts of fiber. Fruits should be eaten in adequate amounts and distributed correctly throughout the day. No fruit is prohibited for those with diabetes.
UOL Podcasts
Listen to the Marathon podcast, where experts and runners talk about running. UOL podcasts are available at uol.com/podcasts, Spotify, Apple Podcasts, Google Podcasts, and other audio platforms.
Source link