Four Boca Juniors fans traveling to Buenos Aires to watch the first game of the Copa Libertadores final against River Plate were killed in a car accident on Saturday morning.
Fans Sebastian Berra, Cesar Ezequiel Jones, Malcom Vittom and Franco Guido Silvestre were traveling almost 1400 kilometers from the city of Rawson, where all four were members of Boca and members of a club branch.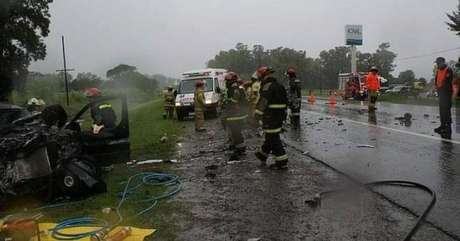 The group was on a road already close to the central Buenos Aires, when his Peugeot Partner crashed headlong into a Toyota Hilux truck in a torrential downpour – which also plagued the Argentine capital and even brought the postponement to Sunday.
With the collision, which occurred in the region of Lobos, which is in the province of Buenos Aires, the driver of the truck, Francisco Luchesoli, suffered serious injuries and is hospitalized. The Argentine press has not yet informed about its state of health.
The four dead in the accident were between 26 and 32 years. The collision was at kilometer 108 of Highway 205. For what happened, the rivals Boca Juniors and River Plate, as well as Conmebol, manifested themselves in their profiles on social networks lamenting the deaths and transmitting force to their relatives.
If the rains continue strong in Buenos Aires, the final, rescheduled for this Sunday, could be postponed once again – now for next Saturday, 17. With less intense rainfall than those on Saturday in the Argentine capital, Conmebol will again survey the stadium hours before the confrontation and probably confirm the decision by 5 pm (Brasília time).

Source link