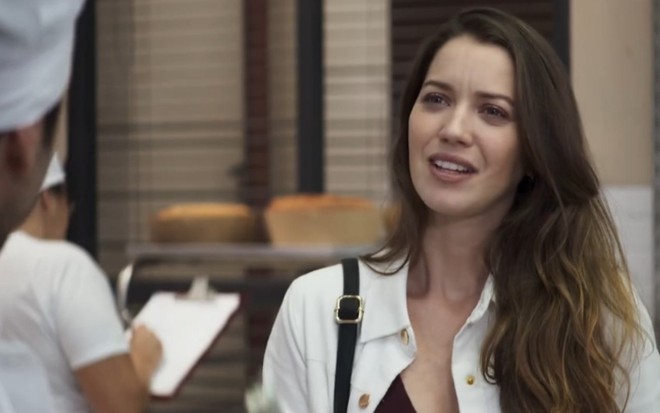 [ad_1]
There will be a party in this Monday (18) chapter of A Dona do Pedaço when Fabiana (Nathalia Dill) leaves the factory. After Maria da Paz (Juliana Paes) retrieves the document proving that Cakes of Peace is hers, the former novice will accept an agreement proposed by Amadeu (Marcos Palmeira). By the time she says good-bye to the staff, they'll give the petty boss a change and chase her away with boos and curses.
"My friends, I think I have the right to call everyone friends, because we work all this time together. But life goes on. I will seek new horizons. I am here to say goodbye to you," announces the character of Nathalia Dill. Abel (Pedro Carvalho) will be the first to question her.
Vivi's sister (Paolla Oliveira), however, will not reveal that Maria da Paz is putting her out because she has that right. Undercover, Fabiana will assert the confectionery network will be taken over by a new owner.
The factory will move to other hands. The deal was closed this afternoon. The new owner doesn't want me to say his name yet, "says Marcio (Anderson Di Rizzi)." I hope it's as good or as good as me, "says the blackmailer.
Worse than the devil
"But even if the devil would be worse than you", will shoot the Portuguese. "It can't be worse than you, Fabiana. You're cruel cruel," yells Britney (Glamor Garcia). The laundry will start another shack in Walcyr Carrasco's soap opera.
"They are certainly not serious," says Fabiana, with a face that one does not understand the affront. "Shall we get rid of you? I will raise my hands to the sky," says Suely (Samira Lochter). "Since I am here I also tell the truth. I could not stand it anymore," says Marcio.
Several employees will say that she is already late. The confusion will start to get worse when Pedro Carvalho's pastry chef decides that the ex-novice deserves to get a cake in the face like her sister did at Best Cake. "If you throw me a cake I'll call the police." will counter the shrew.
"Call, call … It'll be a pleasure," says Abel, who will take a cake to throw at her. "No, Abel … No aggression. Come on, Mrs. Fabiana … I mean Fabiana … I'll accompany you," said the CFO. "Ungrateful" will scream the character who "was raised in a convent". "Viper. Snake. Dragon," Britney will swear.
---
Subscribe to the channel TV news on YouTube and watch videos with exclusive revelations of A Dona do Pedaço and other soap operas!
[ad_2]
Source link