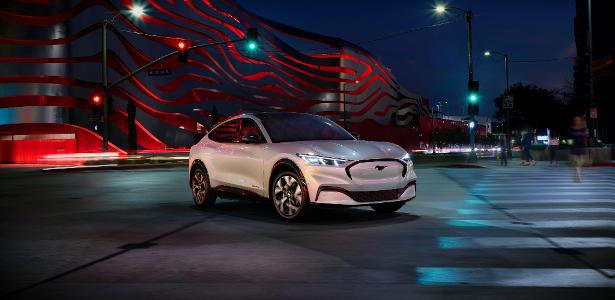 Ford already has a Mustang SUV to call its own.
The manufacturer revealed yesterday (16) the Mustang Mach-E. The car will be launched first in the US, where it will cost $ 44,000 to $ 60,000.
Interestingly, despite being based on a national icon, the Mach-E will be made in Mexico, which greatly increases the chances of the car being sold in Brazil.
"At the first Detroit Motor Show, Henry Ford said he was working on something that would have the impact of lightning, and it was the Model T. Today, Ford is proud to once again present a car that has lightning power: the brand new Mustang Mach-E Electric. A fast, exciting car and a symbol of freedom for the new generation of Mustang fans, "said Bill Ford, chairman of Ford.
An electric GT
Mustang Mach-E will have five trim versions: Select, Premium, California Router 1, First Edition and GT.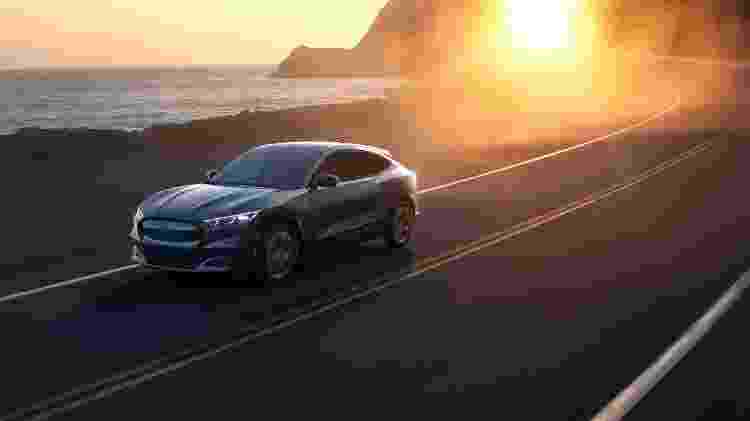 The First Edition version will be the first to debut in the United States by the end of 2020. By mid-2021 it will be the Select configuration to hit US streets.
"A lot of people like the Mustang, but they need a more spacious car to take their family. And that's what we were looking for with this car, which may not only look like a Mustang, but it must be a pleasure to drive like a Mustang. Ford needed participate in that change and win, and for that we have done something totally different, "said Ted Cannis, Ford's global director of electrification.
There will be rear or all-wheel drive configurations and 75.5 kWh and 98.8 kWh battery options. Ford says the vehicle's range can reach at least 480 kilometers in EPA measurements.
The SUV will have two more sporting variations. According to a Ford Brazil press office, the Mach-E GT should accelerate from 0 to 100 km / h in less than four seconds. GT Performance Edition should do the same task in about three seconds. In both cases the estimated power is 465 hp and 84.6 kgfm.
Three driving modes are offered: Whisper ("Whisper"), Engage ("Engaged") and Unbridled ("Rampant"). Each modifies vehicle responses, mood lighting, digital dashboard graphics, and even sounds. Whisper mode, for example, has less brake regeneration and smoother driving, which can change if the driver hits the accelerator.
Design impresses
Mustang Mach-E impresses a lot live. Unlike most of the coupé SUVs we see out there, it doesn't appeal to muscular features and even far-flung lines. Instead we see an imposing car, but with a sporty and harmonious style.
Some details refer to the Mustang coupe, such as the headlight design and the triple-lens taillights at the rear. Others, however, have been reinterpreted to make it clear that the Mach-E is a different vehicle from the model on which it is based. The front grille, for example, reproduces the contours of the coupe piece, but is fully enclosed – not forgetting the classic galloping horse.
A curious feature of the design is the two-tone body paint: the roof top is tinted black, making the lower side sections mimic the curvature of the coupe roof. The doors have no door handles, replaced by small buttons that can be touched before getting in the car. However, the vehicle will recognize the presence of a passenger through an application on the smartphone, unlocking the doors without having to press this button.
The cabin is beautifully finished and features the gigantic 15.5-inch vertical screen of the new generation SYNC multimedia center. It has a very modern and intuitive interface, clearly inspired by smartphones.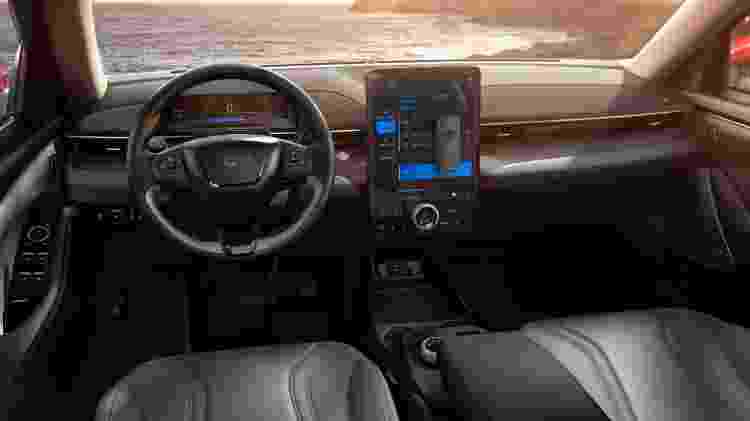 "SYNC adapts to your use by quickly learning your preferences and making personalized suggestions. It may suggest going to the gym if you learn that Monday is training day or calling home if you do it every day after work. "said Darren Palmer, global director of electric vehicles at Ford.
The rear trunk of the Mach-E is 821 liters and can reach 1,687 liters with the rear seat down. At the front is a second 136-liter cargo compartment that can hold a small carry-on bag and some bags. This "extra trunk" features a drain, allowing the user to wash the room and even accommodate ice to cool drinks if you want to have a barbecue.
And in the recharge?
All Mach-E Will Be Sold with Conventional Charger Ford offers a charging station, the Ford Connected Charging, which adds 35 kilometers of charging time per hour to a 240-volt outlet.
If the customer wishes they can order a quick charge station to be installed in their garage. With it the vehicle gains 51 kilometers of autonomy per hour of recharge. The manufacturer has partnered with Amazon Home to install the station at the customer's home with licensed electricians.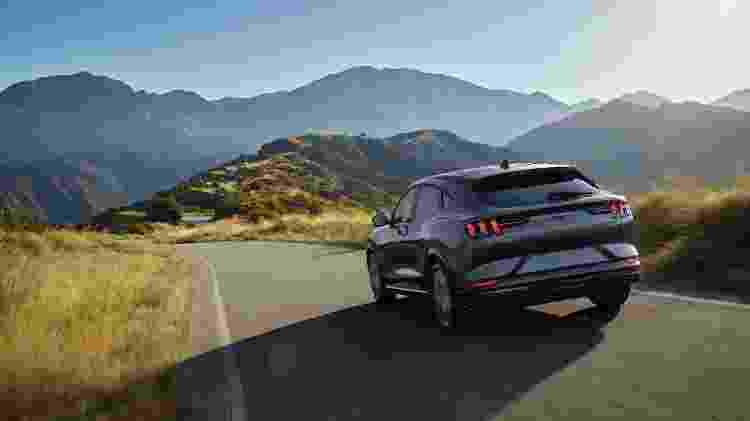 In addition, the Ford Pass (application for branded vehicle owners that also exists in Brazil) will feature very useful functionality on long trips. It analyzes the route planned by the driver and indicates where there are recharge points along the way.
Other than that, the app can also estimate how many miles the driver will need to get to each charging station and how much autonomy will be gained according to the time you stay in place.
Plugged into a 150 kW direct current rapid charge station, the Mustang Mach-E can gain 75 miles of autonomy in 10 minutes for the extended-battery, rear-wheel drive version. For vehicles with standard range, up to 80% of the load can be reached in about 38 minutes.
What's up?
UOL Cars participated in a near-secret presentation held days before the Los Angeles Salon, which opens its doors to the press only next Wednesday (20). Because of all the secrecy involved, Ford did not allow journalists to drive Mach-E. But he led the press for a quick test drive on camouflaged vehicles around a small air base next to Los Angeles Airport.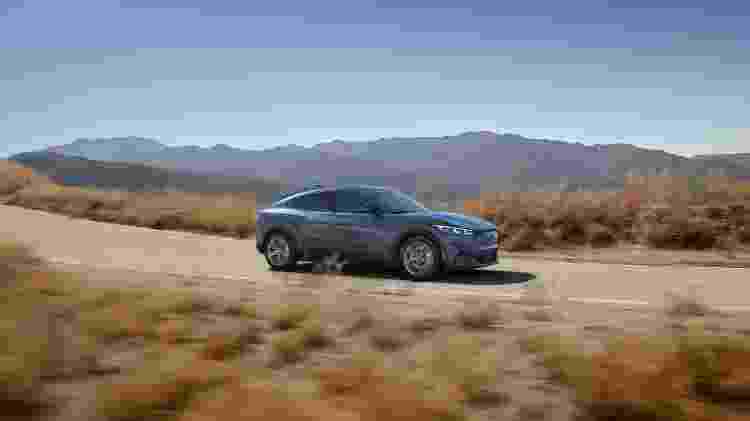 Driven by professional Ford drivers, the Mach-E has been shown to have sports car performance. Accelerations are extremely fast in the sportiest mode, but the lack of V8 engine snoring creates an inevitable sense of estrangement. And look, Ford struggled to explain that they developed a sound that even included simulations with the Batmobile noise of Batman's latest films.
Sensory experiences aside, it is also worth noting that Mach-E has demonstrated unusual stability for an SUV. There is hardly any body roll in the steeper turns or in the run-off test known as slalom.
Ford will invest more than $ 11 billion in the electrification plan of its vehicle range by 2022, including current and future projects. If you didn't like Mach-E, I think it's good to get used to it: more things will come around.
* Ford Invitation Trip
Source link