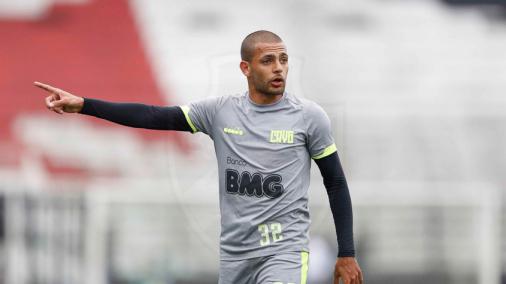 The situation of striker Clayton of Vasco could lead the fight against the relegation of the Brazilian Championship to the courts. This is because, according to journalist Paulo Vinícius Coelho, of Fox Sports, the clubs that are at the bottom of the table would be watching the case of the player, who has already passed through Bahia and Atlético-MG and, when transferring to Cruz- Maltino, where he played in six matches, would have exceeded the transfer limit per season.
Clayton belongs to Atletico-MG, but at the beginning of the season was on loan to Bahia. In Brazil, he was in the reserve bank ten times and entered the field once for Tricolor Bahia.
TABLE
> Check the classification of the Brazilian Championship
In early August, however, the striker was returned to Atletico-MG. On two occasions, he was listed and was on the bench, but did not enter the field and was not warned by the match official. At the end of the month, then, the Rooster loaned Clayton to Vasco. And he debuted precisely against Bahia in September.
According to the website of "Globo Esporte", club leaders involved in the fight against relegation began to exchange messages contesting the possible irregularity in the attacker's situation.
Article 46 of the CBF General Competition Rules (RGC) states that "an athlete who has served for two (2) other Clubs during the season in any of the national CBF-coordinated national competitions may not act for a third Club, even if it is regularly registered. "
The question, then, would be, what does "acting" mean? For Atletico-MG, Clayton was on the bench on two occasions, but did not enter the field and did not take card.
Article IV of the RGC defines "acting" as "the act of the athlete entering the field for the match, either from the outset or during the match or when convicted by the referee or the sports court." Article 11 of the Brazilian Championship regulation states that "an athlete may, after the start of the Championship, transfer to another Serie A club, provided that he has played a maximum of six (6) matches for the home club, allowing each athlete to change clubs only once. "
Still according to "Globo Esporte", another point that causes controversy is the return of Bahia to Atletico-MG. There he returned on loan. What, according to the first paragraph of article 39 of the RGC, "is not considered transfer and will not fall within the limits set in the third paragraph of article 13 of these Regulations".