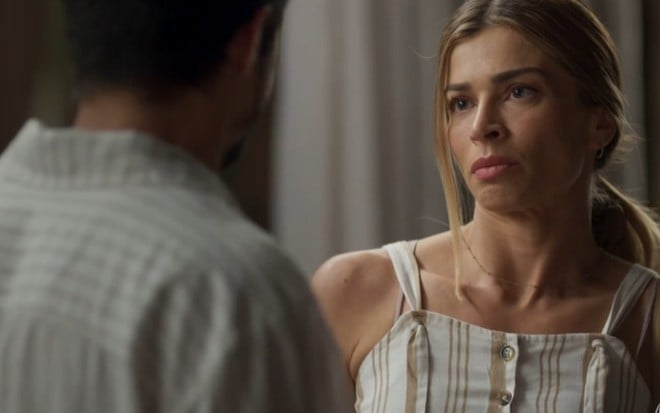 Paloma (Grazi Massafera) is going to be tough on Marcos (Romulo Estrela) in Bom Sucesso: he will refuse the boy's relationship request and surprise him. The former seamstress will even be angry with him when explaining the reason for his rejection. She will embarrass the playboy by pointing out that he is a man of more than 30 who still lives with his father.
The two of them will be in the cabin he improvised in the back of the mansion so they can be together. But for Paloma this will be very little. When Marcos asks if she agrees to date him, the protagonist will be categorical: "No."
"What do you mean? You don't want to date me? So I don't understand anything! I thought you wanted a mature relationship," he says, confused. "Mature relationship? Look around," says Alberto's caregiver (Antonio Fagundes).
"You're a guy in your late thirties who's living with your father, who is my boss, by the way. It's great to play hut with you, pretend I'm just a teenage girl in love, who doesn't have a thousand responsibilities. But that's not it's true, "she will detonate.
The good guy will tell you that they don't have to stay hidden if they take over the relationship. But she will present other problems. "When we get out of here, I'm going to Bonsucesso on the other side of town. Full of pay and three kids to support. How about you?" She asks.
"I like you, you like me. The main one we already have. Ramon [David Junior] Aren't you dating? "the playboy says." He doesn't live with the kids. Sorry, but for men it's different, yes. To be with me, you will have to relate to my children as well. What's up? "The young lady will press.
Alberto's son will say that he only needs one chance and is in love with Grazi Massafera's character. But Paloma will throw another bucket of cold water at him.
"I love being with you. It's light, delicious. I want to make it work. But we have to take it easy. We haven't figured out if what we have is going to become love," she will say, putting an end to it. conversation.
Romulo Estrela's character will be disappointed. The scenes are scheduled to air in Thursday's chapter (14) of Bom Sucesso.
---
Subscribe to the channel TV news on YouTube and watch videos featuring exclusive revelations of Bom Sucesso and other soap operas!