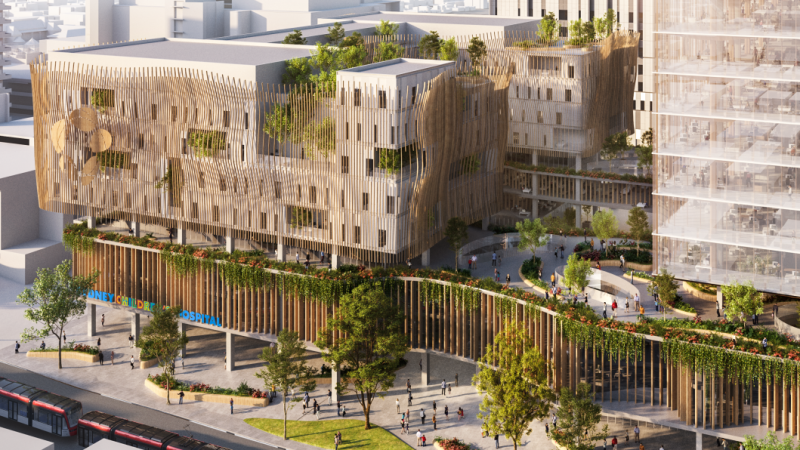 [ad_1]

"If your child is struggling with cancer, you want to know that the latest research is translating into effective treatment as soon as possible," he said.
By 2019, it is estimated that 804 children under the age of 15 will be diagnosed with cancer and 101 children will die from the conditions.
"While we have some of the best and highest survival rates in the world, our job is to work for the so-called Zero Cancer Initiative," Hunt said.
The $ 608 million project includes $ 428 million from the state's liberal government, $ 100 million from the coalition's federal government, $ 30 million from UNSW, $ 25 million from the Children's Hospital Foundation, and $ 25 million from the Institute of Childhood Cancer.
Minister Hazzard said the center is "a bit magical" for children with cancer.
"This will allow children, in the next 50 to 100 years, to have the best treatment and research in the world conducted on this site," he said.
The director of the Associate Professor of the Kids Cancer Center, Tracey O & # 39; Brien, said that although survival rates have improved tremendously, it is still the leading cause of SIDS among children.
"Curing quickly requires the rapid translation of research findings and discoveries from research labs to the bedside of the patient … rapid integration of innovation into the healthcare system," including the latest genomic technologies, said Dr. O ' Brien.
"This will propel us closer to our united goal of healing all children with cancer."
The emergency department will be on the ground floor, including 40 treatment stations and short-stay units. The cancer center will be built above it.
The ED will open first and the entire project should be completed by 2025.
The investment is designed to create over 6080 direct and indirect jobs and builds on NSW's liberal government history of investing in healthcare infrastructure with more than 100 hospitals and other health facilities across the state, Hazzard said.
The announcement comes on top of the $ 720 million redevelopment of Prince of Wales Hospital, Randwick, including a new Acute Services Building and the University of NSW's Translational Health Center for $ 250 million.
"Randwick will host an Office of Health and Education that will be the envy of the world," said Coogee member Bruce Notley-Smith.
Kate Aubusson is the health editor for The Sydney Morning Herald.
[ad_2]

Source link