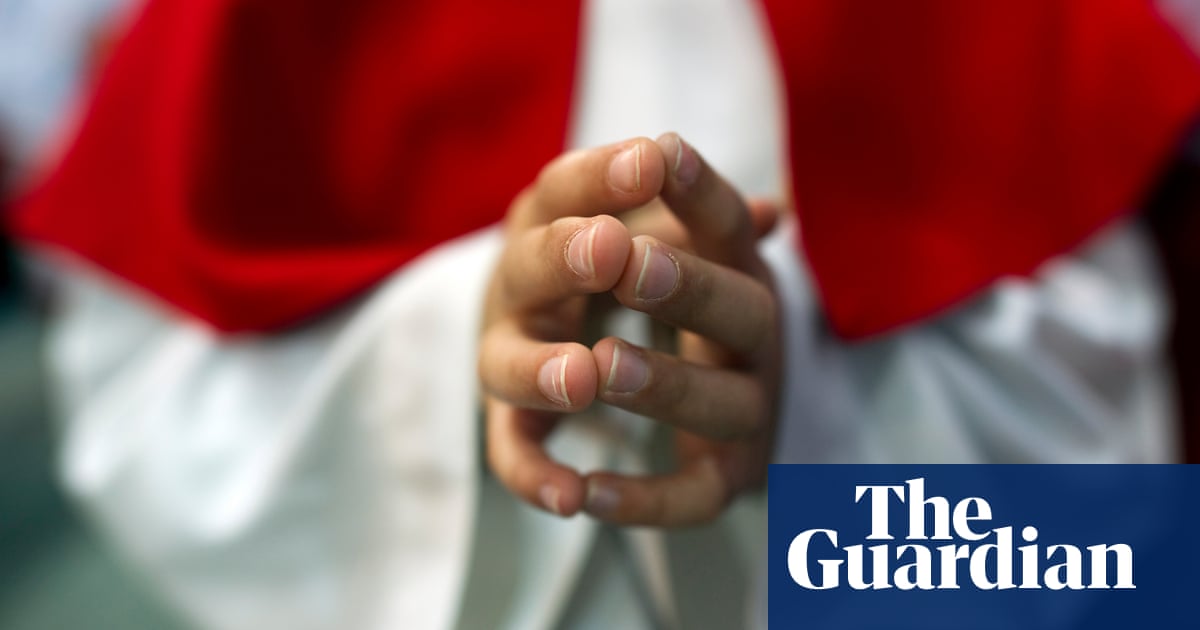 [ad_1]

TThis is the story of two teenagers sent on scholarships from what were then suburban Melbourne to a Catholic school for boys – St Kevin's College. St Kevin's is in Toorak, Melbourne's most exclusive precinct.
The school is wedged between the Kooyong Tennis Club and the Yarra River, and closed behind large iron gates with gold lettering. The boys wear sailor's hats and navy blazers, striped with emerald and gold candy. While the area where the boys came from now has appreciated, in the 1990s it could very well have been a different planet.
I do not have the freedom to name the boys – sexual assault complainants and their families have the legal right to anonymity and this was requested here. I called them The Kid and The Choirboy.
The boys got the ticket to St Kevin's because they could sing. The choirmaster at St. Patrick's Cathedral had sent scouts to primary Catholic schools in the suburbs of Melbourne to meet puberty boys who had voices of angels. In exchange for their vocal abilities, the boys received chorus bags for St Kevin's.
When the boy remembers, he has tears in his eyes.
"It was a dream of my mother and I that I could go to this incredible private school that we could never afford, she was so proud," he says.
The mother of Choir Boy, whom I will call Mary, had no idea that her son had this talent.
"But it was good, you know?" Mary says, smiling into her memory. 'A good scholarship for a good education'
It was supposed to be a great commitment for families, but the boys were very enthusiastic. Working parents traveled to help on the way. Choirboy threw himself into his new role as he did everything in life.
"Oh my God, everything had to be done yesterday," Mary laughs. '[He] would disappear from sunrise to sunset … He was just gung ho, you know?
The weekends were full of music. The chorus girls were expected to sing from the first day of the first day until Christmas Day. The Coroinha loved it.
In 1997, the last year in which The Choirboy and The Kid passed in the choir, the Gothic bluestone heap known as The Cathedral Church and Lesser St. Patrick's Basilica, or simply St Patrick's Cathedral, celebrated a centenary since its consecration.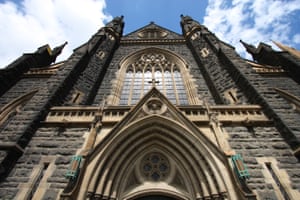 Huge celebrations were planned and, in their honor, the boys were to perform Handel's Messiah. The sounds of "Hallelujah! Hallelujah! Hal-le-lu-jah! "He echoed around the sacristies and the ship. His grace, Archbishop George Pell, was to say Mass.
Other boys, now men, who were in the choir at the time, reminded Archbishop Pell of being a regular presence in their lives.
In May 2016, I called as many as 50 choir performers at the time. I think I got about 35. Of the rest, the rest were adults or much older members, a couple of foreign visitors, a handful that could not be found, and one or two who chose not to respond to my calls or messages. Several are now singers and musicians of the highest order.
The boys practiced four days a week, and two of these sessions would be in St Patrick's Cathedral. Pell appeared to watch the song from time to time. Some of the boys also remember him joining the annual camp that they attended at Easter to prepare for the masses of the holy season. He would say mass for the boys at the camp.
The older sister of the chorus boy resembles a very kind boy.
"He always liked the company too, he always had to have someone with him all the time and he was, he was a great kid. [He] was, as a child, just a normal child. "
But sometime between his 13 and 14 birthdays, Choirboy's enthusiasm declined considerably.
"Little murmurs, you know? Like, he was tired, you know, of the commitment to get up early to practice, "says Mary.
The boys would begin their essays one hour before school, two days a week, and also on Sundays, before Mass. They also have evening sessions in the cathedral once a week. The preparation for Holy Week at Easter was terribly busy.
Mary's son began to grumble about getting up to leave. Mary just put it in her teens. Then one day, he snapped.
"Yes, out of nowhere, I do not want to go into the choir anymore," she recalls. "And we said," Well, do you realize that we can not afford school fees? " And he said, "It's," and I said, "Well, think about it," I said, "We can not do anything until the end of the year and you really can not. change and change. & # 39; "
Maria was not satisfied. She tells her family that St. Kevin's school fees were "astronomical," and it seemed a shame to miss the rest of the school experience just because her son was tired of the choir. But the boy was still. The boy's father, John (again is not his real name), also remembers a meeting with the choir teacher, where the parents were informed that their son was disturbing in the practice of the choir – coughing during the singing. The choirmaster was also upset that the boy was folding the corners of the music sheets. He also wanted the boy to leave.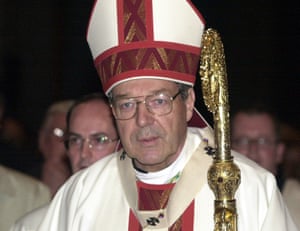 Choirboy's father, who separated from his wife many years ago, said that before his son was 14, he was always very well behaved "and suddenly switching from being well-behaved to that was a little mysterious"
The boy became detached and disturbing at school. His parents and school were so worried that in September 1997 he was taken to visit a psychiatrist at Royal Children's Hospital in Melbourne. The assessment, which John maintained, found that the boy was of average intelligence and had been a good student. But his notes were slipping, and although he was a rather friendly boy, his answers now tended to monosyllabic, his responses were "under-elaborated," and his working memory was affected.
By the end of the year, The Choirboy would no longer be a showgirl – he was moved from St Kevin's to a more affordable local Catholic secondary.
"I just make it clear to him to be a teenager and decide that he's had enough – that was, you know, very tiring," says Mary.
That same year, his friend, The Kid, had also made the same firm decision to leave the choir as he could. His behavior at school also became a problem. His voice had broken and, no longer soprano, his choir days were numbered. He had also attended another Catholic school and the families rarely saw each other. The boys broke up.
Mary's daughter noticed a striking difference in her little brother from that point.
"Looking back, yes, his whole personality, well, he has changed. He did. He was not the same person as before, "she says.
"Your life has spread," says Mary. "It really spiraled." Your daughter waves and presses her lips together.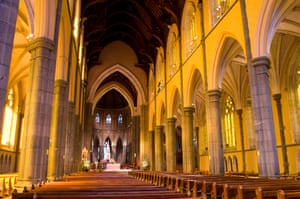 Mary and her daughter are sitting on a sofa in Mary's living room at her unit in a suburb of Melbourne. They are hospitable and decent women, unpretentious and simply dressed. They have been searching for answers to what has happened to their son and brother for years.
Maria lives alone – her daughter is raising a young family. Mary works in a store and tries to make sense of life. But her little unit is a house of mourning. While she is stoic and does not make a noise about the raw business that the last years have treated her, her mouth betrays her. It is permanently slightly pulled down into the corners. She is a woman who had a full-time job keeping a child together and now he is gone. After it happened, she was scratching her head, making meals for one and wondering how everything went so badly. Until the boy appeared.
The year after his departure from the choir, The Choirboy went on drugs. In great shape. While singing at age 13, he had sung Handel's Messiah, dressed in the red and white robes of a crowning boy, eyes lifted to the sky, in his 14th year he was already intruding on heroin.
"It's devastating to see your son spiraling like this," says Mary, shaking her head at the memory of anger, frustration and hurt she has faced in equal parts.
John had worked as an honorary parole officer for many years and he saw the same behavior in his son as in the juvenile justice children with whom he worked who were often abused. "I met many young offenders at that age – and they are different. They behave differently, their mannerisms are different. This is the way [my son] was going, and yet there was no reason for him to be like that. "
His sister saw her brother withdraw completely.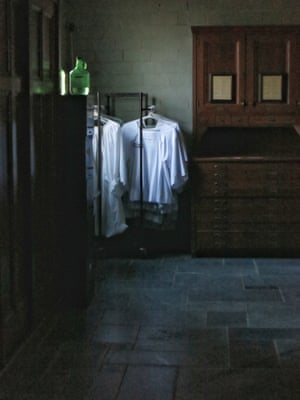 "I think from my point of view, he's moved to a point where you know, he was in his own world," she says.
The teenager changed friendship groups. He stopped talking.
"He's gone too far, too close," she says. "It was embarrassing to me because, looking back, I did not know why or what this resulted and how it was …" She stops. "It was embarrassing to me as a sister that I had such a brother."
For Mary, it was distressing to see her son constantly chasing heroin. From time to time he would go to rehab and she would have to take him somewhere to help him score because you would not get into a show if it had been a long time since your last hit. It was incomprehensible to a decent woman who thought she had raised two wonderful children by giving them the best education possible.
From time to time, her son reported that he had bumped into The Kid somewhere when he was out socializing with his mates. He told his mother that The Kid was "struggling a little."
Did she ask her son if it's a drug too? But no, they were not drugs, he replied. He was just "struggling." His son was a young man of few words, and at the time, The Kid's struggles had no meaning for her, and so she asked no more.
His son's heroin pursuit lasted about 15 years. Choirboy never had a career, never been able to keep up a lot of work. He was a devoted uncle of his little niece and nephew, and Maria says he was, after all, a loving and good son. He lived with his mother and sometimes she was asked why she did not expel him. But Mary knew that she was everything her son had.
"I worry about my son, I love my son, this is my son," she says, speaking in the present tense of a mother who still struggles to accept the fact that her youngest son is now a past tense concept. "If I do not care about him, no one else will care about him – just like that."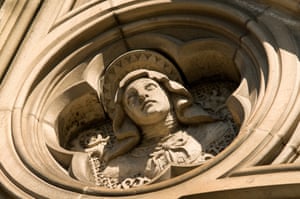 Choirboy died in 2014. He was 30 years old.
Mary told almost everyone that she knew he died in a car accident. But it was not a car accident. It was an overdose of heroin. She says she did not want shame and pity. All that's left of it right now is a poorly manned Facebook page with a badly taken profile picture. He is not smiling.
Mary's daughter also kept her mother's secret. "I've never told anyone, only one of my closest friends has heard of it," she says. "I told everyone it was because of a car accident because I do not want to have to explain to people that, you know, my brother lived half of his life as a drug addict, and a lot of it."
The funeral was on a Thursday in 2014. The kind of day when, all those years before, Mary would take her son to St Pat's to sing his little heart in the cathedral.
Now she was preparing him to be buried.
Although she had informed The Kid, she was still a bit surprised to see the young man respectfully take his place in a bank. In the following months, Mary occasionally saw the Boy when he entered the store where she worked. They would have a little talk. He was a well-mannered boy, she thought. He always gave her a hug and a kiss on the cheek.
Months later, Mary was serving clients at work when she received a phone call from a Victoria police detective. Immediately she assumed that they were trying to fix something on her son.
"I said," You realize [my son] died? "And they said yes and they conveyed their condolences. And the detective mentioned something about sexual assault.
"Well, I almost fell," she says. "And I said," You can hang a lot of things on my son, but it's not something you can hang on my son. "
Of course, the detective was not referring to her son as a perpetrator. He wondered if her son had told her about anything he witnessed or experienced during his time in St Patrick's or St Kevin's.
Mary was shocked. "And I said," Oh, I do not know anything about it, you know, I'm not aware of it, "she recalls.
Detectives from the SANO Task Force, set up to investigate child sexual abuse in religious organizations, even received a statement from Mary. She was completely in the dark about what happened. And in his confusion, a new trauma came back.
"I was shocked," says Mary. "I buried a child, I lost a child because of an overdose of drugs – which is not a good way to lose a child. And then I understand this in my life.
Scenes from the last 15 years of his son's life began to flash in his fast-moving mind. She was full of questions and struggled to sleep.
After the police went to visit Mary, they also visited the ex-husband.
"Nothing shocks me; I've seen a lot of things, "explains John. "But that shocked me. But then, when I thought about it, deep in my mind, I'm thinking, "That makes sense."
The visit, which the police only expected to take an hour, took five. John gave the police medical reports and other documentation about the son and signed a statement.
One night, some time after the detectives received the statement from Mary, The Kid happened when Mary was in the final shift. The store was empty. She decided to have the conversation with him that she suspected would upset her, but she needed to know.
"I just asked if you could ask what happened. If, you know, if that would not bore you. Because I did not want to upset this person, because [my son's] died. I did not want to bring back bad memories for him.
But the boy understood immediately. "He said," No, no, ask me. "I asked him if my son was a victim and he replied," Yes. "
Her son was a victim, he said, of George Pell.
Mary was overcome by a wave of anger. Not in The Kid, but in his son, by not telling her. Because Mary asked her son. Not just once. Something inside her, perhaps the intuition of some mother, born in shock after the boy left so quickly and spectacularly on the rails, made her suspect that he had been abused.
"I asked [him], I can not remember the words I used, whether it was touched or touched and [he] told me "no".
The boy shrugged. She says shrugging was something her son sometimes did when he did not want to talk about things. She still had a feeling that something was happening.
"I've never said anything to anyone," she says. "And then, again, after a while, I asked him and again he told me" no ". And then I understand that. And I was so angry with [him]she says, closing her eyes as she remembers this – for not telling me. So angry. Sometimes I'm still very angry.
The boy gently told her what he said happened to the archbishop. "He told me that he is [my son] used to play in the back of the church in the closed rooms, "she says.
In the cathedral? I ask her.
"In the cathedral, yes. And they were launched by Archbishop Pell and he locked the door and forced them to have oral sex. "
The boy still remembered the incident so clearly. Being caught later by his parents. Looking out of the car window on the way home. Mary swallows and looks at me in disgust. Her daughter, who has tears in her eyes, keeps her gaze on her mother.
"What went through your mind as a mother when you heard that?" I ask quietly.
"Oh, angry," she says, sighing and hardening her back. "Angered, as I said, [my son], for not telling me, but also angry with the Catholic church. I sent my son there – I sent my two children there – for an education, to be sure. You send your children to school to be safe. Not having it done.
"It is devastating," says the daughter, "because it helps explain many incidents in your life. And yes, it's devastating, it's devastating … "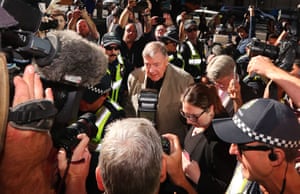 The daughter says she believes her brother never talked about it because he was a very private person.
"And he did not like to share a lot of information and I think as a boy you're embarrassed. You do not want to tell people that another man, let alone a priest, has touched you in some way. You may not think people believe in you. People can judge you, people can say things about you. There could be so many reasons why he did not want to tell us.
Mary shares this suspicion, but breaks her heart. "I would like to think that if [he] I would have believed my son. I would have believed my son.
The boy told Mary that his son's funeral was the breaking point for him. It plunged him into despair and regret. His own mother was very worried about his well-being. He had not been dealing since the death of his friend.
He decided that he had to introduce himself, he had to say something. As The Kid told me at the Returned and Services League club the night I met him, his jaw closed, his eyes burning, insisting that this was "about me and about him." The Kid, with the support of his mother and defender of the victim, went to the Taskforce SANO.
"He just could not live with it anymore – he had to say something," says Mary.
She says she liked that he did it for her son. But now she and her daughter are left with so many questions, so much fury. She believes in the boy.
The boy did not live a chess life. He graduated from university, he had no problems with the law. He has a lovely young girlfriend, many friends, he is a pillar of his community in a discreet, slightly ironic way and, in that part of his life, he is, he told me, very happy. He just managed to keep it together. He managed to compartmentalize. He is the kind of claimant you want as a Victoria police detective claiming historical crime.
The pressure of all this, the enormity of it, means that The Kid gets caught by a thread sometimes – and the thread that held him tight enough to make a statement was that Taskforce SANO would catch George Pell.
The Kid has never been interested in going to the television – he knows that, as a complainant of sexual aggression, the law allows him never to have its identity revealed. He complained because he only wanted justice.
Mary's daughter believes The Kid would gain nothing if she was not telling the truth.
"You would not put your family in this, you would not put the name of a dead person through it, you would not put yourself into it," she says. "Because the emotional price you would take for the rest of your life, knowing that people now know your circumstances, what happened to you in your personal life – you would not do it if it were not true.
"I believe 100% in my heart what this young guy came out and said, the allegations he made, I support 100% and I believe they are true, because the effects of leaving, are devastating."
Mary thinks everything fits-why her son suddenly lost all interest in the song he loved. Why did an anthropocentric choirboy become a taciturn drug user at only 14 years of age. Why he never got over the habit.
"These people," she says, referring to the abusive clergy, "destroy lives."
His daughter nods in agreement. "These people are supposed to be someone you admire. It's not right, it's not right, "says the daughter.
Mary's daughter says she is overwhelmed by the courage The Kid has shown in complaining to such a powerful member of the church and society.
"It will not bring my brother back," she says, emotionally, "but it will help the many people who are suffering. Because it's so brave – it's a very brave thing to do.
"And I like to think of my heart," says Mary, "that's what [my son] I would also say: "This was a friend of mine."
"Absolutely," the daughter adds, "he would absolutely like to help."
Choirboy's sister becomes tearful when she talks about the impact her brother's life and loss had on her three young children.
"My youngest son will never know his uncle. The two older ones remember their uncle and every night they tell me that they look out the window and see their star. "
Her mother swallows, her eyes filling, while the daughter continues.
"They should be able to hold him and hug him."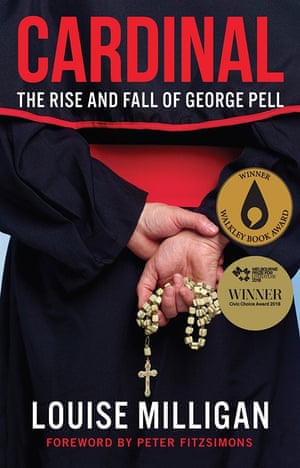 "I should not have lost my son like that," says Mary, "and no one else should, and it's wrong." His lip shakes. "That's something I live right now. It kills me a little bit every day. And that kills me.
Epilogue
On the day this book was published, the Victorian office of public prosecutors sent the Pell back to Victoria Police and said the SANO Task Force was free to accuse Cardinal George Pell if he wished. Six weeks later, on June 29, 2017, Pell was charged with historical child sex crimes. On December 11, he was convicted of five counts of child abuse.
• This is an edited extract from the Cardinal: The Rise and Fall of George Pell by Louise Milligan (Melbourne University Publishing, available as an ebook and in bookstores now)
[ad_2]

Source link