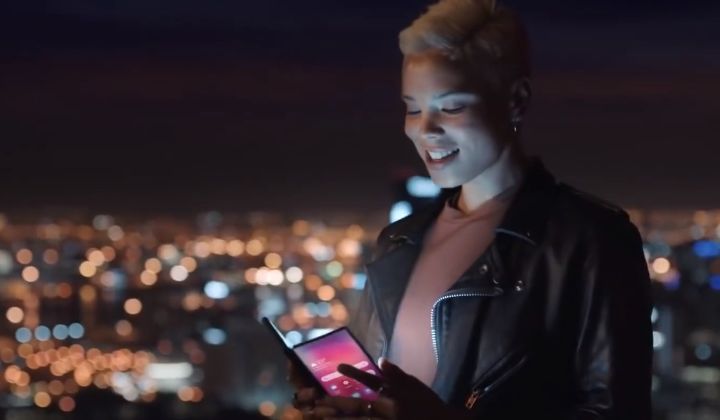 Samsung will hold its Unpacked 2019 event on February 20 to announce the Galaxy S10e, Galaxy S10 and Galaxy S10 + smartphones. There are rumors that the company's first foldable phone will also be announced at the same event. At the Samsung Developers Conference (SDC) 2018 in December, the South Korean company introduced the flexible Infinity Flex screen, which will be available on its first foldable smartphone. At the Consumer Electronics Show (CES) in 2019, the company showed that it selected the audience behind closed doors. Samsung Vietnam posted a promotional video of the upcoming Unpacked event on their YouTube channel. The video that was taken also featured the foldable phone of Samsung, among other smartphones.
Here is the deleted video:
The Samsung folding phone has a cover display on the outside and a folding screen inside. The woman can be seen opening the phone like a book to see the inner screen. In SDC 2018, Samsung revealed that the cover screen measures 4.9 inches and offers resolution of 840 x 1960 pixels, format 21: 0 and 420 dpi. The internal screen measures 7.3 inches and produces resolution of 1536 x 2152 pixels, aspect ratio of 4.2: 3 and 420 dpi.
The exact name of the Samsung folding phone is still in secrecy. Some claim it could be called Galaxy Fold, while others say it can be released as Galaxy Flex. The Snapdragon 855 / Exynos 9820 chipset should power the smartphone. Can come with up to 1 TB of storage. The folding handset can come with two cameras mounted on the back and sensors of 12 megapixels and 8 megapixels on the cover. There are rumors of being packed with a pair of 2190mAh batteries. It is likely to cost about $ 1,800.
Samsung is not the only one who has been working on a folding phone. There are rumors that Huawei will showcase its folding phone at the 2019 Mobile World Congress (MWC) technology fair next month. Xiaomi has an innovative foldable phone in workstations that features a double folding display.
Source link