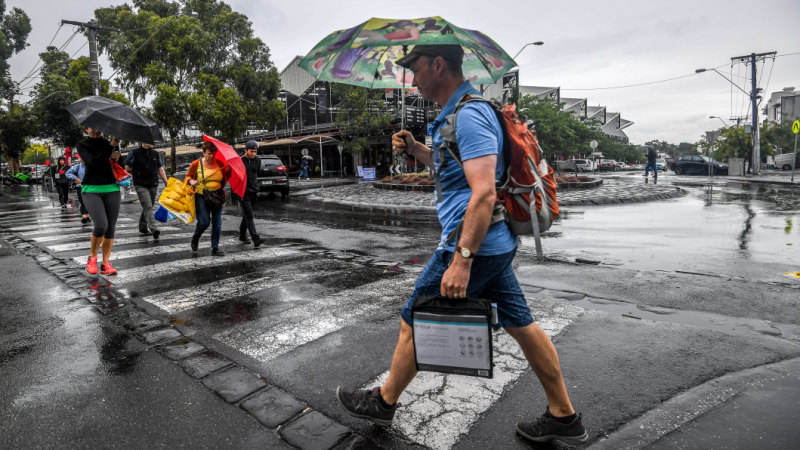 [ad_1]

The mini tornado turns the caravan park into a "bombing site"
But the rain was not good news for everyone, with a mini tornado causing more than $ 1 million in damage to Lake Purrumbete Holiday Park in the west of the state, according to The Warrnambool Standard.
The Camsdown SES unit controller Colin Brian said The standard the park looked like a bomb site.
"I've never seen anything like it," he said.
"I have not been so impressed with a scene since the railroad crossing collapsed in Lismore, and that's coming back a few years ago … There were booths and boats scattered everywhere. We could smell the gas and the CFA was also called . " "
Precipitation in all state
At 9am on Thursday, Geelong received 21mm, Avalon 30mm and 36mm fell on Lara.
Other notable totals included 28 mm at Mildura – more than the May monthly average of 25 mm – and 56 mm fell at Westmere, near Lake Bolac.
However, other dry parts of the western part of the state, including Ouyen and Nhill, received almost nothing.
The Bureau of Meteorology predicts heavy rain will shift northeast of Victoria today, with between 30 and 70 mm expected in some parts. Some areas of the northeast can receive up to 100mm.
Delightful gardeners with deluge during the night
The much-desired rain eased drought conditions across much of the state, including Melbourne, which had received only 49 millimeters for the year before Thursday morning. The long-term average between January and April is about 200 mm.
"In Melbourne, it has been the driest start of the year – which is the case for several places in western Victoria," said Dickson.
"Or it's the driest start to the year already recorded, or the driest since 1923. Anyway, it's been a very dry start. Gardens around Melbourne and also farmers – everyone's been out for a bit of rain."
Last month, Victoria's Shady Water Minister Stephanie Ryan called for water restrictions to be reintroduced in Melbourne after water stocks plummeted 10% since the start of the year – a drop as sharp as in the drought of the Millennium.
Leaking roofs, fallen trees keep the SES busy
But while rain was received with open arms in many parts of the state, some Victorians were counting the cost of the damage Thursday morning.
SES teams responded to 125 reports for assistance between 6 pm Wednesday and 6 am Thursday, most notably Rosebud on the Mornington Peninsula and Stawell. Most of the calls came from leaking roofs and fallen trees.
Zach is a breaking news reporter for The Age.
[ad_2]

Source link