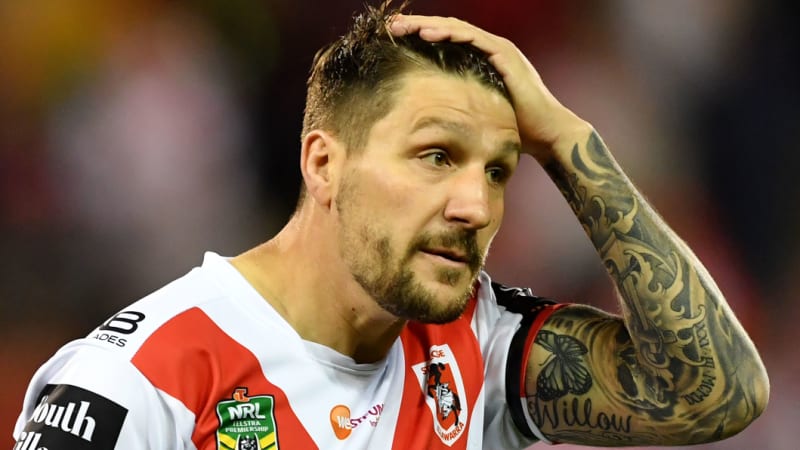 [ad_1]

Widdop is only one season in his new halves combination with Ben Hunt but already it has paid dividends, the pair steering the Dragons into the second week of the finals. Their partnership is expected to get better with experience, although the latest development could mean they have played together for the last time.
The Dragons are just getting over the shock of having to line up main recruitment target, Jarryd Hayne. The two-time Dally M medalist was on the club's radar until he was charged with aggravated sexual assault. It means a backline already missing the retired Jason Nightingale and Cowboys signing Nene Macdonald is at least a marquee man short.
With Hayne out of the picture, the Dragons now face the prospect of also having a part with arguably their most valuable player. It's understood several Super Leagues clubs – Huddersfield among them – are watching the situation with interest.
Widdop grew up in Yorkshire, made his name at the Melbourne Storm and is one of the first picked in Wayne Bennett's England team. The 29-year-old has previously considered moving back to the United Kingdom to finish his career, but this is the first time he has applied for a release.
Loading
Widdop is not the only key Dragon with a clouded future. Coach Paul McGregor is also off contract at the end of next season, with powerbrokers to wait to see how the side begins its campaign before deciding whether to offer him an extension. NSW forward Tariq Sims is also off contract, although he is expected to recommit to the club.
Widdop may not be the only half marquee on the move. Warriors halfback Shaun Johnson, already told he will not be offered any more than his current one expires, has reportedly asked for a release from the final year of his contract.
It's understood the Warriors are not budging at present but they also face the conundrum of having a star player who does not want to be there. If Johnson is granted a release, he could prompt the Dragons to more favorably consider Widdop's application if Kiwis No.7 is prepared to shift to the Sydney outfit.
Johnson took social media on Tuesday to outline his position.
"I thought it's best to clear things up about my situation at this stage with the Warriors," Johnson wrote. "Firstly, there is no contract for me to sign past 2019.
"Secondly if you saw the article that came out a few weeks back … they said they are in no rush to re-sign me. .
"That means I get to spread my wings and see what's out there right now that's what I'm doing!"
The latest developments come just a day after David Klemmer was released from Canterbury to join Newcastle, while the Roosters releasing Dylan Napa to join the Bulldogs.
Adrian Proszenko is the Chief Rugby League Reporter for the Sydney Morning Herald.
[ad_2]

Source link