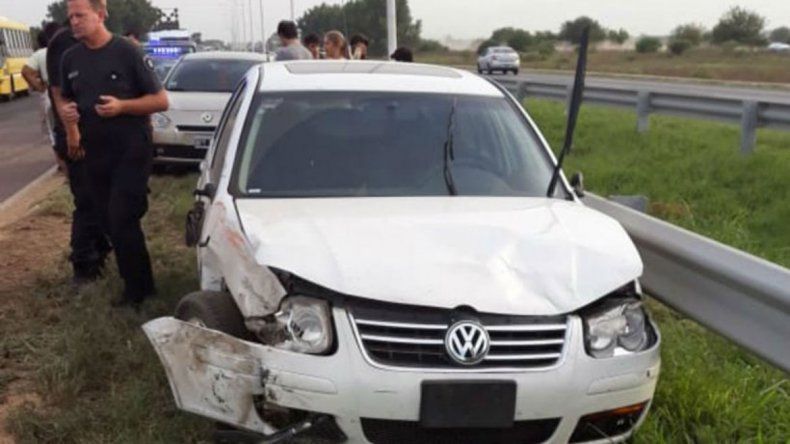 [ad_1]

The event began after Saturday 18th, at kilometer 7.5 of the Rosario-Santa Fe highway. A call to 911 warned of a chain crash. At the height of the access to the city of Capitán Bermúdez, in the direction of the south-north, a car of Volkswagen Bora, directed by Ezequiel Germán Giuliano, 31, caught three vehicles. The worst part was taken by a tow truck that flipped over and spilled some of its grain load.
7 cars crashed
Ezequiel Germán Giuliano, 31, first hit three vehicles, including a truck, while in his Volkswagen Bora. Then with the Chery Tiggo he stole, he hit four more shots.
"By the time he would be caught by the police, he began to have cuts on his body with a white weapon causing injuries that caused his death on the spot." Press Release Public Prosecutor of Santa Fe
After this incident, Giuliano lost control of the car and ended up in the parking lot. For this, the boy got out of the car with a knife in his hand, approached the driver of a Chery Tiggo who was on the road to help the victims of the accident and, under threat, stole the truck and fled. Already in a new shot , he continued with the crimes: he rammed the toll barriers of La Ribera at kilometer 22 of the highway, and a few minutes later he collided with four other cars.
The police only managed to intercept him in km 47,5 through the Radio Control of Fray Luis Beltran. The driver got out of the stolen vehicle and started a flight along the shoulder with the threat of killing himself in case he was caught. "At that time he made cuts with a white weapon causing injuries that caused his death on the spot," the Santa Fe Public Prosecution Office explained in a press release. The drivers and companions who were affected in the accidents had no injuries.
The investigation was in charge of the Prosecutor's Office of San Lorenzo. Removal of the area was ordered through a criminal office, taking of testimony to the occupants of the collided vehicles, a planimetry skill and the recordings of the toll booths.
[ad_2]

Source link