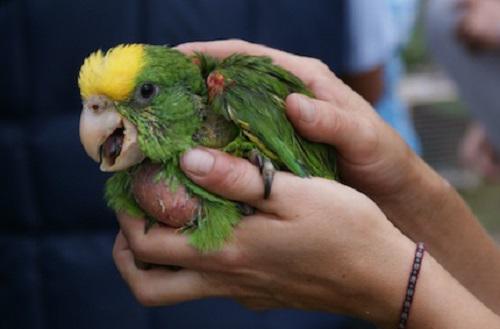 [ad_1]

Given that in the summer season there is an increase in the reporting of suspected cases of psittacosis – an infectious disease found in the secretions of infected birds, such as parrots, parrots, parrots, canaries and pigeons, which transmit the infection to them. human – from the Ministry of Health of the Province of San Luis, through the Epidemiology Program, provided preventive measures for this disease.
The head of the Epidemiology Program, Rodrigo Verdugo, reported that so far, in 2019, 6 suspected cases were detected, none of them confirmed and one ruled out. Four are from the department of Pedernera and two from Junín.
Psittacosis is an acute and widespread infectious disease caused by a bacterium, Chlamydia psittaci, found in the secretions of infected birds such as parrots, parrots, parrots, canaries and pigeons, which transmit the infection to humans.
When they are sick, these birds eliminate the bacteria into the environment through ocular secretions, dry excrement, respiratory secretions and feather dust. When they dry, they remain in the air and are sucked up by people who become infected.
Symptoms
The clinical picture of psittacosis can vary from infection without obvious disease to non-specific febrile illness and even pneumonia; the latter begins with a picture of general affectation: hyperthermia (hot body), constant headache symptom, general decay, fatigue and fatigue. Between 24 and 48 hours the cough begins with poor expectoration, usually mucous and viscous. Jaundice may also appear, with yellowing of the skin, splenomegaly (enlargement of the spleen) and changes in perception. Although the disease is usually mild or moderate, it can sometimes be severe, especially in the elderly and the elderly who do not receive treatment.
Treatment
People with psittacosis should receive antibiotics for 14 days. Sick person contacts, whether family members or co-workers, should be monitored to identify the appearance of symptoms at an early stage.
In case of respiratory symptoms that have been in contact with possibly sick birds, it is necessary to go to the nearest health center or hospital for the appropriate consultation.
Preventive measures for the maintenance of captive birds
Clean the floor and any surface of the cage or surroundings daily in contact with the fecal matter of birds. Always moisten with disinfectant solutions (2 tablespoons of bleach diluted in one liter of water) to avoid the production of aerosols from the dried debris.
Avoid all kinds of stress in birds, respect the living space of each bird, feed them properly and place them in cool places.
Do not stay long periods in closed rooms where there are birds.
Note and photo: Press Ministry of Health.
[ad_2]

Source link