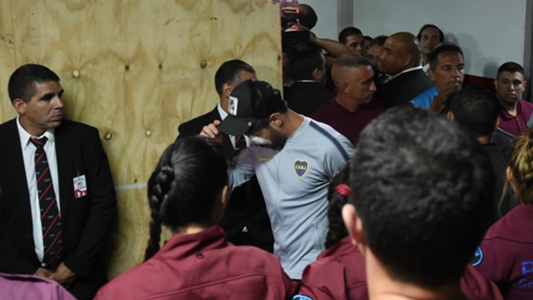 After the suspension of the meeting, the xeneize leaders would plan to make a presentation.
Everything was a party, to the campus of the Mouth He arrived a few blocks from the Monumental. A group of misfits, of those who are always in all the stages, bombarded projectiles to the micro that transported the players and the result was the worse one: broken glasses and affected players. So after that Almendra, Pablo Pérez and Lamardo had to be transferred to a hospital , CONMEBOL suspended the match and moved it to Sunday, November 25, at 5:00 p.m.
At this time, rumors of the hotel in Boca indicate different situations: the first is that the team is very upset and does not want to play the game on Sunday. The second was that the leaders planned a presentation before CONMEBOL, despite the fact that President Dominguez said that Angelici had assured him that the club would not make any kind of defense.
But What does the regulation say? There are two articles that propose possibilities in terms of resources for which Boca could request the points (or some kind of sanction for the river).
The article follows below
ARTICLE 8 OF THE DISCIPLINARY REGULATIONS – RESPONSIBILITY OF THE MEMBER CLUBS AND ASSOCIATIONS
1. Member Associations and clubs are responsible for the conduct of their players, officers, members, public, fans, as well as any other person who performs or can perform on their behalf any function during the preparation, organization or celebration of a football game, whether official or friendly.
2. Member Associations and clubs are responsible for security and order in and around the stadium, before, during and after the match of which they are hosts or organizers. This responsibility extends to all incidents of any nature that may occur, thus being exposed to the imposition of disciplinary sanctions and compliance with the orders and instructions that may be adopted by the judicial organs.
Source link