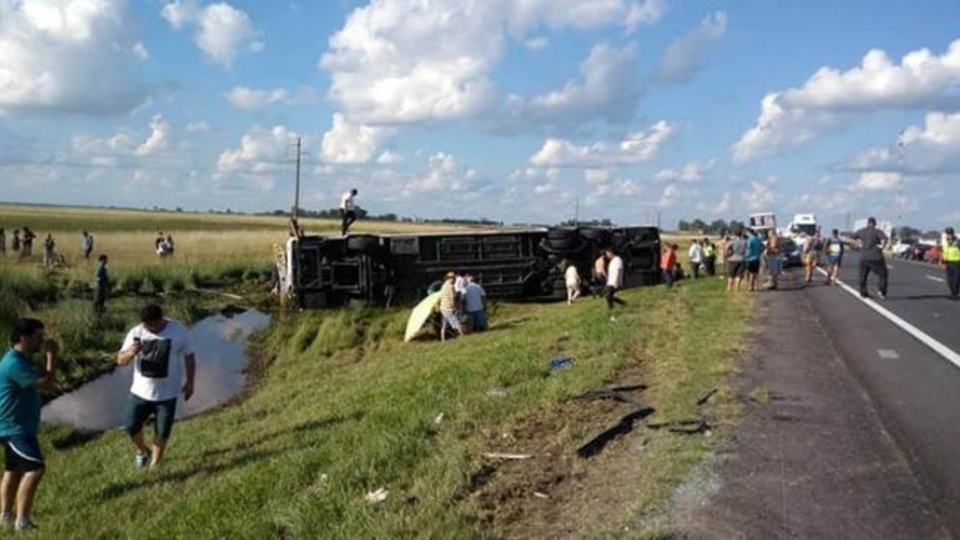 [ad_1]

Five people, including a two-year-old boy, died when a long-distance bus they were traveling turned on, traveling along National Route 3 at the height of the city of Las Flores in Buenos Aires. The bus went from Bahia Blanca to La Plata, but was confused and turned around 5.30, apparently as a result of the breaking of a deck. One case was opened for "homicide and culprit injuries," so that expert opinions will be initiated to determine responsibilities.
The Jetmar company bus, internal 888 and with JSD 185 patent, was flipped from one side of the route, while almost all passengers, 25 people, were affected by the serious incident.
According to police information, as a consequence of the accident, the bus driver, a man and his young son, and two women died. The victims were identified as Ignacio (the boy), his father, Luis Agustín Raffalli, Maria Paula Nogue, Maria Beatriz Zalarayeta and Alejandro Adrián Retrivi, who would be the bus driver.
At the scene of the accident, five volunteer firefighters from the Las Flores and Gorchs barracks, as well as ambulances from the local emergency service SAME, and the police of the Comunal, Vial and Patrol Rural. The wounded were transferred to Las Flores hospital and some of them were referred to health centers in La Plata.
The deaths died before being transferred, as they were "under the bus and under water," said Alejandro Mauricio, director of the Zonal Hospital of Las Flores, who explained that of the 29 wounded were already 27, since according to the director doctor, "most suffered minor bruising".
[ad_2]

Source link