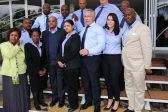 An employee of a subsidiary of Bosasa, the GTS (formerly known as Sondolo IT), told the inquiry commission on state capture on Thursday that he was instructed to delete the video of former president Jacob Zuma accompanied by ex- President of SAA Dudu Myeni and Minister of Police. Bheki Cele paying a visit to the premises of Bosasa.
The employee, Richard Le Roux, said that although he did not remember the year the visit was held, he remembers that it was on a Saturday morning and that he was instructed to erase the images that afternoon.
Le Roux told the commission that when he returned to the company's job in 2008, he was in charge of the company's camera servers and cameras.
He said on several occasions when guests "VIP or VVIP" were visiting the Bosasa facilities, he would be instructed by the CEO of the company, Gavin Watson, or his former COO, Angelo Agrizzi, to delete this footage.
He said he never had the opportunity to see the footage to identify the VIP or VVIP guests, but added on one occasion that he was able to identify Zuma, Myeni and Cele as guests.
Earlier this week, a picture supposedly from 2015, when Myeni and Zuma met with Bosasa executives, caused a barrage of comments on social media.
READ MORE: Photo of Dudu Myeni and Zuma with Gavin Watson cause excitement
The testimony of Le Roux continues:
Le Roux is expected to testify about Bosasa's "special projects", which involve the maintenance and installation of CCTV cameras and pool pumps, electric fences, just to name a few, for government and ANC officials.
Agrizzi told the committee earlier this week that ministers could convene Bosasa to have their needs met by the special project team at no cost.
The former COO said the team existed from 2013 and that "the state never paid the bill," and that the company deducted the costs as operating costs.
For more news in your own way, download The Citizen iOS and Android.