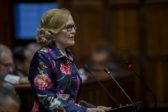 [ad_1]

Premier Helen Zille of the Western Cape was granted an interim interim injunction to prevent the implementation of the 2018 report of the Protector Busisiwe Mkhwebane, who discovered that she had abused her power to help her son, a mathematics teacher in Khayelitsha.
Judge Neil Tuchten issued an order banning President Cyril Ramaphosa, the president of the Western Cape Legislative Assembly, and the chairman of the National Council of Provinces from implementing the corrective action set forth in the December 2018 report.
This was pending the final determination of Zille's request for Mkhwebane's findings and corrective measures to be dismissed as irrational and illegal.
Mkhwebane discovered that Zille had abused his power to help his son, Paul Maree, get the provincial education department to lend him tablets to teach mathematics to Khayelitsha's apprentices in 2014.
READ MORE: Zille should have declared help for his son – Prof Jansen
She gave the president 14 days to comment on his report, which had to be handed over to the provincial legislature "to take appropriate action" when blaming Zille.
Judge Tuchten said such initiatives should be supported by the government, especially where it is demand driven and free.
Zille alleged in court documents that Mkhwebane's findings and corrective measures were unreasonable, adding that she had misconstrued her powers and made material errors of law and fact.
She denied there was any conflict of interest between her role as prime minister and her support for the Western Cape Department of Education equipment loan, which was used for free matrix preparation workshops in disadvantaged schools during the October 2014 vacation.
She said that the education department decided to purchase tablets for after-school e-learning initiatives without her participation, and her son was granted permission from three school and department principles to use departmental equipment for the job.
For more news in your own way, download The Citizen iOS and Android.
[ad_2]

Source link