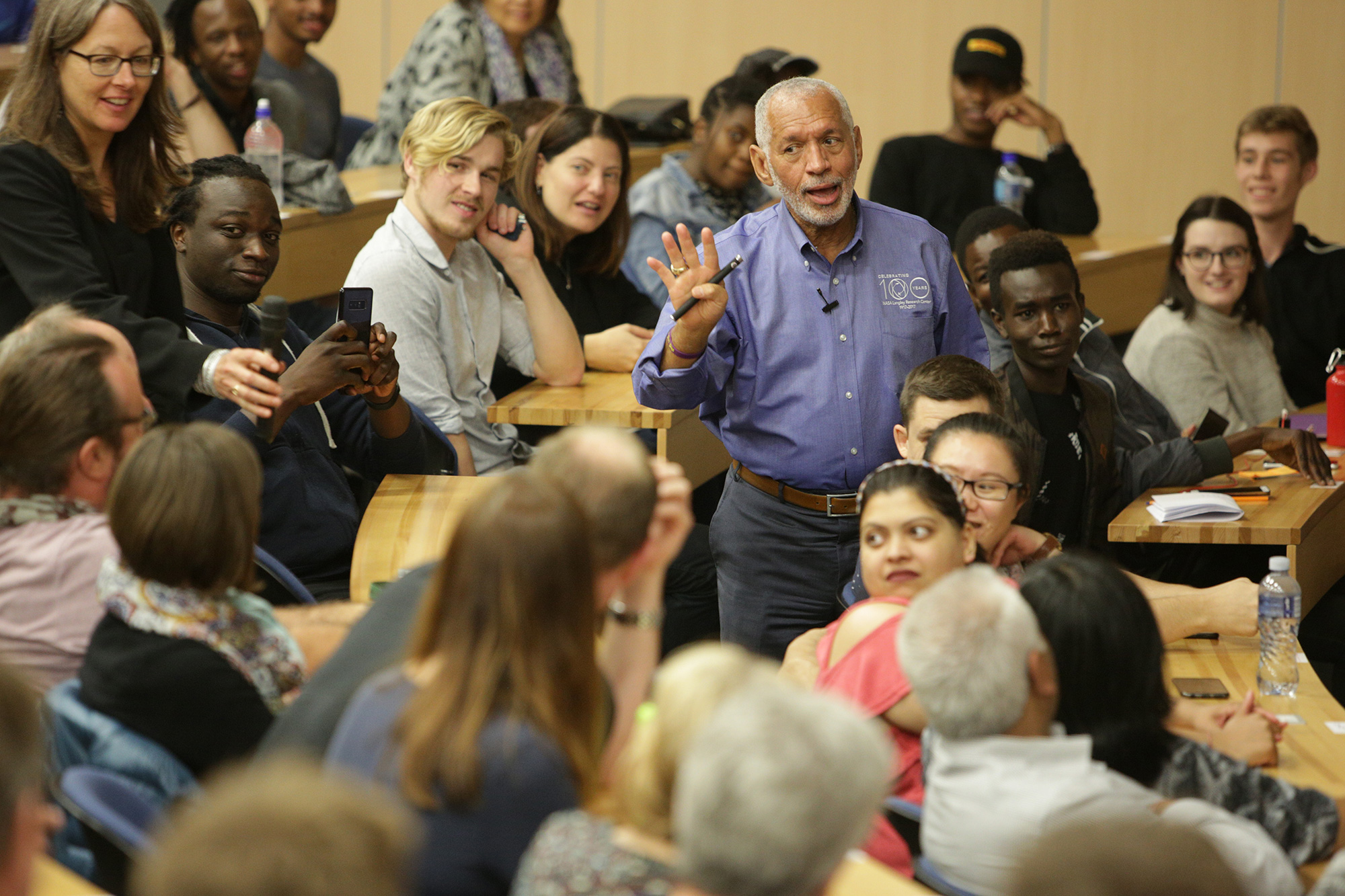 As one of the world's pioneers in space exploration, Major General Charles Bolden was fully prepared on a technical level for almost any eventuality when he first traveled on the Columbia Space Shuttle in the 1980s.
What caught him by surprise were the emotions he felt seeing the world over the vast distance of the space shuttle – especially when he saw Africa, the continent of his ancestors.
"The first time I cried in space, I cried a lot," the charismatic Bolden told a large audience during a public lecture at the University of Cape Town (UCT) on November 13.
Bolden, who is the envoy of US science to space, was hosted by the US Mission in South Africa. During his visit he met high school and university students as well as professors, aerospace professionals and general public with the aim of promoting space exploration and highlighting the wide range of possibilities offered by the study of science, technology, engineering, arts and mathematics.
Formed by the United States Naval Academy, which was an aviator and test pilot before becoming NASA astronaut, Bolden also served as a US Marine general. He was the first African American to serve as NASA administrator from 2009 to 2017.
Through the Science Involvement Program, eminent American scientists and engineers make use of their knowledge and networks to interact and identify opportunities for continued international cooperation.
During his time at NASA, Bolden oversaw the safe transition of 30-year space shuttle missions into a new era of exploration, with a focus on full use of the International Space Station and the development of space and aeronautical technology.
Under him, the agency's scientific activities included an unprecedented landing on Mars with the Curiosity rover, the launch of a spacecraft for Jupiter, and continued progress toward the launch of the James Webb Space Telescope (JWST) in 2018, the successor to the Telescope Space Hubble. .
Bolden's space flights include the Columbia Space Shuttle pilot in January 1986, and the Space Shuttle Discovery in 1990, from which the Hubble Space Telescope was deployed. He also commanded a crew aboard the Space Shuttle Atlantis in 1992, as well as Discovery in 1994 for the first US-Russia joint mission.
Moved to tears
In an address entitled "The sky is not the limit", Bolden described how, having grown up as an African American in South Carolina segregated in the US, he was brought to tears when he looked at the African continent of the space shuttle.
"We were technically trained for two years. We were trained for disasters. During our simulations, we were exposed to everything that could go wrong on the space shuttle, so we were well prepared. What we never talked about was emotions … Growing up in South Carolina was not like growing apartheid, but you could not tell me that.
"I grew up knowing that my ancestors were from somewhere in Africa. I had studied atlases and memorized all the countries that were candidates from where my ancestors could have come, "he revealed.
"There were no borders. I have just seen this incredible continent from the Mediterranean to the Cape of Good Hope. "
Then, when he finally looked out the window, "Dude, it was absolutely amazing."
"I saw this great thing that looked like an island. He went to Africa. So I had this amazing achievement. There were no borders. I just saw this incredible continent, from the Mediterranean to the Cape of Good Hope.
"It was breathtaking, but there were no borders or borders. I did not know what South Africa or Morocco was, and more importantly, it did not matter. "
When it was dark half an hour later, Bolden remembered, he suddenly saw "all those lights."
"Most of them were stars … but when you look at the ground, you can see poverty and wealth. There are lighted areas where money is and where there is darkness, there is usually a lot of poverty.
"When you're up there, looking down, you start thinking about a lot of things you did not think about when you were doing all this technical preparation. You think," I'm a human being on that planet. Why do not we live as it seems now – without frontiers and without frontiers? '. Then, instantly, my perspective on the planet has changed. "
Mars is not an option
He said he was always "kind of" an environmentalist, "but when you look back and see that thin blue line [the atmosphere which has the oxygen to sustain life] … It becomes more urgent. "
"The point is that we always hear about the Earth being fragile. It is not. It is resilient and has existed for billions of years. It just keeps changing and evolving. The fragile we are. So we better take care of this planet, because as much as I want to go to Mars, I do not want to live there.
"If we think we can go to Mars when the Earth is no longer sustainable, guess what – not Mars," Bolden warned.
He gave away the audience with anecdotes about NASA and other aspects of his career, and answered questions ranging from "Are We Alone?" For "When did the first galaxies arise after the Big Bang?" And "Is there life out there in the universe?"
Another question was: "Will Elon Musk arrive on Mars by 2024?"
Bolden does not think so.
"Mars is really very difficult. We are still several years away from having a reliable human launch system for business entities. That will happen, but not overnight, "he predicted.
"Mars is really very difficult. We are still several years away from having a reliable human launch system for business entities. "
Marveling at the "billions and billions of existing stars and galaxies," he explained that it is now known, thanks to preliminary evidence, that there are more planets than stars.
"When I was your age," he joked to a potential young astronaut, "we studied only nine planets.
Bolden told the public that one of the fastest growing areas of expertise today is space law. He also spoke about the Global Exploration Roadmap, a long-range international exploration strategy signed by several countries.
Another goal of his visit to South Africa, said Bolden, who is also the executive director of the Bolden Consulting Group, was "to remind people of the importance of collaboration with the US in science, engineering, math and technology."
"When I meet national leaders and leaders in industry and business, my goal is to encourage them to find ways to engage with the US on a commercial basis in the fields of science and technology. I use the fact of space and what NASA does today with its public-private partnerships as an example of what can be done when private industry and academia meet with the government. "
South African Potential
Pointing to South Africa's potential in the field, Bolden explained that modern NASA no longer builds or operates a space shuttle or space transport vehicle, rather than "buying" the service of private sector companies.
"South Africa could also do that. It is cheaper than owning and operating the vehicle, on the one hand. When the government owns and operates the vehicle, they are stuck with the costs of maintenance and operation, "he said, adding that just to keep the space shuttle, whether it flies or not, it costs $ 2 billion a year.
Africa has similar potential to the US in the space field, Bolden believes.
"You are already heavily involved in the space community. You can work in collaboration with the African industry to enable the industry to do many of the necessary things. We take a lot of time to learn this.
Asked about his favorite film in space, Bolden named Hidden Figures, the biographical drama of 2016 that tells the story of a group of little-known black mathematics who worked at NASA during the space race.
"It's not my favorite movie because it's about black women – because it's not about black women. It's about humanity. It is about us and about our willingness to be persistent and demanding things. Black women, people who are not in a position of privilege, advance and say, "I deserve this as much as anyone else."
---
---
Source link